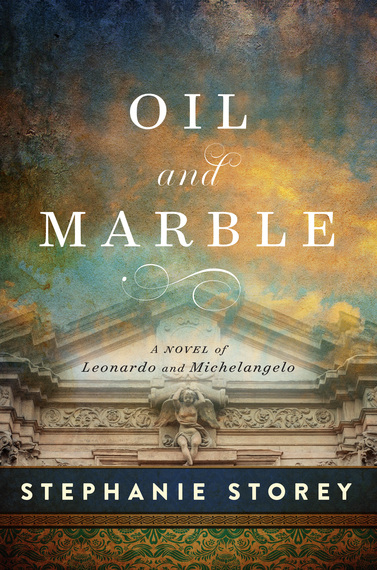 I planned to publish my debut novel, Oil and Marble (due out March 1, 2016), under the pen name S.G. Storey.
When asked, I said it was to honor my husband. I didn't take his last name, Gandolfi, when we married because Storey was too perfect for a writer to give up. "S.G." was a nod to him. I also said it seemed romantic to write under a pen name. One name for me; one name for my author self.
I said all of this because the real reason I considered using a pen name was embarrassing to admit: I wanted to mask my sex.
When we pick up a book, we often make a quick judgment based on the cover art, title and the author's name. I'm an optimist, so I don't think most people consciously make sexist decisions about their reading material, but we all have unconscious gender biases. Countless articles and studies prove that male writers are more likely to get published and reviewed than female writers. There's a pervasive belief that men don't read women authors, and some men openly admit their bias.
I don't want to alienate any potential reader. If a female name is off-putting to even one reader, isn't it worth changing? I want people to read about my characters, not me. Who cares what name is on the cover?
On the other hand, there are a lot of bestselling authors who publish under female names and attract plenty of male and female readers: Hilary Mantel, Gillian Flynn, Donna Tartt, the list goes on.
But I feared I wouldn't be one of those standouts. I feared I would be buried by the name Stephanie.
When I was a senior in high school, I ran for Student Council President. A female teacher told me I couldn't win. "They'll never elect a girl," she said. She was right; they didn't. They elected my male classmate. Ever since that day--for over twenty years--her voice has lived in my head and affected my perception of what is possible for me.
My novel, Oil and Marble, is historical fiction about the rivalry between two men: Leonardo da Vinci and Michelangelo. I don't want readers to dismiss this story of male competition because a woman wrote it. I fear stereotypical assumptions of what might come with my very female name: Will people think my book is a romance novel geared only toward women? Will they assume my protagonist is a woman, perhaps a maid watching the creation of art from the outside? Will people picture plot turns based on marriages and babies instead of politics and war?
I hate myself for thinking these things. Not all stories written by women are about women or domesticity or love. Besides, I love those kinds of books. I read romance novels and historical fiction from the point-of-view of the maid all the time. I love seeing history through the eyes of female characters.
Women writers have long published under male pseudonyms. Nineteenth century female writers--the Bronte sisters, Amantine Lucile Aurore Dupin (George Sand), Mary Ann Evans (George Eliot)--all published under pen names lest they not get published in the male dominated industry. Today, some writers still choose an androgynous moniker. J.K. Rowling, El James, Rob Thurman, J.D. Robb, Magnus Flyte are all women who made the decision to publish under a male name--or at least an ambiguous one.
Deciding to use a pen name is both a personal and business decision. Some people choose a pseudonym to maintain privacy. Some because their given names are difficult to pronounce or not marketable. Still others want some separation between their first career and their writing life.
A lot of female writers also admit they've chosen a male name to avoid sexism. There's nothing wrong with it; they want their work to appeal to all readers--men included. Why choose a female name if you're going to hurt your book sales or even risk not getting published at all?
However, as my husband and friends discussed it, the pros of publishing under my name outweighed the fears. I have produced national television for nearly fifteen years and have credits as Stephanie Storey. Having one name for my Hollywood life and another for my writer life seemed silly in this age of social media.
It's also a pain to have two names. I don't want to have to say, "Yes, I'm Stephanie Storey, known as author S.G. Storey..." Is my family supposed to introduce me as S.G.? Is my husband married to Stephanie or S.G.? It seemed complicated.
But also I don't want to run away from being a female writer. I'm tired of these discussions: Do men read women? Can women be funny? Is it a woman's fault for not "leaning in" or is it society? My book is coming out in 2016. Nearly 20 years after Harry Potter. Over 150 years since Emily Bronte published Wuthering Heights as Ellis Bell.
Maybe I'll alienate a few readers. Maybe I won't get reviewed as often as my male counterparts. Who knows how such an unconscious bias will affect the sales of my novel--hopefully it won't have any affect.
But it's a risk I must take, not only for me, but for my niece Hannah; my goddaughter Summer; my cousins Annaleigh, Addie, Katie; my friends' daughters, Haydon, Elina, Hadley, Beth, Kate, Anna, Eva, Avery, Evelyn... I don't want them to hold my book and see written by S.G. I want them to read, written by Stephanie.
"The easiest way to overcome stereotypical expectations is to get them repeatedly violated."
I plan on being a repeat offender: I will publish book after book under my name. And hopefully soon, a debut novelist will not need to ask, should I publish under a male name? She will just publish.
Related
Popular in the Community