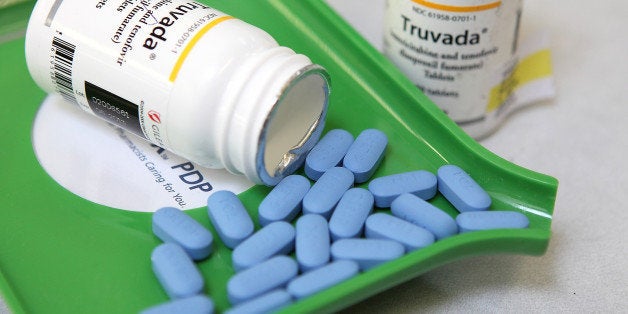 Around 11:30 a.m. on July 11, my friend Tony tagged me in a Facebook post that shared an article published that day by The Week magazine. The title is alarming: "WHO says all gay men should take antiretroviral medicine to combat 'exploding epidemics' of HIV."
Did the World Health Organization (WHO) really declare that all gay men should take Pre-exposure Prophylaxis?
Pre-exposure Prophylaxis (PrEP) is the use of antiretroviral medication by those who are HIV negative -- in this case Truvada, the only drug currently approved as PrEP by the FDA, which when taken daily reduces the risk of infection by more than 90 percent.
I initially dismissed the article as sensationalistic, an attempt to capitalize on the stereotype that every gay man is at high risk of infection in an article title designed to feed a click-hungry author.
Then, almost immediately, another article appeared in my feed with a similar title, "WHO Says All Men Who Have Sex With Men Should Take Antiretroviral Drugs" -- this time published by TIME magazine.
Okay, time to take a closer look.
I downloaded the referenced new report, "Consolidated Guidelines on HIV Prevention, Diagnosis, Treatment and Care for Key Population", released by WHO that morning, and it's a whopper at nearly 160 pages. A scan and text search of the section on PrEP did not find anything declaring that "all" gay men should take it. Same for the accompanying policy brief and press release.
Here's the money quote from the section in the report about gay men and PrEP:
Among men who have sex with men, PrEP is recommended as an additional HIV prevention choice within a comprehensive HIV prevention package (strong recommendation, high quality of evidence).
While it's historic for the World Health Organization to make such a recommendation, there's nothing shocking here... it's similar to what the CDC summarized about its new PrEP guidelines in May.
The new federal guidelines recommend that PrEP be considered for people who are HIV-negative and at substantial risk for HIV.
For sexual transmission, this includes anyone who is in an ongoing relationship with an HIV-positive partner. It also includes anyone who 1) is not in a mutually monogamous relationship with a partner who recently tested HIV-negative, and 2) is a:

gay or bisexual man who has had anal sex without a condom or been diagnosed with an STD in the past 6 months; or
heterosexual man or woman who does not regularly use condoms during sex with partners of unknown HIV status who are at substantial risk of HIV infection (e.g., people who inject drugs or have bisexual male partners).
While comprehensive, these recommendations hardly apply to all gay men, or heterosexuals for that matter. Still, I knew that if my feed was showing multiple articles with similar titles in such a short timeframe, this was an issue that called for a response from GMHC.
I headed down the hall at GMHC's headquarters to share the news with our communications goddess Krishna Stone and our new CEO, Kelsey Louie. This week Kelsey had already published an article about PrEP declaring, "It's time to bring HIV prevention drugs out of the closet."
Coincidentally, I found them both in Kelsey's office waiting for a call from a reporter about -- you guessed it -- the WHO report. I quickly shared that Kelsey might be asked if GMHC recommended PrEP for all gay men. The look on his face was clear. We do not.
GMHC supports the recommendations of the CDC and the New York City Department of Health and Mental Hygiene: PrEP is an important tool to prevent infection meant to supplement, for those who meet the federal guidelines, existing safer sex options, including the continued use of condoms and lube.
To help spread the word about PrEP and these guidelines, on July 17, GMHC is hosting the second in a series of community forums, a "PrEP Rally," focused on PreP's use among couples where one partner is HIV-positive and the other is negative. The first forum, which provided a general overview, occurred in May shortly after the CDC's announcement.
More than the sensationalism of today's headlines, what frustrates me is how they distract from the importance of WHO's recommendations related to what it calls "Critical Enablers." These are often described in epidemiology as Structural Drivers of the epidemic. For example, WHO calls for the decriminalization of same-sex activity, sex work, and non-conforming gender identities, the implementation of anti-discrimination laws that eliminate stigma, discrimination and violence, and safe, accessible, and culturally competent health care services for populations most affected by HIV/AIDS.
These are common-sense policy solutions GMHC has been advocating for decades. Yes, biomedical solutions -- from HIV testing to PrEP -- are critical to reducing HIV incidence below epidemic proportions. But unless we concurrently address the underlying stigma, as well as the socio-political, economic, cultural and normative drivers creating the context of high risk, the AIDS epidemic will not end. Gay and bisexual men will continue to be disproportionately affected.
Stigma is such a deadly driver of the epidemic and those sensationalistic headlines are but one example. They feed the notion that all gay men are over-sexed and incapable of making healthy choices -- let's just stand them all in line and hand out PrEP like milk tickets in the school cafeteria.
Stigma also feeds the fear that PrEP will lead to decreased condom usage, but let's be real: Some people -- gay and straight -- are already not using condoms for many reasons. Why not ensure access to technology that provides an added layer of protection? PrEP also provides an opportunity to educate people about why condoms are critical to preventing the spread of other STIs, in addition to HIV.
Community forums, focus groups, and social media are supporting powerful, honest, and sometimes difficult conversations about PrEP and HIV transmission. Gay and bisexual men are more than capable of learning about and choosing from the menu of prevention options that best fit their lives and relationships. PrEP is not the solution for al. But for many, it is an important prevention tool that will help protect their health and the health of their communities along the way.
Popular in the Community