It's been quite a year for Banksy, but does the increased popularity merit legal protection for his art? A recent study makes the case that his most important works should be listed as assets of cultural significance in the UK.
John Webster, a postgraduate law student at Bristol University Law School (in Banksy's hometown), recently published a paper titled "Should the Work of Banksy Be Listed?" in the Journal of Planning & Environment Law. The paper, part of Webster's dissertation, suggests that Banksy's art might benefit from the protection of the Listed Building Act, which seeks to protect structures of architectural and historic significance. In addition to the recognition of certain works as culturally important, listing would provide property owners certain rights to retain, protect and restore street art on their property.
Although it may seem strange to protect street art under the same law that protects the iconic Nelson's Column in London's famous Trafalgar Square, Webster argues that the cultural interest in Banksy's art merits serious consideration regarding its protection. Webster states: "There is clearly a strong interest in Banksy's work that appears to be celebrated in popular culture as an artist in his own right. It can be argued that his work, due to its political and social statements, carries a cultural significance in modern society."
(Story continues below slideshow)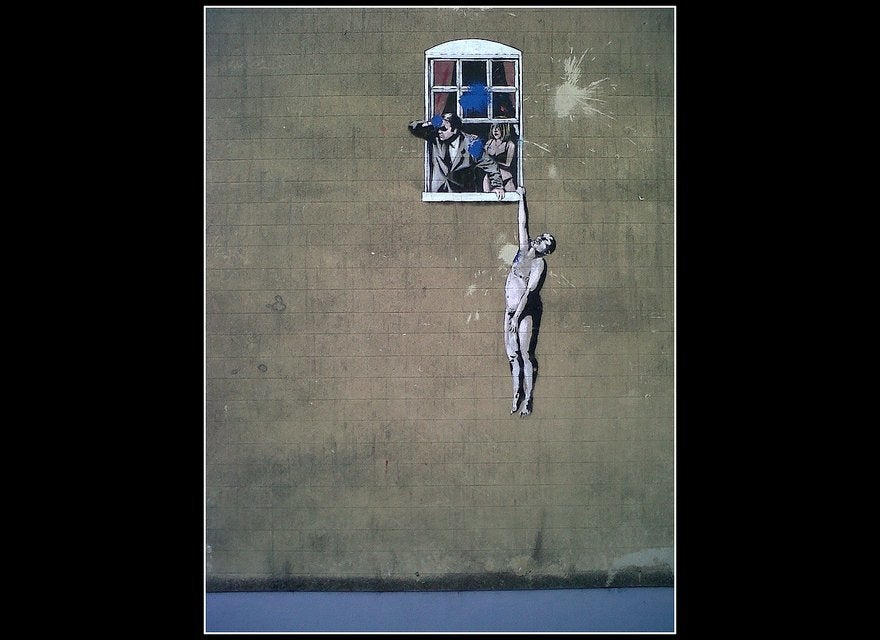 Should Banksy's Art Be Protected?
The University's press release cites multiple examples of the city and citizens' interest in the protecting the work, including a public vote by the city council in 1996 asking whether a work on the wall of clinic should be kept or removed. A resounding 93% voted that the work should remain on the wall.
Webster argues that listing would help support the popular opinion to preserve the works, "The danger of loss creates a moral dilemma if the public have stated on mass that they wish to retain a wanted or cherished part of their environment."
Although a push for the protection of street art under the Listed Building Acts might seem like a stretch, the recent decision to protect Abbey Road Crossing (made famous by the iconic Beatles' album cover) as a listed structure could help Banksy's case for protection. While the structural interest in the case of both Abbey Road Crossing and Banksy's street art is minimal, the historic and cultural interest is high.
Regarding its listing, John Penrose, the Minister for Tourism and Heritage, said in a press release: "This London zebra crossing is no castle or cathedral but, thanks to the Beatles and a ten-minute photo-shoot one August morning in 1969, it has just as strong a claim as any to be seen as part of our heritage and as such it merits the extra protection that grade two listing provides."
While it has been over 40 years since the famous album cover photograph was taken, Webster argues that since the actual work of Banksy is under threat, it creates a great level of urgency, warranting legal protection. In addition to formally recognizing the cultural importance of his street art, listing could help prevent the buffing or tagging of his works, and if such damage occurred, property owners would be eligible for grants to restore the works.
The danger and loss of Banksy's work is what inspired Webster's research. He was inspired by a paintbomb attack on a Banksy mural of a naked adulterer hanging out of a window on Park Street in Bristol. Webster told This is Bristol:
"[This incident] got me thinking about whether street art in general, and Banksy's work in particular, should be better protected by planning law - not just from people set on vandalising the work, but also from the people who own the properties they're painted on. The public has indicated that this needs to be kept and by extension, preserved. An application for listing is one of these methods."
Back in July, one of Banksy's most famous works, Gorilla in a Pink Mask, in Eastville, Bristol, was mistaken as unimportant graffiti and was painted over. According to This is Bristol, the new owner of the property, Saeed Ahmed, said, "I thought it was worthless...I didn't know it was valuable and that's why I painted over it. I really am sorry if people are upset." Although the work has been partially restored, listing Banksy's work could prevent such headaches in the future.
Listing Banksy works would also help property owners retain street art on their property. Webster explains how conflicts with local legistation could be mitigated:
"A positive approach by local authorities to graffiti finds itself at conflict with existing legislation, which is aimed entirely at prevention and removal. These powers can override the intentions of the property's owner. Even if the owner of a wall wishes the graffiti to stay, the local authority could still serve a notice if in the authorities opinion is detrimental to the amenity of an area."
Not only would listing allow property owners to retain Banksy works on their property, Webster explains it would also allow owners recourse should a Banksy on their property be damaged or removed: "The effect of Listing would also ensure that the work could be preserved for future generations and grants could be applied for to preserve the work."
In concluding his research, Webster cautions it would require considerable effort to get Banksy's art listed. While the system would provide protection, the current law wasn't created with graffiti in mind, and extensions to the existing policy would have to be enacted. He admits, "Any action would be a test case. It is unclear though who would object to the listing if the owner is complicit."
But what about property rights, would the protection trump the rights of the owner of a building for the sake of cultural preservation? Nelson's Column and Abbey Road crossing are public property, but listing Banksy's work would inevitably include many walls on private property. Further, many of his works were erected illegally, violating property laws. How do you save something that it culturally significant but also illegal? Legal protection for an illegal phenomenon seems counterintuitive to say the least.
Street art is gaining more acceptance, and its preservation is certainly an issue, but should the government be allowed to intervene to save it? Should we punish the tagging or buffing of works, which is very much part of the life of a street artwork? Should we save something that is meant to be temporary? Would listing Banksy offer protection or punishment regarding thefts of his work?
While I believe it is impractical that Banksy's work will be listed (especially if a site made famous by the Beatles took decades to get listed), the argument raises many interesting issues with regards to the street art phenomenon and concerns regarding its protection and preservation. What do you think of this debate, should Banksy's graffiti be listed or should this argument be buffed?

Related
Popular in the Community