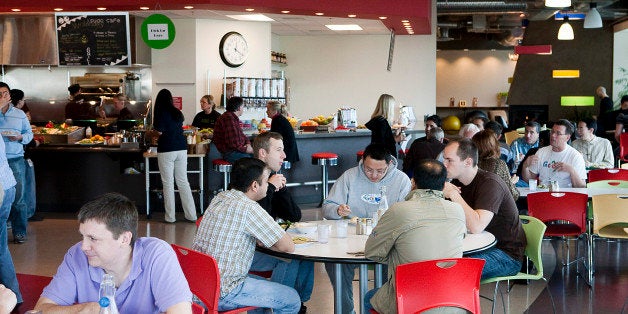 The best companies to work for are also apparently the best companies to invest in.
Fortune magazine just released its annual list of the 100 best companies to work for, a listicle orgy of companies that offer jobs with amazing pay, perks, benefits -- and shareholder returns.
The magazine noted that, since 1998, the companies on the list have outperformed the S&P 500 stock index by a ratio of almost two to one, according to data from the Russell Investment Group.
The underlying message: Treat your workers well and the profits will follow. Seems obvious, but many employers haven't learned this lesson and view workers as fixed costs, on spreadsheets, that need to be kept as low as possible. That kind of thinking often leads to low pay and high turnover -- more workers decide to quit their jobs rather than hang around to be mistreated.
"Higher investment in people in terms of pay and benefits enable companies to do really well," MIT Sloan School of Management professor Zeynep Ton told The Huffington Post last month. Ton's book "The Good Jobs Strategy" forcefully makes the case that offering well-paid jobs that motivate workers boosts a company's profitability.
Fewer workers quit the companies on Fortune's list. Only 1 percent of the staff at Sheboygan, Wisconsin, insurance firm Acuity -- No. 3 on the list -- turns over each year, according to Fortune. The company's 401(k) plan is amazing -- it puts an amount matching 8 percent of an employee's pay into the retirement account.
Money and retirement benefits aren't the whole picture, though. Places that offer great perks aren't always the best places to work, Tony Schwartz recently wrote in the NY Times. Free lunch and and a beautiful office won't matter if you're exhausted, stressed and on the brink of burnout.
"The simplest measure of a great place to work is how it makes employees feel to work there day in and day out," he writes in the Times. "That requires meeting the four core needs of their employees: physical, emotional, mental and spiritual."
Fortune noted that the best employers seem to truly care for workers and their families. Google, which topped the list for the sixth time, famously offers on-site mindfulness training -- Search Inside Yourself, get it? -- to help reduce worker stress. A less well-known Google benefit: If an employee dies, his or her spouse will get half of the deceased's salary for the next 10 years.
Google is, of course, an extremely successful multibillion dollar company. Six years ago its stock was trading at around $160; today it's worth more than $500.

Support HuffPost
The Stakes Have Never Been Higher
Related
Popular in the Community