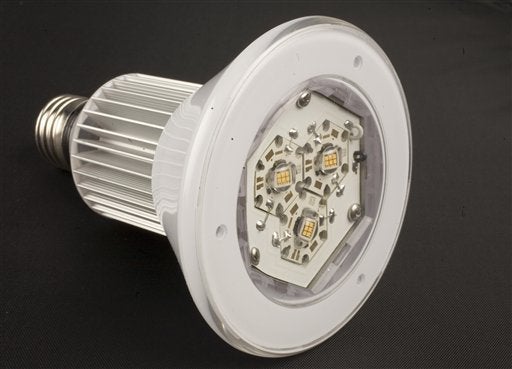 Businesses are not only being encouraged to switch their energy consumption practices to more environmentally friendly alternatives but also are being incentivized by their local and national governments to implement these changes.
Some states are going as far as offering businesses tax breaks for switching to more efficient lighting, like light-emitting diodes (LED) or compact fluorescent lights (CFL). In many areas, matching funds are available for energy saving programs.
Companies are weighing the pros and cons of alternative lighting sources from cost considerations to their environmental impact. On average, interior lighting accounts for 28 percent of a business's energy bill. Switching to efficient lighting can help reduce the energy consumption and overall operating costs.
LEDs are the fastest-growing category of lighting technology, but the excitement and hype around LEDs are at once overdone for the near term and understated in terms of potential for the long term. For a business looking to make a switch to more energy efficient lighting, it is very tempting to jump into LED solutions and eliminate the problems of mercury and light quality that plague fluorescent solutions. Jumping is fine - but let's take a look at how to do it with both feet on the ground by exploring some factors to consider when evaluating the role that LEDs should play in your lighting plans.
Before you try to figure out which type of lighting to buy, consider the purpose behind making the switch. Are you aiming to lower energy costs and take advantage of tax incentives? Do you want the longest-lasting bulb you can find? Are you looking to demonstrate innovation and forward green thinking? Do you want to stop changing bulbs for 15 years? What are your requirements for capital investment and payback periods? Do you want to improve the quality of your lighting? Considerable options are available for each goal, including LED lighting, which offers the benefits of long life and mercury-free content in addition to energy savings.
Currently, the reality is that LED lights cost several times as much as incandescent and fluorescent lights. The good news is that the cost is dropping as the technology is improving; the costs of LEDs as measured in dollars per lumen have come down 50 percent in the last year and a half.
Even with the relatively high initial investment, LEDs are now able to show paybacks in the two-to-eight- year range, depending on the application and energy costs. Adding in labor savings, such as not having to replace bulbs and ballasts, can further reduce the payback period.
The best resource for learning about energy-efficiency investment help is your local utility. It is working closely with state and local governments to help businesses find and manage energy savings opportunities. Another option is to partner with an Energy Service Company (ESCo) that will take on the capital risk of energy savings and actively participate in the implementation in exchange for a share of the dollars generated through the savings.
Energy Usage (lumens/watt)
When looking at energy usage for bulbs, most packages or retailers will offer information on lumens per watt. Lumens per watt measures the amount of light produced for each watt of electricity consumed. More lumens per watt means more light for your money. In just the past year, we have seen commercially available LEDs move from 65 lumens per watt to more than 90 lumens per watt. There seems to be a pretty clear path past 150 lumens per watt and then a reasonable expectation of approaching 200 lumens per watt within the next five to seven years. Considering the LED bulb's low energy expenditure, the total cost of ownership (over its 60,000-hour lifespan) is low enough to offset the high initial cost.
Be careful not to confuse the advertised lumens per watt of LEDs with the actual lumens per watt efficacy of finished LED products that include system efficiencies such as power conversion circuitry and optical losses. In calculating energy savings you must first ascertain that the light being proposed is adequate for the area and task to be lit and then determine the total watts required to do so.
Lifespan - Total Cost of Ownership
If the goal is to find a bulb that's going to last for extended periods between replacements, the LED bulb is an obvious choice. With proper thermal design, LEDs can achieve 60,000+ hours of life while maintaining 70 percent of original light output. CFL lights typically last only between 6,000 and 15,000 hours. This long life can significantly decrease total cost of ownership when the cost of changing tubes, bulbs, and ballasts for fluorescent and incandescent lighting is calculated. The methods of calculating these non-energy operational costs will vary from business to business and, unfortunately, are not usually part of an energy savings rebate calculation. Combined with energy savings, however, reductions in system maintenance can greatly reduce the ROI of LED installations.
Who to Buy From: Hype versus Reality
The LED industry is struggling a bit to simultaneously build excitement for the future of LEDs while trying to defend against bad product with unwarranted claims. It is common, for example, to see LED lights advertised as "Replaces a 40-watt bulb and uses only 1.5 watts." (I have a package like that on my desk - our CEO put it there). Let's run the numbers. A 40-watt incandescent bulb will put out at least 400 lumens. A 1.5 watt replacement would need to put out more than 260 lumens per watt to match that performance - almost triple the output of the very best LEDs on the market today.
You should work with companies who can demonstrate and document their power consumption, light output in the directions you care about, light quality, and color temperature. If you don't have a good understanding of those numbers yourself, then you should engage a lighting designer to help you - it is far cheaper to get help than it is to install poor-quality lighting. Furthermore, lighting suppliers should be able to document for you the exact LED being used inside their products. There is an order-of- magnitude difference in longevity and quality of light between the relatively few makers of top-shelf LEDs and the plethora of inferior products.
A good resource for LED lighting information is the United States Department of Energy solid-state lighting Web site at http://www1.eere.energy.gov/buildings/ssl/ . On that site you can find a wealth of information regarding test procedures, definitions, and standards.
A perfectly reasonable reaction to the improving price, performance, and quality of LED lighting is to wait for a few years until solid-state lighting products are more efficient and cheaper and have more usage history. Doing so, however, means missing a current ROI-justifiable opportunity to install next-generation lighting that is long-lasting, mercury-free, and energy-efficient. One strategy is to plan for implementing LEDs both now and later.
User acceptance and experience are key to the successful implementation of new technology. Given that the ROIs for LEDs can make sense today, albeit with a longer ROI period than in the future, it can make a lot of sense to begin doing pilot programs with LEDs to demonstrate the benefits of the technology to users. Instead of becoming frustrated with the high initial investment to re-lamp an entire building with LEDs, perhaps start with some high-visibility and challenging areas, such as the reception area and main conference room. Small-scale pilot implementations can demonstrate the ROI while at the same time earning key user acceptance and excitement.
Dave Simon has more than 23 years of design and development experience and was Altair Engineering's Principal - Product Innovation prior to the formation of ilumisys, Inc., a developer and producer of next-generation solid-state lighting technology.
Related
Popular in the Community