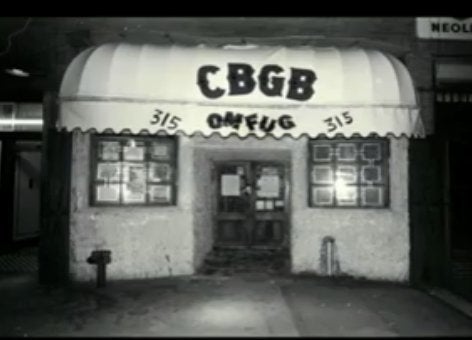 News of CBGB's possible reopening has sent the blogosphere into a tizzy. Can the legendary music venue be successful without founder and "rock midwife" Hilly Kristal? Can it retain any semblance of edge or grit in a gentrifying East Village and Bowery? What bands would play there? And would they be as good as Television, Blondie, The Ramones and Talking Heads?
The details are vague, but Gothamist previously reported that the new owners of the CBGB estate are angling for a new Manhattan spot instead of trying to move back into the old location (now the site of a very pricey John Varvatos boutique). Were it to actually reopen, owners could collect the club's artifacts from a Williamsburg storage unit, where they've been sitting since the venue closed in 2006 after a 33-year run.
"We bought the entire estate, the physical assets of the former club. They dissembled it as a theatrical unit so in theory they could put it back together -- say, 80 percent they salvaged," a spokesman for the new owners, who wished to remain anonymous, told The Local. "There are all kinds of tapes, photos, and the global trademarks and licensing."
CBGB was sold by Hilly Kristal's daughter, Lisa Kristal, who won the rights to the 3 million dollar estate after a bitter family feud.
"In negotiating the sale, Lisa Kristal was motivated much more by preserving the legacy of CBGB than she was by money," the spokesman said. "We had to court her for seven months, proving to her that we would be the best guardians of the name. She wanted to know our plans. I would stay up until two in the morning, night after night listening to her wonderful stories and telling her about the ways in which we were going to keep CBGB alive through loud music and by supporting new bands."
Related
Popular in the Community