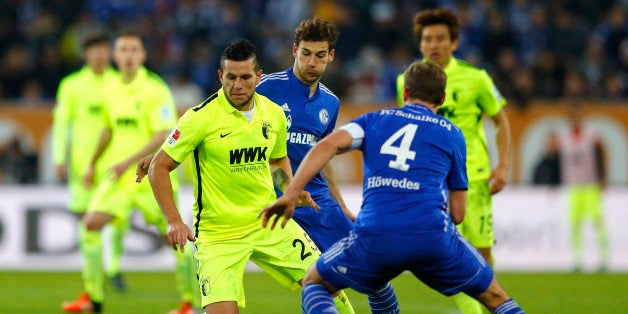 Figures released just over a year ago showed that 17 out of the 18 teams that ply their trade in the Bundesliga were completely debt-free and were making consistent profit year-on-year. If you look at the same statistics in the Premier League, it is thought that 17 out of the 20 teams are in the red with debts totaling hundreds of millions of pounds. In yet another transfer window where Premier League spending is eclipsing that of many European countries put together, is it about time that English football took some notes from the Bundesliga?
Firstly, how are the top-flight clubs in Germany able to run so efficiently? One of the big reasons is down to the Bundesliga as an organisation itself and the regulations that are put in place to make sure that all clubs run in the 'correct' manner. Regulations say that finances are to be checked each and every summer; this applies to all clubs and those who fail a test of financial competence will not be allowed to enter the league in the following season. This provides a huge incentive for clubs to run efficiently and to avoid getting into a position where they are chasing debts and trying to recover lost finances. This is something that can be widely seen in the Premier League as fans are often hit with huge ticket prices compared to those in Germany where fans of the current champions, Bayern Munich, can purchase a season ticket for around €150. This means that more people can afford to watch their favourite teams and the results of this were clear to see when the recent average attendance in the Bundesliga was at 42,000, around 6,000 more than the Premier League.
Secondly, the '50+1' rule in Germany states that the clubs must own the majority stake rather than an investor. There are two exceptions to this in Wolfsburg, owned by Volkswagen, and Bayer Leverkusen, owned by Bayer, as they started out as teams for the company's employees. This ultimately means that the clubs will not take any risk of building up a debt because it would provide no benefit and therefore provides a level of stability.
So how do teams in the Bundesliga make their money? Commercial and corporate sponsorships play a huge role in German football and provide much of team's income over the period of a season. This amount is second only to TV revenue which is around €500 million after Sky Deutschland agreed a deal to air every single game. It is thought that half of Schalke's revenue comes from commercial partnerships and this can be seen all across the country; even Bayern Munich, as shown by their stadium name of 'Allianz Arena.' Bayern's commercial revenue was at around €260 million a year ago which was more than all the Premier League teams.
This is something that has often been contested in the Premier League because of traditions with the main example being Newcastle United who opposed their stadium name change from 'St James' Park' to 'Sports Direct Arena.' However, this is a huge untapped market with the naming rights to Old Trafford thought to be worth around £600 million.
Furthermore, German teams all save money through developing their own players through their youth academies. Every team in the Bundesliga has an extensive youth academy which has meant that the 'buying' mentality hasn't entered the game; teams would rather develop their own talent than pay money to bring them in from elsewhere. Only a small number of English teams boast a youth recruitment network as strong as those seen in Germany. This has long been seen as a much needed improvement in the English game and was made even stronger once Germany won the 2014 World Cup.
Where does the Bundesliga struggle? Despite all this, the Premier League is often seen as the best league in the world but why? One reason could be down to the wage costs of the clubs in both countries. Premier League clubs' wages amount to around 70 percent of the clubs' total expenditure whereas in the Bundesliga, the same amount is at around 50 percent. This means that German clubs aren't able to attract the world's biggest stars.
It could also be down to the fact that they have struggled to promote the Bundesliga as a global brand. It is well known that the Premier League has branched out to Asia but even more so in America in recent years. Manchester City have shown their intent by purchasing stakes in the MLS franchise New York City Football Club as well as Chelsea who first started their affiliation with LA Galaxy in 2007. This has enabled the clubs to not only play a friendly or two in the US but also take part in comprehensive tours allowing their support to grow significantly. In contrast, the Bundesliga is rather late to this market. Borussia Dortmund are now linked with two American sides and Bayern Munich have now opened an office in the US but this didn't come until early 2014. TV Rights in the US also provide for welcome income to the Premier League as NBC are coming to the end of a three year deal worth $250 million which compares to the Bundesliga which is shown on a significantly smaller network, GolTV.
So, with debts constantly rising in the English game, is it about time that the Premier League changed its approach to be more like the Bundesliga?
REAL LIFE. REAL NEWS. REAL VOICES.
Help us tell more of the stories that matter from voices that too often remain unheard.