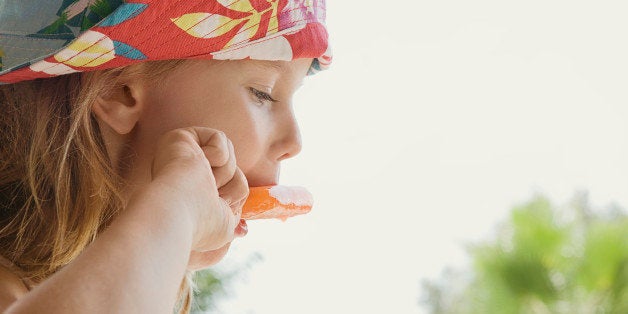 I took my daughter to her outdoor day camp orientation this weekend. In addition to the amazing outdoor spaces and activities they have scheduled, I was struck by the enthusiasm of the counselors. Their energy was contagious and even I felt that awesome sense of summer, where learning takes a back seat to having fun and the shining sun slows down the otherwise relentless rhythm of day-to-day life. For a moment, I felt like a carefree kid again and I was filled with excitement for my 6-year-old.
Last summer, I wrote an article about the awful camp snacks my daughter's previous camp served. The post clearly struck a nerve, as it went viral in a few short days and was even picked up by The Daily Mail in the UK. Many other parents supported the changes I was pushing for, but it seemed many more were either indifferent to what the camp offered or actually preferred the junky snacks. I often heard: "Let kids be kids," or "It's summer -- let them have fun!" or "It's not a big deal. We ate it when we were growing up and we turned out fine."
Parents were upset when I pushed to have water replace "bug juice" at camp. I know "bug juice" was an iconic part of many of our summers, just like some of us remember the days when it was glamorous to have a cigarette hanging out of your mouth. Fond memories of youth and happy times aren't reason enough to continue doing things that just aren't good for us. We learn more and we do better. The children were just fine with water.
Fortunately, my daughter's camp almost immediately overhauled their menu and ditched the Oreos and cheese doodles and replaced them with carrots, applesauce, grapes and apples. I was pleased to hear that, this summer, the camp will continue to serve fruit for snack. (The after-care program at the camp will still be serving the junky Nilla wafers and Cheez-Its, however. That said, the camp is certainly making strides in the right direction).
This summer, my daughter wanted to try something new with a few of her friends. When I called the new camp a few months ago, I asked about the snacks they served. While I wasn't pleased with the options, the camp director was open to suggestions, provided they worked with his constraints.
At the orientation, I talked to the director about the daily popsicle selection, and he shared with me the 22-page list he received from their vendor and asked for my (better) suggestions. He was willing to make changes, though he explained how hard it is to please everyone. In fact, he mentioned that some parents say their children don't like fruit and vegetables and how happy they are that this camp serves chips and cookies.
I fought loud and hard last summer for the camp to offer more fruit and vegetables. And here are parents who are giving up on their children liking fruit and vegetables and instead are happy with highly-processed, overly-sweet and salty "food." I run programs in preschools and early child care centers to get children excited about fruit and vegetables. So I've met my share of kids who refuse produce. I've also seen those exact children excitedly add spinach and pineapple to a blender for a smoothie and then gulp it down. Sure, it isn't always easy and doesn't always happen right away, but I find that, in so many cases, it's really the parents who think their kids won't eat the "healthy" food, not the kids themselves. It's really the parents who are barriers to better options, be it at home, camp, school or birthday parties. And since the parents are buying the food (or paying for the camp), the buck stops there.
Those of us who care about improving the quality of the food our children eat often turn to our teachers, principals, camp directors and coaches. These people are certainly in charge of making purchases or putting policies in place. But we really need to turn to our peers and mount a campaign about the importance of real food for the health and future of our children. We need to speak louder and longer about why this is something we value and why other parents should value it too. We need to remember that summer can be fun and carefree, but it's still our job to teach our children what to eat, and that job doesn't end just because it's summer vacation or because our children don't want to eat real food. Only once we come together as parents concerned about all of our children will our voices be heard and will there be change.
Visit First Bites and join the First Bites community on Facebook and Twitter for more information about kids' health habits and nutrition.