I'm really lucky. I've met an awesomely amazing guy. We met online, on eHarmony to be exact. So why should it make me feel embarrassed to tell people the way we met?
Should I be ashamed to tell people that I met my boyfriend online?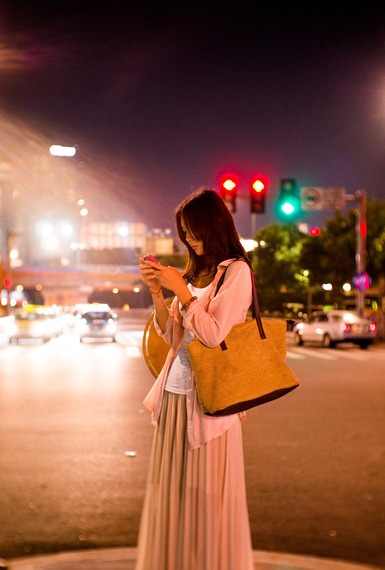 It might be my age. Way back in the day, you met people the old fashioned way. At work, through friends, school or the oh-so-classy way of meeting-at a bar.
The last time I was single there WAS NO internet or online dating sites, so when I separated I wasn't sure whether or not to go online.
Then I took a look around and realized, LA is not an easy place to be single. It's a big city with lots of traffic. People are locked behind car windows on the freeway. Impersonal, vast, not a lot of chance encounters. I realized that unless a single man lived in the crawl space underneath my house and decided to pop out one day, I was probably going to have to go online.
But the whole online dating thing was scary. I felt "loserish". What if someone that I knew saw me? (Um, so what they are online too?!)
I quickly got over those crazy thoughts and logged on. And I'm so glad that I did. I never ever would have met my boyfriend. We work in very different industries. We live in totally different parts of the city. We would never have bumped into each other at the dry cleaners. I never would have run over his foot with my grocery cart at Vons.
I'd had dates with other men I'd met online. There was a system. Before you met his friends, you'd always have to make up a story of how you met. Through friends. At Starbucks. At a work event. Not one guy ever suggested we just tell the truth. That we met online. No way.
Until my boyfriend. I was meeting his best friend for the very first time. I was ready to make up "the story" of how we'd met. But then this amazing man replied, "No." "We met online. I'm proud of you and how we met. Why wouldn't I tell the truth about that?"
And I realized. He's right.
Why is there this hidden stigma to online dating? Well I'm done. I refuse. I'm not an online dating apologist. I'm an online dating believer. A hallelujah shouting online dating evangelist. Online dating lets people find each other across time zones, across cities and countries. It can even help someone like me find an incredible man who lives in another zip code across the wide expanse of freeways and canyons in Los Angeles. What's not to love about that?
Are you dating online? Do you tell people about how you've met your dates? Or do you make up your meeting story too?