If you're thinking about getting a tattoo and don't know where to start, Keith McCurdy's brain would be a good one to pick.
He's self-taught, started in his mom's Delaware kitchen with a starter kit he bought online when he was a teenager, and eventually moved to New York City to become "Bang Bang," a name synonymous with celebrity ink and owed to the double guns tattooed on his neck.
Now 29 years old, McCurdy has opened an eponymous shop in SoHo and tattooed Katy Perry, Adele and Cara Delevingne; he gave Justin Beiber a tattoo on a private jet in the sky, and Rihanna wrote in the forward to McCurdy's memoir, "I'm going to keep my skin pretty as long as possible, but the minute that starts to go south -- Bang Bang can just knock me out and I'll wake up a week later, covered in tattoos. Maybe when I'm fifty."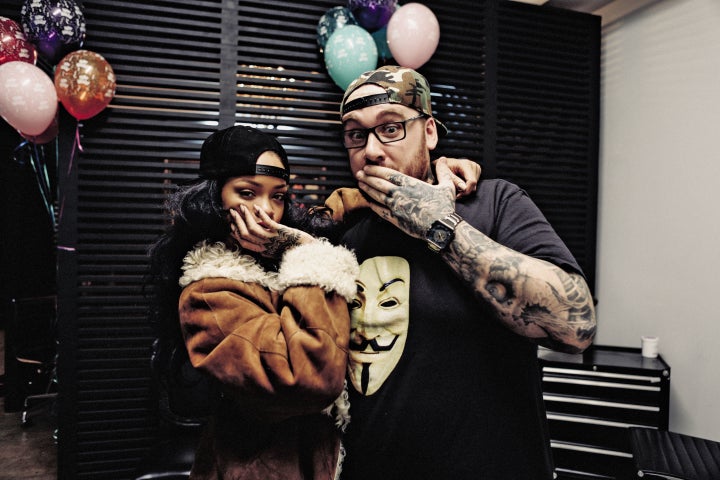 So if you're thinking of getting a tattoo, McCurdy says there are a few things you need to know first.
"The decision to get your first tattoo is one you should't take lightly," he writes in the memoir, titled "Bang Bang: My Life In Ink," which was published in November. "But you shouldn't let it freak you out, either."
Here's everything you need to figure out and bring with you before you ever walk into a shop.
An Open Mind:
"Hopefully you've been researching and found an artist whose style you like and whose talent you trust," McCurdy writes. "When you find the right person to do the job, you should let them do it, and trust that they want what's best for you. That means that sometimes you'll get a little pushback on your idea. If I think a tattoo is going to look crappy, I'm going to try to steer you toward either a different design or maybe a different location on your body. A good tattooist won't do a job he knows he's not going to be happy showing off. Expect your tattoo to be better than you imagine."
Easy-Access Clothing:
"Think about where you're getting tattooed -- if it's your shoulder, wear a tank top or strapless shirt; if it's your ankle or foot, wear shorts or loose pants," McCurdy writes. "A button-up-the-front shirt worn backward is a great idea for back tattoos. Don't be modest -- we make bodies beautiful."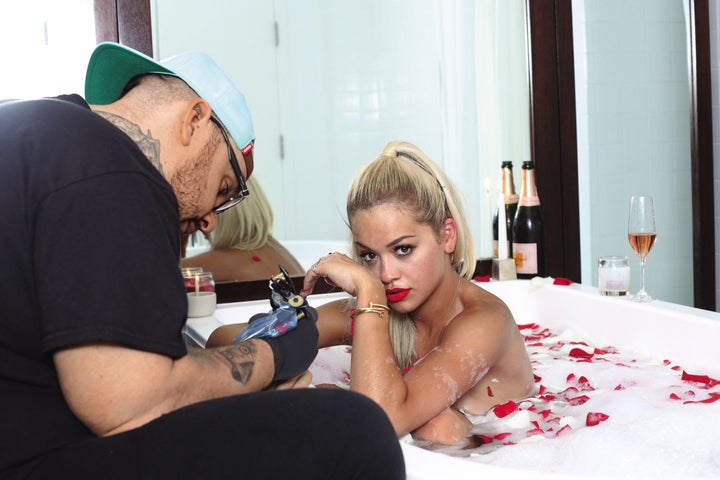 A Relaxed Attitude:
Your first tattoo can be stressful, and it's OK to have a glass of wine or a beer, "but don't overdo it," McCurdy writes, because alcohol can thin your blood, "and that gets messy."
McCurdy explains that a relaxed attitude is important for several reasons: "Worrying and stressing is a misuse of imagination, and that stress will be put on your artist," he said. "If you are stressed, your artist will be stressed. But if you feel confident with the person you choose to tattoo you then you should feel relaxed. We are really good at hiding our mistakes so there shouldn't be a reason to worry. It's really important to be relaxed. Everyone wants to be relaxed."
A Full Stomach:
Because this whole thing can be stressful, people can sometimes feel faint. "It's like a panic attack. If you are stressing out mentally, then your body reacts," he told HuffPost.
"People can even pass out sometimes. It can be a stressful experience and your body reacts to it the only way it knows how, which causes you to be faint. If you eat well, drink water and get a good night's rest then you should be fine. It's few that really feel faint and if they do, then we feed them some sugary soda and they are as good as new."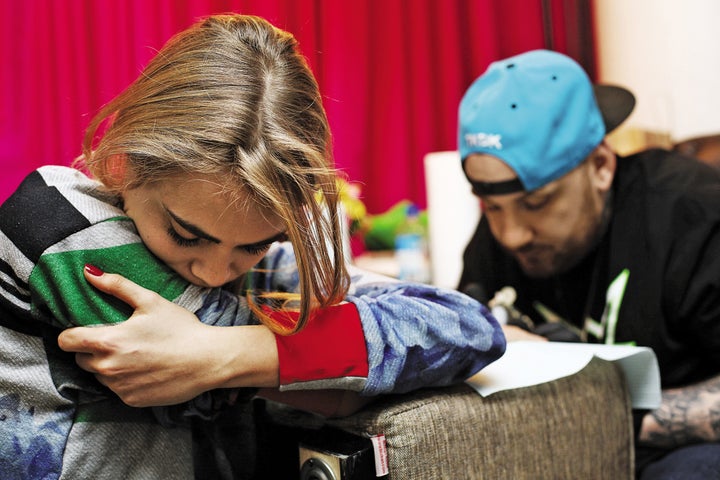 Reference:
You won't offend a tattooist by bringing in another artist's work as an example, but don't expect a respectable one to copy it outright.
"I'm not annoyed," McCurdy told HuffPost, "but I won't do the tattoo and I'll tell them that. I'm confident in my skills so I think I can tattoo something better than any piece of artwork being done. We have clients that bring stacks of papers in with ideas or some just explain what they want. This is our specialty; we know how to curate ideas into tattoos."
He recommends that you rather just think of it as a collaboration: "We may both have a lot more fun if you let us interpret your idea with you to come up with the best possible original design."
Enough Money:
"I have no doubt you'll be able to find someone to tattoo your mom on your neck for $60, but you're going to get what you pay for and it ain't gonna be pretty," he writes. A good tattoo is an investment.
"You will be wearing your tattoo for life. If you can't afford to have a good artist work on you, you're much better off waiting and saving up to get a quality piece of work."