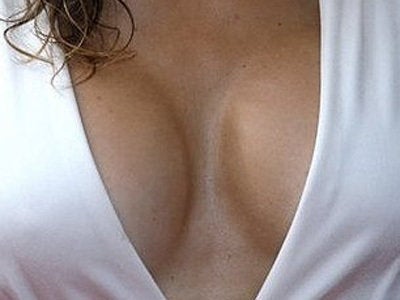 Please put me out of my misery. For a year I've been tormented: Should I give in to vanity and get modest-size breast implants, or should I endure my saggy breasts, which are causing me to lose my desire for sex? I'm a 28-year-old mother of two, but my breasts make me feel like 40!
Alack! I can no more talk to you into accepting your breasts as they are, than I can talk you into taking Pam Anderson as your Personal Savior.
It all comes down to one philosophical question: Will you be happier with zippy breasts?
For 16 years I've begged women to discover the "right" answer -- i.e., to glory in their their whammers, whether round, flat, small, large, coned, ballooned, barrel-shaped, or bouncing like two basketballs. And, of course, I realize (at last!) there is no right answer.
A sexy young mother of two, such as yourself, might actually feel 50 times happier with a sprightly breast lift (excess skin is removed and your cups are reconstructed) or with roguish implants.
Ravishing Regards,
E. Jean
P.S. I wish my girls were 40 again! What fun we had!
I'm still in a quandary about my breasts. The sight of them kills my libido. But should I do the noble thing and "accept my body for the way it is?" I'm deeply conflicted.
Insanity, my crazed rosebud:
Wonderful hearing from you again! But for God's sakes, boobs aren't everything. Do what makes you delight in yourself.
Ravishing Regards,
E. Jean
I received a reply so quickly, I was worried the advice was not from E. Jean herself, but from an intern, assistant, or adoring kept man, and that E. Jean is out drinking pineapple martinis. On the other hand, if this is REALLY E. Jean, you are much better-looking than Dr. Phil.
Dear Worrisome, my pineapple:
I raise a martini and toast to you and to all Huffington Post readers! May your umlauts bounce with joy and verve through the coming year!
A slightly different version is appearing this month in Elle Magazine. To see more go to http://www.elle.com/.