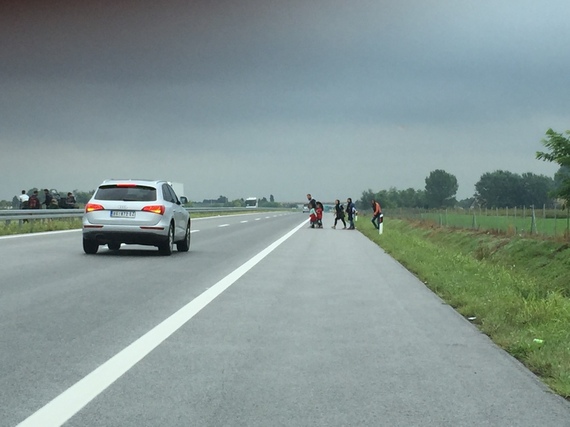 They were about to cross the highway. I asked Mlad, my chauffeur, to stop the car and I jumped out. They had been walking for days; their shoes were soaked in water and torn. They were mostly men, about 10, but among them were also a small child and two women.
One of the women was in her early 20s; the other one was in her 40s. The young woman was shaking and crying. She asked me if they were far away from the border. I asked Mlad. "About 10 kilometer," he answered.
She staggered, the others with her. They would have to go for another hour.
I looked at their feet. Hers, the younger woman, were swollen, sore and she was wearing flip-flops. I myself was wearing the new sneakers my sister-in-law had bought for me. Waterproof so that I wouldn't get athlete's foot while I was out on the field.
I took off my shoes and gave them to her. She was ashamed, reluctantly she took them. She gave me her flip-flops. It was a bit cold; I thought to myself and was instantly ashamed by that thought. What should I do with my socks? I couldn't possibly give her my used socks. So I put them in my pocket.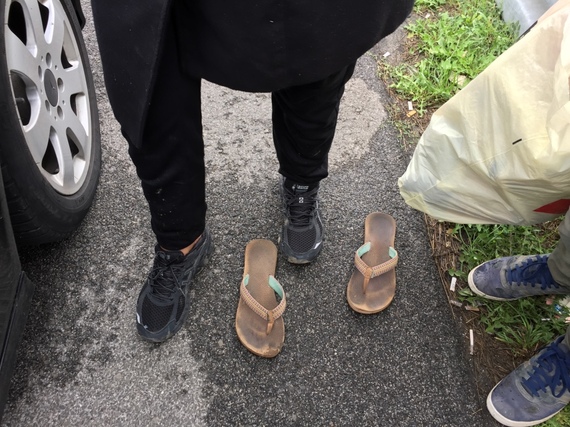 One of the men took my hand and asked me where I was from. I replied that I'm Swedish but was born in southeastern Turkey, Christian and Assyrian / Syriac. He was shocked and extra grateful, because I was non-Muslim, yet so generous and helpful. My stomach turned. But I didn't say anything. The older woman told me that the younger woman was her daughter, and that the young boy was her daughter's son. On top of that her daughter was pregnant. I asked where her husband was. "We are Palestinians. We lived in a refugee camp, which was attacked by both terrorists and the regime. My son-in-law is still in Lebanon and couldn't leave Syria together with us."
They fled from Damascus to Northern Syria. They'd been through one drama after another other - robbery, threat and hate. They miraculously managed to reach Turkey. There, a new began, and then the boat trip to Greece and being abused by cynical smugglers. And then a new journey began. Macedonia. Serbia. Yes, by now I guess most people know about the Syrian and Iraqi refugee's way.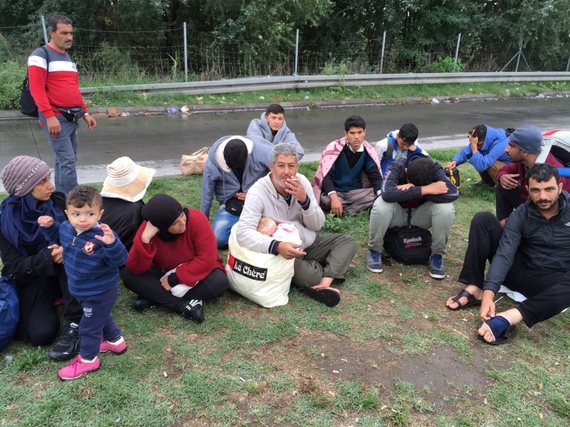 They now wanted to get in to Hungary and I helped them. A Serbian officer gave me information about where I could find a place where somebody cut a hole in the fence. We went in that direction, but when they were about to go down they realized the ditch was full of water due to the rain. They were forced to go up again, crawl up, while I was stood guard. A couple of hundred meters away it was better. They prayed to God that I always would be protected and waved to me as they walked into forest.
In the evening I went to a shopping mall to buy shoes. The cashier asked me why I was wearing flip-flops. I told her just as it was and the day after she followed and handed out food to the refugees.
I'm lying sleepless and thinking about all the thousands of people that I've met and interviewed through the years. Now I have a new face. The young woman who is wearing my shoes. Where is she now? Should I have given her my socks?
Calling all HuffPost superfans!
Sign up for membership to become a founding member and help shape HuffPost's next chapter