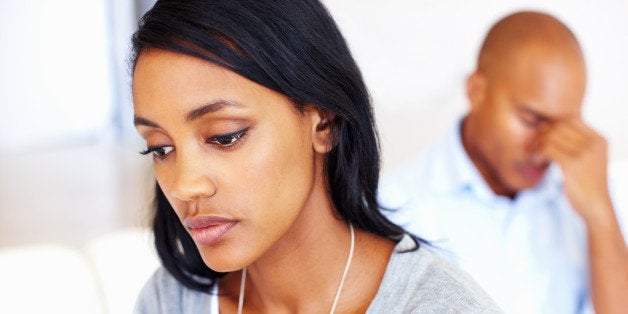 Reader Sexless And Sad writes,
My husband and I have been married for 9 years, together for 20. We're in our late 40s, no kids, and don't have many friends or family -- it's just us. Several years ago, he began losing interest in sex. Whenever I tried talking to him about it -- and it was always me -- asking was anything wrong, would he go get a checkup, etc. -- he'd get angry, and never did anything to resolve the problem. After a couple of years of this rejection, I stopped initiating sex (it became embarrassing and hurtful), he didn't either, and we drifted apart.

Of course, I had an affair, for the usual reasons: I felt attractive again, like I was likable, interesting, etc. He found out, we went into couple's therapy, we separated for a year. During the separation, we both worked hard in therapy and vastly improved our communication skills. I realized that this man is who I loved, I loved our life, and I wanted to make it work. I moved home.

That was now two years ago. While our communication has continued to improve, and we get along really well on a day-to-day basis -- we laugh, have a lot to talk about, don't take each other for granted, are affectionate and loving with each other -- there is no hint of sex, and no plans for a future. (On his part; I'm always talking about the future. He doesn't respond, which makes me feel just awesome.) He says he doesn't feel secure, pointing out other "faults" of mine (e.g., I started compulsive online shopping as a self-soothing mechanism, which I'm correcting through therapy), but that he doesn't REALLY blame me, and says that he doesn't think we want the same things. However, as I've told him, I don't know what he wants, so how can we plan a future? No enlightenment has been forthcoming.

We're stuck. We love each other very, very much. My family is toxic, while I truly love his. We don't have children, mainly because he didn't want them, and our lives are built around each other. Still, despite saying I'm his best friend, the only light in his life, etc., he still says he is torn and wants to move on.

To complicate matters: he finally fessed up to the severe untreated depression he's had for years. However, other than trying an increased dose of cannabinoid therapy, husband isn't doing anything. (Procrastination is one of his trademarks; I'm a doer, so it drives me nuts.)

So -- basically, our marriage has been in a grey area for several years, and sexless for even more. I don't want our marriage to end, but am I fooling myself? I dread starting over again, but do suspect that I'm wasting my increasingly precious time. Or is the kindness and love, the "best friend" relationship, the fun we have together, "good enough"? I've shut down the sexual side of myself, so I THINK I can live without intimacy. Or am I setting myself up?

While I'm in therapy (on my own, as well as with him, and with the same therapist, who was mine first), I really need another point of view. Maybe it will seem more clear to you that I should either give him a little more time and perhaps the marriage can be saved, or that I've waited long enough; time to move on.
I am sorry you're in such a sad place right now. It is very hard for people whose partners do not value sex; here is a woman in your same situation. I think that it is clear that your husband doesn't find the sexless state of your marriage to be an issue, and it will not be a priority for him to work on this. Maybe he doesn't initiate because he's depressed, but this has been an issue for years, predating the affair. It is unlikely it will change majorly, unless there is a hormonal issue, and who knows if he will be open to getting his testosterone checked.
Either way, I think one major issue here that may be clouding your judgement is the fact that you seem very isolated. I am so sorry that your father just died, that is a major source of grief right now, and in general it seems like you don't have much of a support system aside from your husband. He is your "best friend," which is great, but he seems like your only friend as well, and you even share a therapist with him! Incidentally, this is probably not the best idea, as I don't know if either of you can fully concentrate on working on yourselves unless you're 100% sure that your therapy is a safe space, and therapists are human and can forget what one person doesn't want the spouse to know, and so forth. This is why ethically it is not a good choice to see partners individually unless it's solely as an adjunct to couples work, and in that case, get your own therapist!
I suggest that you work on a list of ways that you can enhance your life, and goals and values that you have for your life, that don't revolve around your husband. If sex is not on that list, then fine. But if you do want a sex life, and I think you do since you have had an affair due to sexual rejection before this, then your husband is right: you two want different things. If you value planning for the future, including retirement, travel, and whatever else, then your husband is not the right guy for you either. But if your main goal is to have a happy life, where you live in the present, without planning for the future, with a man who makes you laugh and who is a best friend, then stay where you are.
I am sorry that I don't have a definitive answer for you, but I believe that this is not an easily solved situation. Everyone has their own unique idea of what type of life is acceptable and preferable. Some people value a sexual connection, some don't. And this changes over time, too. What is important to you at one age may not be important at a later age. But once you make your decision, you should certainly commit wholeheartedly into it. Either be a great wife to this guy, or get out and start making the most of your single life. Ambivalence is a normal stage, but when you sink into it, you can end up paralyzed and wasting the only life you get.
Good luck making this decision, and till we meet again, I remain, The Blogapist Who Says, Live The Life You Want.