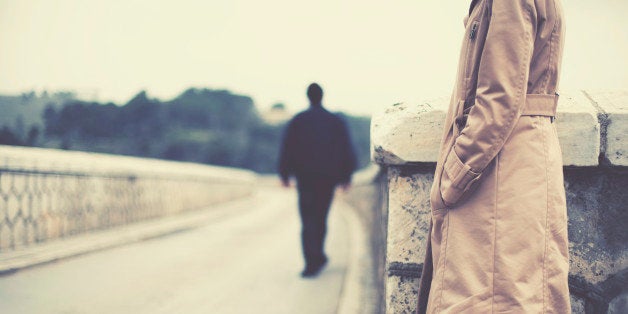 There are actually many signs, if we pay attention. But signs or not, we might hesitate to leave a relationship out of insecurity or uncertainty. We may doubt ourselves and wonder if it's really the right thing to do. We wonder if we should give our partner one more chance, even though we've already given him a hundred before that. In a bad relationship, we can lose sight of our direction, get derailed from our life, disconnected from our friends, our family, and our work, and still find ourselves struggling to make that difficult and FINAL decision... even though in our heart of hearts... we know.
The truth is, if we get quiet within ourselves, and really listen, we always know if something or someone is right for us. Not only that, we probably have known right from the start. If we remember back to when we first met, we can remember that those doubts and concerns were there in the first two or three meetings. But as time went by, we may have downplayed those concerns, covering them over with hopeful thinking. But if we are really honest with ourselves...we knew.
Don't feel badly though, that you may have put a soft filter on the state of the relationship. You are human after all. You were giving them the benefit of the doubt. You were giving them a chance. You were "waiting and seeing." And that is only right. You can only discover what the nature of a relationship is by being in it. However, there can come a point in a relationship where you can see that it is clearly not working. And as you realize this, there comes from deep within yourself, a seismic inner nudge that is encouraging you, showing you, reminding you, sometimes even shouting at you, that it is time to take action.
Because of the complexity of intimacy and the intricate dance of relationship, we can be confused about what to do, when to do it, or even if we should. But once realized, the sooner is the better -- like before you buy a house together, or conceive a child, or change your lives so radically that it is practically impossible to back up.
It is true; it is hard to always gauge accurately when things are not working -- really not working. But once you recognize that the connection is not strong enough to hold, and that the two of you are not able to work through it, then it is time to let go of the relationship.
So, instead of prolonging or procrastinating, when you finally have the courage to know what you know, and really, to know what you knew all along -- then it becomes easier to have "the conversation" that really was inevitable.
I could have titled this blog When to Let Go. There is an art to life, and one of the graces of life is to know when to let go. The longer you delay, the more suffering there will be. If a relationship is really not working and has become untenable, then for everyone's sake you need to release it. This mindful act of conscious closure then, actually becomes a gift of compassion to both of you. And, by doing so, it sets you both free to find real happiness.
Diana Lang is a spiritual teacher and author of
OPENING TO MEDITATION. www.DianaLang.com