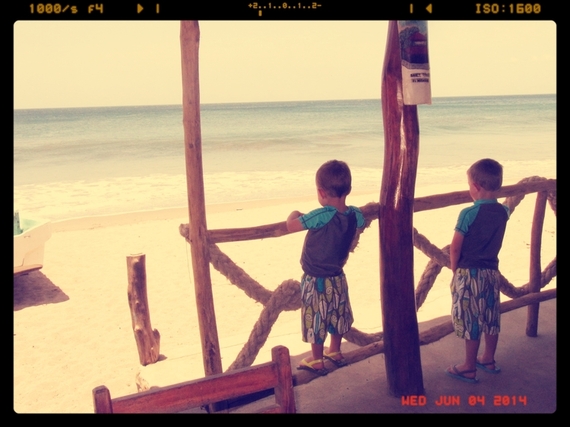 Take heed, dear reader: You must answer "yes" to all five questions before you start making family-travel plans. Photo by Michael Mundt
1. Are you prepared not to relax?
It goes without saying that when you travel with children, especially babies or toddlers, your chance for "relaxation" is about a snowball's chance in hell. And if you're the mom or primary caregiver, it's even less.
But when my boys were babies, I truly enjoyed being with them in the pool or watching them play in the sand. I didn't mind missing out on rainforest zip-lining because the children needed a nap, or heading to the room early to get them to bed for the night.
If anything, those were some of the more relaxing moments for me as a mom. After all, back home when the kids were sleeping, I'd feel obligated to fold laundry, wash dishes or complete any number of endless, nagging chores. On vacation, however, staying solo with sleeping kids meant I could read a book -- one that I chose that did not include illustrations or rhymes. Or, better yet, I could sleep. Just. Sleep.
2. Are you willing to pack more than the kitchen sink?
I remember being in utter shock about all the gear I received for my first baby shower. I mean, how is it possible that such a tiny human needs so much stuff? Not to mention the bulk of it all, especially if you have to cram it into luggage.
On our inaugural international trip as parents, a weeklong stay at Morgan's Rock in Nicaragua, I packed a full-sized suitcase to accommodate one baby. In addition to clothing and swimsuits, there were diapers; his favorite stuffed elephant; blankets; toiletry items; pacifiers (LOTS); bottles; a baby carrier; infant medication (just in case); and, most important of all, a breast pump.
Since Brody preferred early on a bottle to nursing -- he has been contrary literally since birth -- I was reduced to pumping, even on vacation. And that meant packing the giant contraption and requisite accessories.
But clearly I was still a rookie nine months into motherhood, particularly in the baby-travel-necessities department. That first night at Morgan's Rock, in our beautiful but rustic cabana with few modern amenities, I realized I'd forgotten to pack refreezable ice packs.
Translation: I had no way to refrigerate my "liquid gold." You can imagine how confused the night guards were when I begged them in less-than-broken Spanish if I could store the precious vial in the main lodge's ice cooler for the night. (They provided an ice-filled cooler in our room every day thereafter.)
And while both kids are well out of that baby phase, there's still a lot to pack--particularly because I usually do so for both boys and myself (even though Colin insists on "helping"). In addition to basics, they're also constantly trying to sneak in whatever toy or trinket they think they might need in case of emergency -- Pokemon cards, plastic lizards or EVERY SINGLE Lego they own.
If I haven't made it clear enough by now, bringing kids and their belongings complicates vacations. And since there's more stuff to bring, that also means there's more stuff parents need to manage and not lose. Basically, where kids go, chaos follows--all the way to your destination and back.
3. Are you prepared to slow your pace?
My sister has often likened vacationing with my husband to enduring boot camp because he routinely drove us to sheer exhaustion. And, honestly, I was happy to join him in seeing and doing as much as possible in any destination. To relax was, in essence, a failure to make the most of our getaway.
And then we had children.
Before I was a mom, I'll admit I didn't understand the "children change your viewpoint" nonsense. Logically, I could grasp that concept: "Yeah, yeah. Seeing things through their eyes. I get it." But it was another matter altogether to experience it.
True, kids' wonder and awe for things we adults take for granted is refreshing. My kids notice every bird in a tree and every insect on the ground, particularly in new surroundings. But parenting is more than just seeing things through our boys' eyes. For us, it's also been about adapting our ideals to suit our kids' needs. And that goes for vacation as well.
I now see the value in just sitting on a beach and playing in the sand. I relish the chance to just sit poolside to read a magazine while the boys swim. And if I don't see every site in a particular locale, I no longer feel like a failure. We're still active, and Michael would prefer a hike to lounging, but he knows it's okay to just be with our kids. They literally changed the way we view vacation.
4. Can you really expect the unexpected?
Every time we fly somewhere, I'm reminded why many people avoid travel completely: lugging around seemingly everything we own toward transportation delays, frustrations and complications. Not to mention language barriers, exotic-food issues and general disorientation. Add children, and all those difficulties are all the more, well, difficult.
For instance, the time our international flight home was so delayed that we risked missing our connecting flight home. (There is nothing worse than getting this close to home with exhausted children and getting stuck one more night in a hotel!) So 4-year-old Brody ran with Michael and me at top speed--certain our lungs would burst--to hold the gate while grandparents and 2-year-old Colin caught up via courtesy cart.
Or the customs line that was so slow my kids entertained themselves by simultaneously pushing the other's nose upward, piggy style. Michael and I watched, downtrodden, while seemingly everyone around us found the boys' antics absolutely hilarious. "Good birth control, people," I joked, trying to fight the urge to duct tape both children to the floor.
And aside from the typical travel hurdles, you're sure to add more when you bring kids. For starters, parents of young children must endure what I call "nap jail," a time when you're forced to stay put in lieu of more enticing activities.
Kids also get sick, throwing a monkey wrench into whatever travel itinerary you might want to follow.
And, last but certainly not least, children are often whiny narcissists who simply don't want to do whatever fun thing you have planned on vacation. They don't want to hike the coolest trail in the whole world or see the most amazing sunset on the planet.
Basically, kids want what they want, and they will hold parents hostage to get it. Even on vacation.
5. Do you have the patience of a saint -- or better?
Let's be clear: Neither my husband nor I possess sufficient patience to be parents, whether at home or on vacation. At least it feels that way most of the time.
So why would I invite the boys' demands, whims and all manner of irritating behavior -- the highlight of which are the brotherly fights -- to test my limited patience when my husband and I could be traveling à deux?
Because despite all of that vexing behavior, I genuinely enjoy having my boys around, warts and all. And, frankly, the warts aren't all theirs anyway.
All that together time sometimes taxes my brain because they want me for what feels like EV-ER-Y-THING. And if they don't want something from me, they're haranguing Michael to play, wrestle or endure any number of physically demanding activities that only Daddy can do.
In short, they are bottomless pits of neediness that can lead parents to their wits' end and beyond. Plus all that "together" time also means more opportunity for heads to butt. Indeed, some of the most severe tantrums I've witnessed -- both the adult and kid variety -- have been during one of our trips.
But we remind ourselves that someday in the not-so-distant future, our kids won't need us as much. And they're certainly not going to want to hang with Mom and Dad -- especially on vacation. So I try to view it as a privilege to have my children along while they still think we're worthy of their attention. Who needs to relax on vacation anyway?
Related