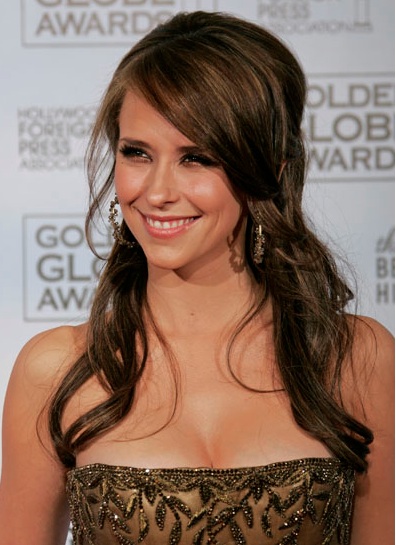 Now that the news is official about Jennifer Love Hewitt's breakup with Jamie Kennedy after their year long relationship, perhaps the Ghost Whisperer star should consider online dating.
Now, the question arises, Should Jennifer Love-Hewitt join an online dating site?
Of course, I am going to say yes. But just which site would be the most appropriate for the actress who professes to be a hopeless romantic? Probably one with a large membership base and with men who are looking for a committed relationship. Should she post a profile photo? What about her age? These are all questions the actress will need to consider should she decide to venture into cyberspace for her next mate.
With over 40 million singles visiting online dating sites, with or without her profile photo, she could enjoy the benefits of Internet dating and not rush into a new relationship. Online dating will give her the opportunity to select men that she could be interested in. Taking time to heal from her recent break up and then date multiple men might not be such a bad idea. Will she follow her own advice from her relationship book? Perhaps.
My dating advice for Jennifer, take the time to do things that make you happy. Write down a list of hobbies that you have neglected and friends you haven't spent time with. Renew yourself from the inside out. Then, go ahead and give online dating a try.
The key for online dating as well as any type of dating after a serious break up is to be emotionally available. No one wants to be the rebound person or the transition person after a serious relationship ends or a marriage ends in divorce.
Often high profile people shy away from online dating, as they don't want to put their profile photos on the Internet. Considering photos from the paparazzi are all over the web, and celebrities are busy with their Twitter accounts and Facebook fan pages, why shouldn't they have current online dating profiles if they are single?
CELEBRITIES AND ONLINE DATING
Online dating is not a new concept for celebrities.
Even comedienne Joan Rivers admitted to Howard Stern in an interview that she had placed an ad on Match.com along with her actual photo. Rivers was advertising for coffee and comedy. Halle Berry was known to have visited chat rooms and online dating sites.
TWO BRADS GIVE ONLINE DATING A HIGH FIVE
Everybody Loves Raymond's co-star Brad Garrett starred in his own web series, "Dating Brad Garett." In the series, Garrett's mom, ex-wife, exterminator, and urologist, all selected his online dates.
Brad Pitt was quoted in the August, 2009 issue of Wired magazine with his online dating advice. He tells singles to lie about their age to get selected. I have to disagree. Will he consider it himself some day? Only time will tell.
If celebrities are active on Twitter and have Facebook Fan pages, why not post an online dating profile? Love Hewitt's Facebook Fan page has over 21,000 members and is growing daily. Authenticity is in style in a big way.
Here's my advice to Jennifer. Let me know when you're ready to venture into cyberspace. I'd be happy to create your irresistible online dating profile for you to find the man of your dreams.
According to the CNN.com article, the story will be available in this Friday's PEOPLE Magazine.
Photo Credit: Image Cache
Julie Spira is an online dating expert and dating advice columnist. She is the author of The Perils of Cyber-Dating: Confessions of a Hopeful Romantic Looking for Love Online. Visit her at CyberDatingExpert.com where you can share your online dating stories.