 Junky, processed food and afternoons spent in front of tech are taking a toll on our kids' health, with everyone from Michelle Obama to the United Nations looking for solutions. But what if the path to healthy eating is simpler than we think?
The key ingredient is play--something at which our kids are already experts. When kids are involved in the process of growing, harvesting, and cooking without the pressures of "are you going to eat your spinach?" they experience those foods in a different--and better--way. With these simple tips, it's easy to get your kids to start playing with their food--and that's a good thing.
My husband Michael and I created a food lover in our home by appealing to our son's sense of fun and tactile curiosity. Giving kids space to "help" when you are cooking connects them directly to the foods that you will put on the table later. For instance, the littlest ones can wash greens, pick or tear herbs, peel boiled (cooled) potatoes with their hands, shuck peas, or mix dry goods in baking.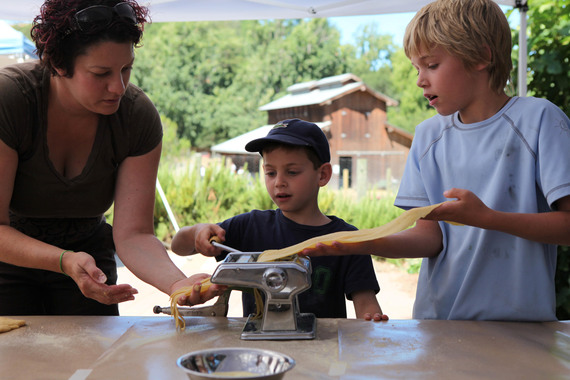 Another enjoyable and easy activity? Make homemade dough and give your kids some to shape into any form they like, whether it's a pretzel or dinosaur. Creating time for experimentation outside of the stresses of rushing dinner to the table will help spark creativity in budding home chefs.
Jennifer Tyler Lee, author of the 52New Foods Challenge cookbook advocates adding fun to your food through color and texture. Recipes such as Brussels sprout chips and quinoa crumble cakes introduce the whole family to healthy foods while keeping the time together exciting, and the outcomes delicious. At the Dirt to Dine Adventure camp at Connolly Ranch in Napa Valley, the kids make "lasagna rollups" with beet puree, pea puree and just-made ricotta cheese. Filling rollups becomes an art project and soon, dozens of kids are wolfing down beets and peas!
We also love California-based Benjamin Eichorn's Grow Your Lunch project, which provides snappy handbooks and videos so even the least experienced gardeners can find quick success. Across the country in North Carolina, Lettuce Learn uses the farm as classroom for autistic kids in that state's High Country. And educator Stephen Ritz, winner of TedX Manhattan, is building a full health and wellness center at PS 55 in the South Bronx, including an indoor farm that grows vegetables and fruits in vertical towers.
Advocates often herald the benefits of cooking together with your kids, but time can be a challenge. Jen Carden, the author of Toddler Café and The Playful Pantry, proposes prepping food on weekends when you have more time. A particular favorite of mine are the prep-ahead homemade sushi rice balls. Simply roll rice into balls, choose your favorite toppings, and enjoy your custom culinary creations.
There are so many ways that we can support our kids on their paths to become healthy eaters and sustainable food advocates, but I've found the more fun we're having, the better it is for all of us. Connecting our children to the roots of their food in our home kitchens, community and urban gardens, edible classrooms, or local farm camps is not only an ideal way to deepen their relationships to the foods they eat, it's the most fun way I know to cultivate conscious, healthy, and happy eaters.
ALL PHOTOS COURTESY OF EILEEN GORDON CHIARELLO/ CONNOLLY RANCH
Calling all HuffPost superfans!
Sign up for membership to become a founding member and help shape HuffPost's next chapter