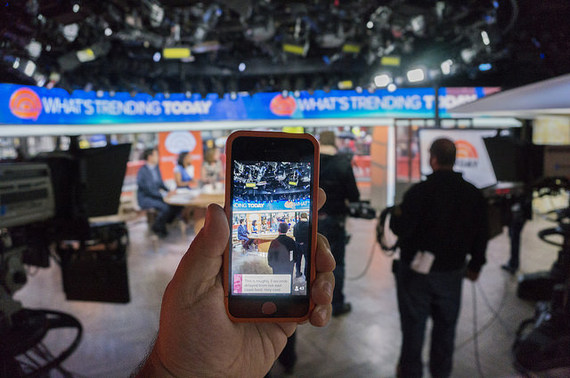 Image Credit: Flickr, Creative Commons: Anthony Quintano
Marketers never thought that marketing would become so convenient and cost-effective. A decade ago, brands spent a huge amount on TV commercials, billboards, print media and many other advertising methods. Now, more than 50 percent of their focus has shifted to digital marketing. It's simple, social media is more cost-effective and yields better results than the traditional methods. Let's not forget that social media is always evolving and improving each year. We have seen plenty of additions in the last five years and livestreaming is one of them.
Livestreaming has been in the mix for a long time but not many marketers considered it a part of social media. According to them, live streaming is more feasible for events rather than a product. One can argue with this statement because it is a bit of both. Live streaming has seen some changes and the most notable change is the integration with social media.
Integration with social media
There are five major social media tools - social networking sites, video blogs, photo blogs, audio podcasts and blogs. Livestreaming can be integrated into three out of the five mentioned social media tools. Tech companies all over the world broadcast their events live to their audience for several reasons.
First, there are millions of users and not everyone can attend the event so they need to provide them with a platform to be a part of it. Second, tech companies are quick to adapt to the latest technology. Thirdly, global brands want recognition around the globe to become successful.
Speaking about tech companies, they are taking livestreaming one step forward with virtual reality. OnePlus has just announced that they will live stream the launch of their product in virtual reality. These sort of things attract large audiences to their events, which eventually leads to more hype.
All this leads to a question of why brands don't use livestreaming as part of their digital marketing. The answer to this question is fairly simple.
These brands do not see it as the right investment because of the costs involved and the impact it will have on their product. It is understandable because till now there were only a handful of streaming platforms available, UStream and Google Hangout on Air.
Both tools are free of charge and provide excellent performance. Google Hangout on Air has an advantage because it is integrated with the largest video platform, YouTube.
Mobility
More than 50 percent of social media users access their profiles through a smartphone. This presents a great opportunity to capture the market and reach more people through live streams. There has been a 114 percent year on year increase in smartphone and tablet video views since 2012. Approximately 200 million people view videos on social media and 50 percent of these users watch videos on their smartphones.
Users prefer to watch a video of a brand or a product instead of reading the same information. The digital video ad spending increased by 107 percent in 2014 which is enough to convince brands to adapt livestreaming. These are very convincing numbers and favor live stream indirectly, so if your website isn't mobile-ready, you may want to check, Combustible, a company that specializes in creating mobile-friendly websites.
New platforms
Now things have changed. Twitter has purchased Periscope and launched it at a global scale. Meerkat is another live streaming app which was launched this year. Both of these platforms are based on mobile and allow users to live stream their videos with a simple touch. This has opened a new opportunity for marketers to add live streaming in their social media strategy.
A lot of brands invest a large amount of money in celebrity endorsements and live streaming can be another way of cashing in on that investment. Marketers can start a campaign on social media regarding a Q&A session with the associated celebrity via Periscope or Meerkat. This can certainly help the brand get extra attention and its consumers will feel a closer connection towards the celebrity.
Still developing
At the moment, a marketer will encounter varied results from live streams. Some streams will deliver astonishing results while some will have an average response. The reason behind this is the audience you are streaming to and apps like Periscope have thousands of users online and you are never sure whether a user from your target audience is one of the viewers or not.
Livestreaming still requires some improvements and by the start of next year we will see it becoming an essential part of social media strategy.
REAL LIFE. REAL NEWS. REAL VOICES.
Help us tell more of the stories that matter from voices that too often remain unheard.