You've signed the lease and sorted out the major issues from pets to parking. But now that you're moving in, you're probably looking at your new digs even more closely, and certain move-in questions start to arise that you hadn't thought of before. No worries -- we've got you covered.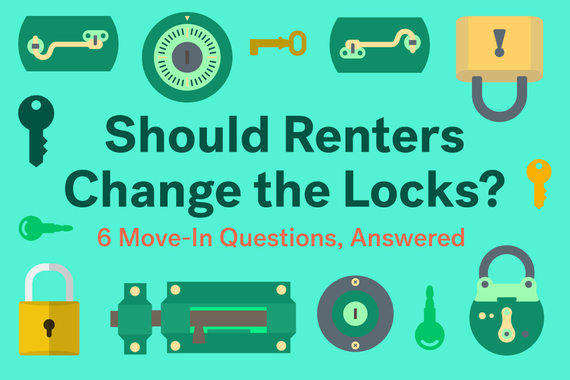 1. Should you change the locks?
It's normal to be nervous at the thought of a previous renter having a copy of your keys. But can you change the locks -- or did your landlord take care of it? Look over your lease carefully, and if you don't see a specific mention, ask! Laws on this vary from state to state, but chances are, you'll need to keep your landlord in the loop -- they'll probably request a copy of the key for emergencies.
2. Should you change the toilet seats?
Whether for cosmetic or hygienic reasons, replacing a toilet seat is one of the easiest, most budget-friendly upgrades you can make to your newly rented home (Lowe's has four models under $10). But you might not have to pay at all.
In his column "Lessons From a Small Landlord" landlord Craig Roche says he's happy to pay out of pocket for this expense, filing it under "low-cost improvements that make tenants happy" along with shower bars and hotel-style clotheslines. So before you fork over the cash, ask your landlord if they'd be willing to make the swap for you.
3. Can you plant a garden if the lawn is your landlord's responsibility?
Generally, tenants are not allowed to alter a rental property's landscaping without the landlord's permission. Even if you think it adds value to put in a raised-bed garden, your landlord might disagree.
If you can't bribe them with your beautiful homegrown heirloom tomatoes, look for a middle ground, so to speak. Try a container garden or hanging garden, or find an area to plant within an existing flower bed. No matter what agreement you come to with your landlord, be sure it's in sync with your city's regulations.
4. Should you document pre-existing damage?
Yes, yes, and yes. Take move-in photos as documentation -- even landscape shots if you're responsible for lawn care. In addition to images, it's a good idea to note any damage on the landlord's move-in checklist. If there isn't a checklist, make your own, sign it, and date it.
5. Can you be an Airbnb host?
While most leases clearly state whether long-term subleasing is permitted, there's a little more gray area when it comes to the peer-to-peer renting of a room while the original tenant still inhabits the apartment. But whether or not it's covered in your lease, many renters (i.e., your neighbors!) find this to be a security issue and do not want it in their buildings. Consider the potential ramifications before you list a room.
6. Can you get a new sconce for the hallway?
If your hallway light looks as though it belongs in a funeral parlor, you're probably on your own if you'd like to replace it. (Your landlord deals only with electrical issues related to your safety.)
The good news: You don't need anyone's permission, and you can take your uber-chic industrial wire cage wall mount with you when you move out. Just be sure to store the original fixture somewhere safe so you can reinstall it before you leave.