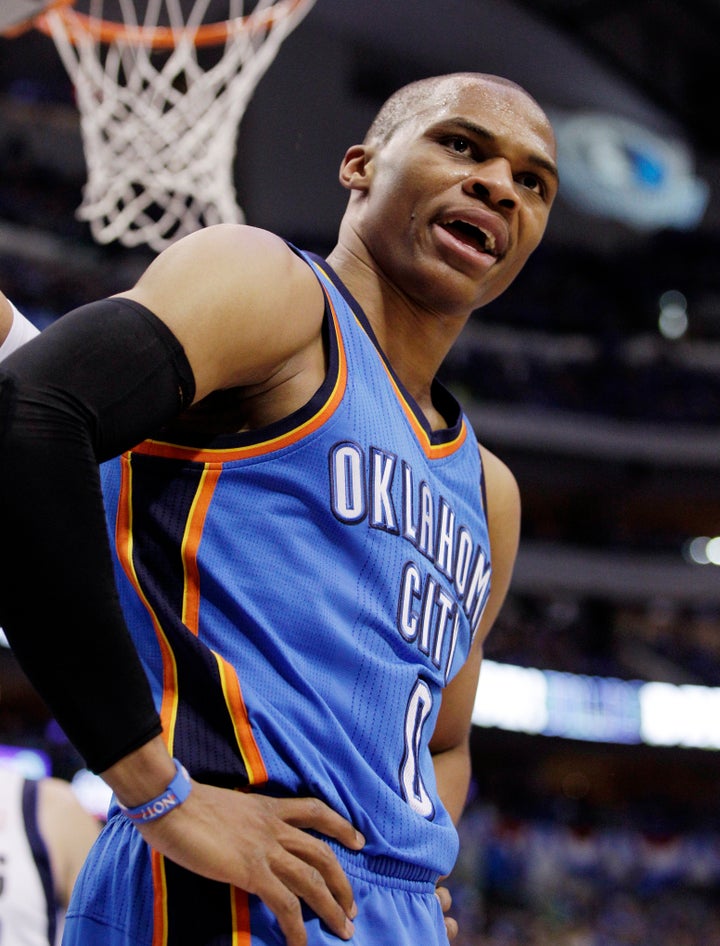 The window for Oklahoma City to win multiple titles and reign the Western Conference is clearly just now opening. But the Thunder has a considerable problem at the point guard position, as HuffPost examined earlier in the week. The dynamic Russell Westbrook had a great season, but he may not be the long-term answer for a championship contending team -- at least in Oklahoma City. Kevin Durant is the true superstar and, with the emergence of James Harden as a premier playmaker in both the open floor and the half court, having a shoot-first lead guard is not the good situation.
While a trade is unlikely, it's something GM Sam Presti should strongly consider. Presti (who has always publicly backed Russ), has pushed all of the right buttons during his brief but extremely successful tenure and, as painful as it may be, trading Westbrook for a true facilitator may be the far better fit.
Option A). Westbrook for Ricky Rubio

The real wildcard here. Who knows what David Kahn and the Timberwolves have in store for their Spanish import, but Rubio's camp has made it abundantly clear that he doesn't want to play in Minnesota. This would be a win-win. Kevin Love -- as great as he is -- is still a No. 2 option, allowing Westbrook to be the go-to guy. Plus, the Wolves have a slew of young and talented 3-4 wings (Wesley Johnson, Michael Beasley and maybe Derrick Williams from the draft) who would all be good running mates.
And Rubio would excel in the Thunder offense, where he could run the screen-and-roll and still push tempo as much as he wants. Plus, both are still in the infancy stages of development (Rubio is 20) and would thus be building blocks at the game's most important position.
Value on the dollar for OKC: -$.1 to Even
B). Westbrook for Deron Williams (with bench players included to match salaries and fit salary cap)
Williams is one of the premier players in the league. Just as gifted a scorer as Westbrook, he does so with a slew of moves, both on the perimeter, in transition and in his pull-up game. If New Jersey doesn't think it can resign him next summer, acquiring a player like Westbrook would make plenty of sense. The 26-year-old Williams is a No. 1 franchise type guy, but he's enough of a natural point to run an offense catered to Durant. Westbrook meanwhile, would fit in nicely alongside Brook Lopez, already one of the top five centers in the game.
Value on the dollar for OKC: + $.50
C). Trade Westbrook for Chris Paul (including salary fill-ins)
Paul is perhaps the best point guard in the game, and his attacking style and all-around passing prowess would allow OKC to build a true dynasty in the West. While CP3 could potentially resign with New Orleans, there is always the nightmarish possibility of him pulling his own Carmeloesque stunt and either demand a trade or bolt next summer. In Westbrook, New Orleans can build around him as their point guard of the future and salvage losing Paul.
Value to the dollar for OKC: + $.50
D). Westbrook for Jose Calderon and two first round picks
I'm going to take some heat for this one, but consider my argument before you blast me.
Calderon is a terrific passer and ideal fit for the Thunder given his wondrous ability to run an offense. Although nowhere near the raw athlete or physical presence of Westbrook, Calderon is a lead guard who can score when needed but also thrives on the pick-and-roll. A career 38.3 percent three-point shooter (compared to RW's 27.4 percent) with one of the best assists-to-turnover ratios in basketball, you can't go under screens and load up on Kevin Durant the way Dallas did in the conference finals. He immediately allows Durant to be 'the guy,' and drastically lowers the Thunder's league-worst turnover clip.
Part of OKC's problem in the playoffs was Scott Brooks' predictable offense. Much of that issue however, stemmed from Westbrook demanding the ball, especially late in games. Calderon has far better recognition of matchups than Westbrook and his selflessness will only benefit the balance of this offense.
Value on the dollar for OKC: + $.25
E). Westbrook for Steve Nash and three first round picks and cash
It sounds crazy, but it's really not. Phoenix is clearly in rebuilding mode and knows it can't contend for the next couple years. Nash is 37 years old and on the final legs of a brilliant, but title-less career. A ring is all he's missing at this stage, and OKC presents a great opportunity. Nash's deft passing ability and three-point shooting accuracy would be a great addition to the Thunder.
He only has the one-year remaining on his deal and can bridge the gap over the next few years (assuming he resigns) for Eric Maynor to develop into the starting point guard of the future. Westbrook meanwhile offers an infusion of youth and athleticism the Suns desperately need to move forward. With Aaron Brooks there as well, it offers the possibility of sliding Westbrook over to shooting guard, where he can comfortably take 20-plus shots a night and become a legitimate 25-point scorer.
Value on the dollar for OKC: Even
The only other alternative I envision for Westbrook -- if the Thunder elect not to trade him -- is for him to slide off the ball and play shooting guard. From what we saw in the playoffs, he simply may not have the capacity to conform his game into the role of lead facilitator. His 4.8 turnovers per game matched his assists total and, as one veteran on the team said, "he thinks he's better than Durant."
Popular in the Community