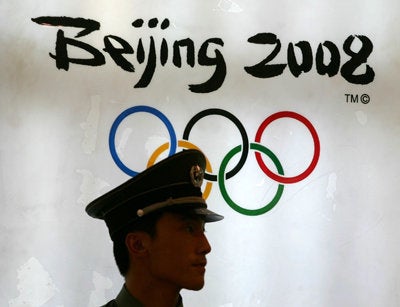 One of the 6 "Fundamental Principles of Olympism," as expressed in the charter of the International Olympic Committee (IOC), is that "Any form of discrimination with regard to a country or a person on grounds of race, religion, politics, gender or otherwise is incompatible with belonging to the Olympic Movement." The Charter further states that "The IOC's role is...to act against any form of discrimination affecting the Olympic Movement."
Yet there are two countries, Saudi Arabia and Qatar, which have consistently prevented women from competing in the Olympics.
Saudi Arabia has taken part in the Summer Olympics 8 times though 2004. Until now, 122 Saudi men have competed in the Olympics, but no women have. Qatar, over a period of 6 Olympics, has sent 82 men and no women. This year, Qatar will enter 22 athletes...all of them men.
The Saudi position is so extreme that, during the Parade of Nations at the Opening Ceremony, they have not allowed women of the host nation to carry the placard bearing the name of the Kingdom of Saudi Arabia.
The obvious question is: Why is the IOC allowing Saudi Arabia and Qatar to violate the Olympic Charter?
It is worth noting that both gender-discriminating nations have seats on the 110-member International Olympic Committee. Saudi Arabia is represented by 30-year-old Prince Nawaf Faisal Fahd Abdulaziz, whose late father was also a member of the IOC. The IOC member from Qatar is 27-year-old Sheikh Tamin bin Hamad bin Khalifa Al Thani, who is also the heir apparent of the royal family of Qatar.
This year, two Arab countries, the United Arab Emirates (UAE) and Oman, will be entering women for the first time after sending men-only teams to the last six Olympics. Mohammed bin Rashid Al Maktoum, the ruler of Dubai and the prime minister of the UAE, is allowing two of his daughters to compete in Beijing. Her Royal Highness Shaikha Maitha bint Mohammed bin Rashid Al Maktoum will compete in taekwondo, while her sister, Shaikha Latifa Al Maktoum, will take part in the show jumping competition. Oman will be sending 16-year-old Buthaina Yaqoubi, who will compete in the 100 meters and either the long jump or the triple jump.
As a point of information, Afghanistan and Kuwait entered their first female Olympians in 2004. Iran first allowed women to compete in the Olympics in 1964 and has entered one woman in each of the last three Summer Olympics. However, because Iranian women athletes are required to wear traditional clothing that covers most of their bodies, their choice of sports is limited. In Beijing, Iranian women will compete in shooting, sailing and taekwondo.
David Wallechinsky is the vice-president of the International Society of Olympic Historians and the author of The Complete Book of the Olympics.
Support HuffPost
A No-B.S. Guide To Life
Related
Popular in the Community