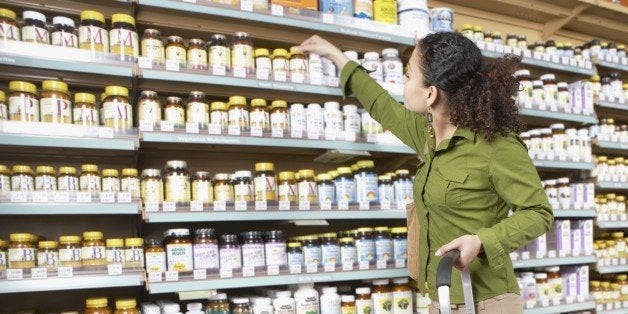 According to Forbes, supplements were a 32 billion dollar industry in 2012, this number is expected to grow. Supplements including vitamins, minerals and different herbs are promoted to help us acquire better health.
Our bodies need vitamins and minerals for normal metabolism but do we have to take supplements?
Vitamins, excluding vitamin D, cannot be synthesized by our bodies. We get our vitamins from the food we eat. If we eat a diet rich in fruits, vegetables, whole grains, nuts and healthy oils then most of us probably do not need a supplement.
There is insufficient evidence to support that vitamin supplements prevents disease in adults who are healthy except for those people who are on specific diets or have medical conditions Up To Date. In addition, exposure to high doses of vitamins can be toxic.
Who can potentially benefit from vitamins?
Those who are elderly, vegans, very poor, alcoholics, have renal failure or those who have malabsorption problems would be expected to have vitamin deficiencies. Also, those who do not have enough sun exposure would also be expected to have a vitamin D deficiency. In certain circumstances like planning a pregnancy, supplements such as folic acid are recommended.
It is also recommended that testing for specific deficiencies be performed if vitamin deficiency is suspected. For example, measuring levels of vitamin D in older adult patients with osteoporosis or checking vitamin B12 level in patients with memory loss.
Who regulates the supplement industry?
Dietary Supplement Health and Education Act places dietary supplements in a special category under the general umbrella of "foods," not drugs. This is why some supplements will state "this products has not been evaluated by the FDA" or "This product is not intended to diagnose, treat, cure, or prevent any disease". Supplements cannot advertise that they treat a medical condition as a drug would. The Federal Trade Commission (FTC) regulates this type of advertising.
According to the FDAs website "The FDA regulates both finished dietary supplement products and dietary ingredients". However, in response to a question on their website "Does the FDA routinely analyze the content of dietary supplements"? The FDA responded "The FDA has limited resources to analyze the composition of food products, including dietary supplements, it focuses these resources first on public health emergencies and products that may have caused injury or illness."
Under the Dietary Supplement Health and Education Act of 1994 (DSHEA), the manufacturers are responsible for evaluating the safety and labeling of their products before marketing to ensure that they meet all the requirements of DSHEA and FDA regulations. This means that dietary supplements do not need approval from FDA before they are marketed.
The manufacturers are required to submit all serious adverse events associated with use of the dietary supplement to the FDA.
Do the manufactures know that there are adverse effects of these products?. Do they report these adverse effects as they should be doing?
It appears that the Department of Justice is stepping in. The U.S. Department of Justice stated that an indictment had been made against a Texas supplement company. The indictment stated that USPlabs LLC, used a synthetic stimulant made in China to make their products but told retailers that the supplements were manufactured from plant extracts.
The indictment also alleges that the defendants sold some of their products without determining whether they would be safe to use. The indictment notes that the defendants knew of studies that linked the products to liver toxicity.
Earlier this year several companies including GNC, Target Walmart and Walgreens were sited by NY Attorney General for selling store brand herbal supplements that either didn't contain the labeled substance or contained ingredients that weren't listed on the labels.
Perhaps supplements should be listed as drugs rather than a food. It would allow for stronger regulation.
Is a supplement really a food?
When I am eating an apple, I know I am eating an apple. I cannot say the same about taking a supplement.
Perhaps the supplement industry should be better regulated to help avoid adverse effects.
Do you think the supplement industry should be better regulated?