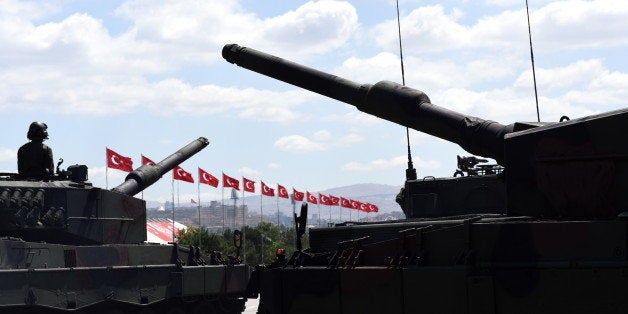 The American people typically have little stomach for a military coup. But given the undemocratic nature of the Erdogan regime, Turkey may have had no choice. Should the coup be successful, the United States and the rest of the democratic world should insist that the country return to democratic rule, by the Turkish people, with a constitution that ensures someone cannot turn the republic into an autocratic regime.
During the Cold War, and even before, America winked at, or even encouraged military coups in Latin America, and elsewhere. Sometimes one undemocratic leader ousted another. Other times, the elected leader was pushed aside. So why a republic, such as the United States, support such actions? The thinking was summed up by President Franklin Delano Roosevelt, who said of would-be Nicaraguan coup leader Anastasio Somoza "He's an S.O.B. But he's our S.O.B."
But even as the United States exerted its influence indirectly, or directly sometimes when troops were sent to support an overthrow or a resulting war, it actually weakened itself by such actions. Some of the leaders really were "S.O.B.s," which turned the countryside against an American ally. Other times, such support for coups in allied countries made fellow allies less likely to support American actions. Even our own corporations, which thought such actions would benefit their bottom line, found the dictators more troublesome than the democratic leaders, as earlier research of mine revealed.
The best policies were adopted during the Kennedy Administration. Military coups were not tolerated, and when one occurred, pressure was brought upon the junta to find a way to bring back democracy, even if the military was a better form of government than its predecessors. This plan was undermined in Vietnam in 1963, with disastrous results for America.
Yet despite the major flaws of the Erdogan regime, the United States should learn from its past mistakes. The United States should work to ensure that whether the military succeeds or Erdogan survives, the Turkish government work to ensure the democratic freedoms and respect the civil liberties and political rights of its people. Otherwise, it won't be a communist insurgency that benefits from our missteps in supporting a dictatorship. It will be a terrorist group that takes advantage of our support for an undemocratic regime.
John A. Tures is a professor of political science at LaGrange College in LaGrange, Ga. He can be reached at jtures@lagrange.edu.
REAL LIFE. REAL NEWS. REAL VOICES.
Help us tell more of the stories that matter from voices that too often remain unheard.