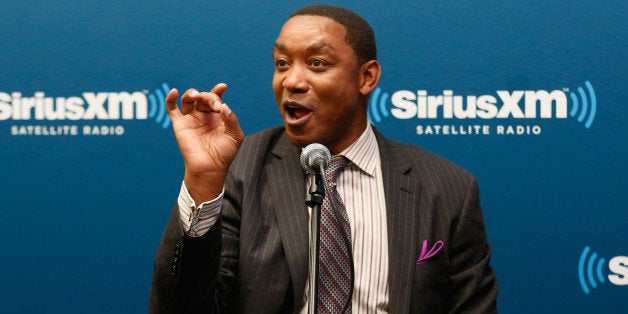 Isiah Thomas, the Hall of Fame basketball player who more recently was found guilty of sexually harassing a female employee, was recently put in charge of the WNBA New York Liberty and sold a piece of the team. Considering recent events in the basketball landscape, it is tremendously disappointing (though probably not that surprising) that the basketball world is not more up-in-arms.
After all, it was just a year ago that the NBA public was in an uproar over the racist and hate-filled comments made by Donald Sterling, the then-owner of the Los Angeles Clippers. Sterling, as you may remember, was literally banned from the NBA for life by Commissioner Adam Silver, who just for good measure, fined him $2.5 million dollars.
(For the record, a jury of Isiah's peers ruled that the victim of his harassment, Anucha Browne Sanders, was entitled to $11.6 million, just over $9 million more than Silver demanded of Sterling.)
You see the prick of hypocrisy here, right? It doesn't take a tremendous leap in logic to wonder how one individual found guilty of sexual harassment could earn a second chance running a basketball franchise (a women's team, at that). After all, the precedent has just been set that the Association has no place for the hate-filled and the intolerant (In fact, the NBA doubled-down on that bet when they ushered out Atlanta Hawks owner Bruce Levenson for racist emails in September).
Yet here we are, in 2015, and Isiah Thomas is running a WNBA franchise. It seems fair to wonder, as a national issue, are we essentially saying racism is intolerable, but sexism, not so much? Is this a commentary on our nations opinion on racism vs. sexism, or is this merely the result of the NBA's popularity vs. the WNBA?
After all, through a lens of hatred and ignorance, Isiah's comments stand-up pretty strongly against Sterling. From a Page 2 ESPN report on the Anucha Browne Sanders case:
The highlight happened when Isiah denied cursing at Browne Sanders and offered that "a white male calling a black female a bitch is highly offensive," but when asked if he believed it was just as offensive if a black man said the word, he confessed, "not as much."
Are the two situations identical? Not exactly, but the similarities are there. In its simplest form, Sterling said something disgusting and hurtful and ignorant to an entire race of people. Thomas said somethings disgusting and hurtful and ignorant to an entire gender.
Sterling turned the public upside down and has forever been removed from the game of basketball. Thomas has since been reinstated, a news event that solicited little more than a yawn, and has since been handed ownership of a team made up entirely of women.
How is this being allowed?
When Sterling's comments became public, Heat owner Micky Arison, the owner of the Miami Heat, called the man's words "appalling, offensive and very sad."
Former NBA MVP Steve Nash wondered publicly, "if racism is a learned behavior, how long will it go on for? How long will people be taught to be bigoted, to discriminate and to instill hatred in our communities?"
The United States continues to wrestle with the legacy of race, slavery and segregation. That's still there -- the vestiges of discrimination. We've made enormous strides, but you're going to continue to see this percolate up every so often. And I think that we just have to be clear and steady in denouncing it, teaching our children differently, but also remaining hopeful that part of why some statements like this stand out so much is because there has been this shift in how we view ourselves.
If the president's comments are to be taken as reality, then it would seem fair to wonder why statements like the ones Isiah was found essentially guilty of making don't stand out as much.
Again, the two situations are not identical. This is not the perfect comparison. Thomas is not Sterling, just like Sterling is not Thomas. However, it seems safe to say it would be comforting to see some of the individuals who were so up in arms a year ago show a similar level of interest today.
Non-Sequitor: I recently blogged my opinion that domestic abuser Ray Rice should be given a second chance in the NFL, which would seemingly be in contrast to my opinion here. My thesis in the previous post was based off of Rice's ability to act as an advocate on behalf of domestic abuse victims. Considering Thomas and MSG's recent denials of any wrongdoing in the Anucha Browne Sanders case, it seemed obvious to me that acting as an advocate against sexual harassment in the workplace was and will never be a goal of Isiah Thomas, Knicks owner James Dolan or the MSG corporation. I hope they all prove me wrong.
Related
Popular in the Community