With all the incompetent and corrupt cabinet nominees facing hearings on the same day and with one shocking revelation after another, it is hard to keep up. The most sensational one can get lost. That, of course, was by design. That is why so many hearings are scheduled simultaneously at a breakneck pace, before the Office of Government Ethics has had sufficient time to complete its work.
Just Wednesday alone brought us one nominee who failed to pay his taxes, another who just fired his undocumented employee, and another who won't even acknowledge ― to the Senator who represents the parents of the young children gunned down at Sandy Hook Elementary School, that perhaps guns are not a good idea at school.
But the biggest revelation that day was none of those. Rather, it was information revealed by Representative Tom Price (R-GA), a sitting member of Congress who has been nominated to be the next Secretary of Health and Human Services.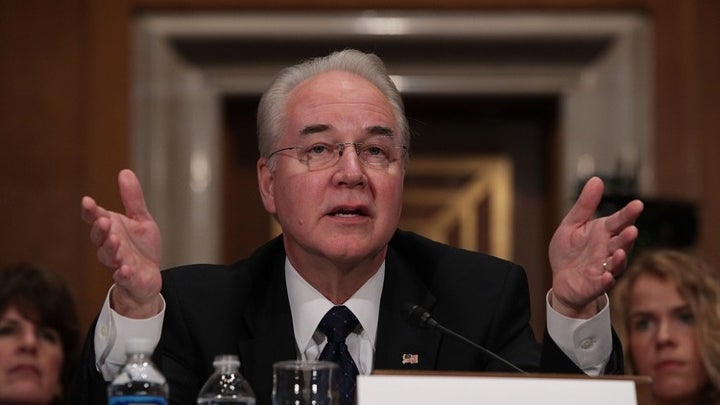 The fact that Price is determined to dismantle Medicare, Medicaid, and Social Security should disqualify him from serving as the Secretary of HHS. In that position, Price would have control over Medicare and Medicaid. As trustee of Social Security and Medicare, he would be duty-bound to act in the best interest of the beneficiaries of those two vital programs – programs he is bent on destroying.
Price's determination to end Social Security and Medicare, as well as Medicaid, should worry all Americans about whether the Social Security and Medicare benefits we have earned will be paid. But that is not a new revelation.
The fact that, as described below, Price has violated the public trust and would, under a fair-minded House Ethics Committee be investigated to see whether he should be expelled from Congress, should disqualify him from being elevated to the cabinet, as well. But that, too, is not a new revelation.
Even before Wednesday's hearing, it was known that Mr. Price abused his public trust for private gain, lining his own pockets by successfully blocking regulations that would have benefited all of us, but would have cost him money.
Price chairs the Health Subcommittee of the House Ways and Means Committee. Outrageously, he invested as much as $90,000 in Big Pharma stock in just the last year. To repeat, the Chairman of the Health Subcommittee has a personal financial stake in a number of well-known Big Pharma companies, including Eli Lilly, Pfizer, and Bristol Price Squibb. He, therefore, has a personal financial stake in ensuring that Americans pay as high a price as possible for the life-saving drugs on which we rely.
True to form for a corrupt politician, Price, just last summer, successfully blocked regulations intended to maintain quality but reduce Medicare costs for overpriced, expensive drugs, in a manner patterned after what the private sector is already doing. The regulations would have saved tax dollars without sacrificing quality of care — but it would have hurt Big Pharma's bottom line, and so Price's pocketbook. Killing the regulations likely boosted those stock prices. Again, true to form for a corrupt politician, Price bought additional Big Pharma stock just weeks before killing the regulations.
The ethics rules explicitly "prohibit the use of one's official position for personal gain." A case involving a member who simply offered an amendment that would have benefited a car dealership he owned is currently pending before the House Ethics Committee. Price's actions are much more aggressive and egregious. They certainly don't warrant his promotion to a cabinet position. But that, again, is not a new revelation.
On top of Price's desire to end Social Security, Medicare, and Medicaid, and on top of his ethically-questionable actions on behalf of Big Pharma, is Wednesday's revelation. That revelation shouldn't simply disqualify Price from serving as HHS Secretary. It shouldn't simply cause him to be expelled from Congress. It should be seriously investigated by the Department of Justice and the Security and Exchange Committee. The investigation should determine whether Price should be criminally prosecuted and, if convicted, serve time in a federal penitentiary.
What was the revelation? That Price may have engaged in insider trading. Insider trading is extremely serious. It is what caused Michael Milken, the so-called Junk Bond King, to agree to a plea bargain, where he, in exchange for a $600 million fine, avoided jail time. It is what ultimately landed Martha Stewart, at the height of her success, in jail for five months. It is one of the charges on which Enron CEO Jeff Skilling was convicted. He was originally sentenced to a 24-year term, and is still in prison, though soon to be released.
If the media does its job, we should soon know a lot more about Price and his possible insider trading, but here is what we know so far: A Price crony, Representative Chris Collins (R-NY), is on the Board of Directors of an Australian biotech firm. As a member of the Board, he almost certainly has inside information. On August 31, after Collins had spoken to Price about the company, Price bought, at a discounted price, as much as $100,000 worth of the company's stock. (Collins, who, together with a family member, now owns 20 percent of the Australian company, bought additional stock valued at $720,000, around the same time.) As of this week, the stock price is nearly 10 times what these politicians paid just four months ago. (Price and Collins paid 18 cents a share in August, the stock is currently trading at $1.55 a share, and, if the company wins FDA approval, as discussed below, the stock price should soar even higher.)
Revealingly, in Wednesday's hearing, Senator Patty Murray (D-WA) informed her fellow members (and the rest of us) that Collins "was reportedly overheard just last week off the House floor bragging about how he had made people millionaires from a stock tip. Congressman Price, in our meeting, you informed me you made these purchases based on conversations with Representative Collins."
A 750 percent profit in four months seems to be just what Price hoped for. And the foreign company seems to be getting just what it hoped for, as well, with its discounted stock offering. It is seeking FDA approval so it can sell its product in the United States, where drug prices are highest. Just last month, Congress passed legislation to make FDA approvals easier and speedier. And if Price is confirmed, he will have control over the FDA.
But that should never happen. Paying back taxes or firing an undocumented worker might save a nomination, though it shouldn't. In contrast, divesting himself of his stock — and even disgorging all profits —is a tepid response to Price's corruption. Rather, the Department of Justice and the Securities and Exchange Commission should investigate Price's (as well as Collins's) actions, and determine whether both men should be fined and criminally prosecuted. And Congress should decide whether to expel both men.
Unfortunately, the Trump administration and this Congress are likely to simply look the other way. Little did Trump's supporters know that when Trump talked about draining the swamp, he meant filling his Cabinet with sharks.
Popular in the Community