Opponents say utility-built charging stations make all consumers pay for a service only a few relatively affluent people will use. Proponents say utilities can direct service to low-income areas that would not be served by private industry.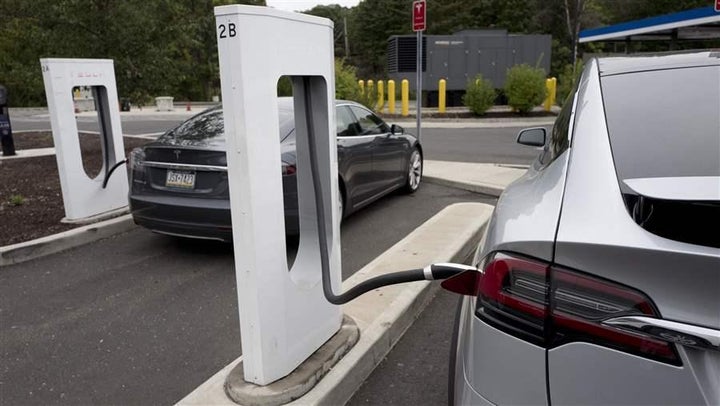 Faced with deadlines to increase the number of electric vehicles on the road, states are being asked to decide whether utility companies can build electric vehicle charging stations — and pass on the cost to their customers.
Building more charging stations could help alleviate "range anxiety," the fear of running out of charge with no station in sight, and therefore stimulate sales of the clean-air-friendly cars. But in some states, officials say that letting the utility industry build more stations would force all electricity consumers to pay for a service that only a few, relatively affluent, people will use.
In California, home to nearly half the electric vehicles (EVs) now on U.S. roads, the Public Utilities Commission last year approved plans for three of the state's largest utilities — Pacific Gas and Electric, Southern California Edison and San Diego Gas and Electric — to build more than 12,500 charging stations at workplaces, apartment complexes and public locations for about $200 million.
But this year, Missouri, Michigan and Kansas all have slapped down utilities' requests to build charging stations with customers' money. "Let the private sector invest in the EV market, rather than have ratepayers finance the speculative venture," the Kansas Corporation Commission ruled.
The different outcomes reflect a broader debate about whether charging stations need to be built to create a market for electric cars, or vice versa, and whether the money should come from electric customers, private charging station companies or automakers. Volkswagen, for instance, will spend $2 billion over 10 years to install electric chargers as part of its civil settlement with the U.S. Environmental Protection Agency over falsifying emissions data.
More than half a million electric vehicles are on the road in the U.S., with the most in California, Georgia and Washington, according to data from ChargePoint, a company that builds and operates charging stations. Electric vehicles use some 44,000 public vehicle charging outlets across the nation, nearly a third of them in California.
Increasing the number of charging stations is especially urgent in the seven states that in 2013 joined California in promising to put 3.3 million zero-emission vehicles, a sixfold increase over current levels, on the road by 2025: Connecticut, Maryland, Massachusetts, New York, Oregon, Rhode Island and Vermont.
"We see action in those states," said Max Baumhefner of the Natural Resources Defense Council, an environmental group that supports utilities putting up more electric vehicle charging stations. He pointed to laws in California and Oregon that ordered utilities to submit proposals to beef up electric vehicle infrastructure — and allowed them to pass the cost to customers.
"But the good news is it's not restricted to those states," he said. "It's not just a Left Coast-East Coast phenomenon." Georgia has utility-built charging stations. In North Carolina, 200 charging stations are being subsidized by Duke Energy as part of a 2016 settlement with the EPA for clean-air violations.
In Kentucky, utilities are building charging stations for which only customers who use them will foot the bill. The state Public Service Commission has allowed two utilities, Louisville Gas and Electric and Kentucky Utilities, to build up to 20 public charging stations and recoup the cost through charging motorists a bit under $3 an hour to charge their vehicles. In addition, the utilities can build an unlimited number of charging stations on commercial properties, which would pay a fee for the privilege.
Utilities "all want to eat the oil industry's lunch," Baumhefner said. "So we're happy to show them the way to the buffet."
Environmental advocacy groups including the NRDC and the Sierra Club say utilities should be involved in expanding charging stations because it's the only way to get enough electric vehicle infrastructure built for the U.S. to meet its air quality goals.
"Utilities may not be the most innovative companies in the world but they are good at deploying boring electrical infrastructure that doesn't break," Baumhefner said. "That's what EV drivers want and it's sorely lacking at this point."
The Trump administration has said it is re-examining higher auto mileage standards and greenhouse gas regulations that have increased automakers' interest in electric vehicles. But because states regulate utilities, they can continue with electric vehicle infrastructure programs regardless of federal policy, Baumhefner said.
Utilities can also be required to build chargers in areas that private companies might ignore, he said, such as an apartment complex where "landlords want a turnkey solution," don't want to have to think too hard, and already do business with the local utility. In California, for instance, Pacific Gas and Electric won approval to build 7,500 charging stations for $130 million, but will only be allowed to own a third of them, all in apartment complexes and disadvantaged communities.
In Ohio, electric utility AEP said late last month it has asked the state utilities commission for permission to offer up to $9.5 million in rebates to businesses, government agencies and others that install public chargers.
Part of a larger package of technology investments, the plan for 375 charging stations would cost AEP customers an additional 50 cents a month as it is built. The utility had proposed to build and own the charging stations, but decided incentives would get them built faster.
The utility would offer the largest rebates for chargers — 100 percent of the cost — in low-income neighborhoods. "If you just give these things to a competitive enterprise, they're just going to go where all the rich people live," said Ram Sastry, AEP's vice president of infrastructure. "We don't want any community to be left out either."
Electric vehicles are still scarce, and opponents say utility-built charging stations make all consumers pay for a service only a few relatively affluent people will use. Electric vehicle prices have just come down to about $30,000.
That was part of the reason California decided to keep utilities out of building car charging stations. In a 2011 decision, the utilities commission said it feared that utilities getting into the business would stifle private competition and require all electric customers to subsidize infrastructure that would be used by a wealthy few. In 2014, the utilities commission changed course and said it would make electric charging decisions on a case-by-case basis.
"The vast majority of customers don't use these, don't need them," said David Springe, executive director of the National Association of State Utility Consumer Advocates. "Why should customers pay? That is a great theoretical starting point."
"It's not quite as simple as saying, from a utility customer standpoint, 'I don't have an electric car. Why should I pay for it?' " he said. "There is an element of moving technology forward and utilities have a role in that. They always have."
States are also hearing from the companies that build and operate the charging stations. They say that if a utility wants to use just one charging vendor, the rest of the vendors are being blocked from the market. And they worry that by letting drivers charge their vehicles for free, some utility pilot programs are setting a precedent that will lead drivers to expect that they won't have to pay in the future.
One compromise may be for utilities to build the underground infrastructure for a charging station and leave the above-ground installation to a private company, an arrangement called a "make ready." In Massachusetts, where a state law says utilities can recoup the cost of building charging stations from ratepayers, the utility National Grid is proposing to spend $24 million on 140 make-ready sites.
When there is a critical mass of electric vehicles on the road, utilities will provide make-ready locations for companies to build and operate charging stations, AEP's Sastry said. "I don't think utilities are going to be in this forever, and I don't think utilities are going to be alone" in the market. But for now, "this technology is too different to let it try to succeed on its own."

Popular in the Community