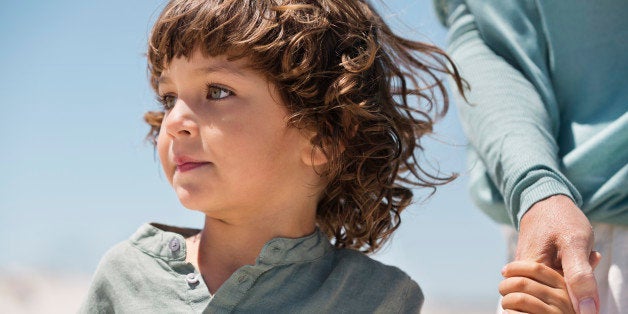 My Rabbi died this week. By using the work "my," I must explain that I always considered him my own personal rabbi because of his kind acts towards me and my family. My first interaction with him was when my son had his bar mitzvah. He was the young rabbi in the temple at that time, and he was learning to conduct himself like the beloved older rabbi who was getting ready to retire. There was always a caring aura about him that endeared him to me and everyone else who knew him. I did not go to temple as often as I should, but when I decided to go, one of the reasons was his sermons. Somehow they always applied to me, no matter what the subject. They were filled with anecdotes and humor, and I remembered their messages after I returned home.
My mother was bedridden when my father's life came to an end when he was hit crossing the street by a careless driver. The rabbi came to my mother's side and talked to her before the funeral. Somehow, she appeared to enjoy the conversation during her darkest hours that followed his death. After the service, he came back to the house to tell her about the funeral and let her know that everything went well. He was letting her know how much he cared. Six months later, he officiated at my aunt's funeral with the same warmth and dedication to my mother. When my mother passed away a year later, it was the same. He held my hand as we tossed a shovel of dirt upon her casket (a Jewish tradition), and he told me to think of it as covering her with a warm blanket. As difficult a time as those two years were, it was my rabbi who knew how to comfort me. Being the head rabbi of the largest temple in this state held many responsibilities for him, yet he made me feel like he didn't have another thing to do when he was with me. My family mattered, my grief mattered, and he was present to make us remember how precious life is.
Seven years ago, my rabbi suffered a stroke which left him too impaired to be at the temple anymore. At his memorial service, his children talked about how important his own family was to him, and how they came to understand that when someone needed him, he would have to leave. He was a man who rushed through the door in later years to crawl around on the floor with his precious grandchildren. He was only 78 years old when he died, only 10 years older than I. I had told him once that he needed to live a very long life, because I wanted him to officiate someday at my funeral! As we all learn, we have no control over life or death, and he died too soon.
When I told my 6-year-old grandson that I couldn't come to his soccer game on Sunday, he asked me why. I wondered if I should make up an excuse or simply tell him the truth. I opted for the latter. I told him that an old man that had been very kind to me all of my life had died, and that I was going to the funeral. He asked me what a funeral was. I told him that it was a place for people to go after someone dies so that they can tell nice things about that person for others to hear. I also explained that a funeral is not something that can be rescheduled. He was disappointed, but I think he understood that I needed to go. I wanted him to understand that we need to remember to say thank you to others in our lives while they are alive and also after they leave us. We need to remember.