Now that you can no longer bid on flight prices, should you still book flights through Priceline over points earned from travel credit cards or other flight search sites? That answer depends on a variety of factors. What are those factors? Let's find out if you should book your flights through Priceline.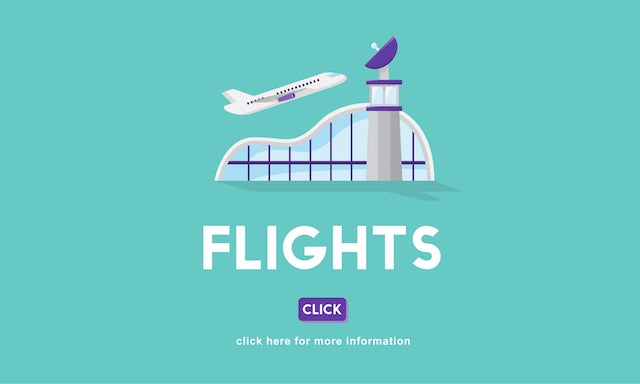 You Have a Flexible Travel Schedule
It's no secret that last-minute flights can be terribly expensive. People used to like Priceline because of their "Name Your Own Price" bidding process that let you haggle on a mystery flight package for a less-than-advertised price. Now, the cheapest way to book flights through Priceline is with their Express Deals that help you save up to 20% off the current price.
Every Express Deal is a pre-negotiated price and you are provided the bare details with like the departure and arrival airport and the general departure times (i.e. morning, afternoon, or evening). What you don't find out until the flight is paid for is the carrier, exact flight times, number of layovers, and the layover duration. The good news is that Priceline Express Deal layovers will never exceed three hours.
Perhaps you will luck out with a direct flight or have some decent flight/connection times. Since flight itineraries can be relatively predictable, especially if you book at the last minute when few seats are left, you might be able to make a reasonable guess as to how which carrier and flight times are included in the flight price.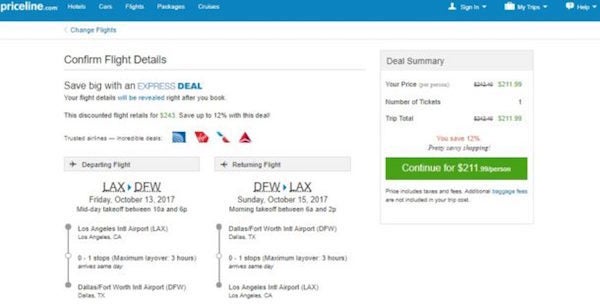 Referencing the above screenshot for flying between Los Angeles (LAX) and Dallas (DFW), Priceline only offers one flight for $242 that has a take-off time of 4:55pm and 6:35am for the departing and return flight. While it's not a 100% guarantee, it's safe to assume you can purchase the Express Deal and save $30 per person.
Why You Might Avoid The Express Deals
You might decide against the Express Deal if you don't like the uncertainty. If you're unsure about your flight times or fear you might get a red-eye flight, saving $30 might not be worth the anxiety. Also, you might be able to find the same flight times on another booking site for less. Other third-party travel portals like Google Flights and Momondo can help you quickly find the best prices offered directly by the carrier or through other third-party booking sites.
These prices can be cheaper than Priceline's regular and potentially not much more expensive than the Express Deal prices. You should always shop around because airline prices can vary greatly from site to site. Plus, Priceline Express Deals are non-refundable.
You Can Earn Credit Card Rewards Points
Some rewards credit cards like the Amex Platinum award you 5 points per $1 for airline tickets if you purchase directly from the carrier or AmexTravel.com. Other rewards cards, like the Chase Sapphire Preferred, will award you bonus points on every travel purchase regardless of where you book your flight. Priceline even has their own co-branded credit card.
You can then use the earned rewards points to book travel directly through your credit card travel portal or they can be transferred to an airline loyalty program allowing you to book flights directly from the carrier.
You are truly leaving money on the table if you're not earning bonus points for your flight ticket. Airline ticket purchases can be some of the most lucrative rewards points opportunities because of the cost and many travel credit cards offer the most purchase rewards for air travel.
Priceline can have some of the best prices for your travel date, but, a booking a flight on Priceline isn't worth it if you can only earn the base rewards rate of one mile per $1. And, credit card miles cannot be redeemed for Priceline flights unless you own a Priceline credit card.
Your Bags Can Fly Free
In addition to ensuring you can earn bonus credit card miles, you also need to make sure your bags can fly free. Some airlines have flexible policies where your bags can fly free as long as you pay for the ticket using your co-branded airline rewards card. Other airlines might require you to book directly from the airline to have the baggage fees waived.
You Don't Plan on Flying Southwest Airlines
Priceline lists the prices of most discount airlines, but, not Southwest Airlines. This limitation isn't exclusive to Priceline. Very few travel portals provide price details for Southwest flights. If you live near a Southwest hub or will be connecting through one, you should consider using a second portal or checking prices directly on the Southwest Airlines website to find the best deals.
Want To Access Member-Only PriceBreakers
The best savings opportunities might also be the Priceline PriceBreakers that are the current travel specials that are only sent to Priceline members. Airlines and other travel portals offer their own version of specials to the most loyal customers.
PriceBreakers can also be tailored so you only receive the types of offers you want to receive like only flights, if you never intend to book a hotel, rental car, or travel package through Priceline.
Booking Flight Packages
You might also book flights on Priceline if you can also bundle your other travel purchases. Priceline will give you the option to bundle your hotel and rental car with your flight. Doing so can save you up to $500, according to Priceline, instead of booking each travel purchase separately. Before booking, compare your prices with at least one other portal to make sure you get the best offer.
The best packages will most likely be found in the PriceBreakers emails you receive, but, they also offer some featured packages on the website. As a whole, you can expect to save anywhere from $100 to $300 on a package.
Alternatives to Booking Flights on Priceline
Priceline lost most of their luster when the "Name Your Price" feature was taken away. The thought of being able to start a bidding war was a major appeal to save even more money on last-minute fares. While the Express Deals for flights can still be a good option for last-minute specials and when booking directly from the airline is too expensive, Priceline is best for booking hotels and cruises.
If you're not pleased with Priceline's fare options or simply want to compare prices, you might give these flight search engines a try:
Directly from the carrier
Summary on Booking Flights Through Priceline
As one of the leading flight booking sites, Priceline does offer some good everyday prices and Express Deals on flights. No booking site ever has the best price 100% of the time. You cannot redeem airlines miles through Priceline for flights, but don't forget to checkout their Express Deals if you have a flexible travel schedule.