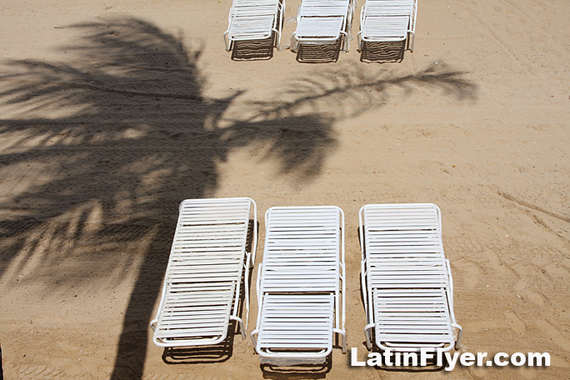 Have you started feeling the pressure yet? If you're a fan of Latin America travel, you know what I'm talking about: that sometimes-overwhelming feeling that you absolutely must go to Cuba. Right this very minute. Before everything changes.
The island nation has been making an awful lot of news lately, as the relationship thaws between the U.S. and Cuban governments -- so more people are talking about Cuba vacations. There are more companies offering Cuba tours and cruises. I've written about the phenomenon for various travel publications, and also for my travel blog, LatinFlyer.com. And some travelers seem in a hurry to get to the largest island in the Caribbean before it changes too much -- in other words, before relations are so normalized that McDonald's and Starbucks invade the island. So does that mean you should ditch your Puerto Rico and Dominican Republic vacation plans and go to Cuba instead?
The reason? Because a Cuba vacation is still a completely different experience from a vacation in Puerto Rico or the Dominican Republic (if you're a U.S. citizen, that is). That doesn't mean that you shouldn't consider a trip to Cuba -- after all, it's a fascinating destination that has been mostly off limits to most U.S. travelers for a long time. But you need to know what to expect in Cuba, and realize how it's different from every other vacation destination in the Caribbean (or anywhere else in the world, for that matter).
How Travel to Cuba is Different from Travel to Puerto Rico and the DR
The main thing that makes travel to Cuba different for U.S. travelers is regulation. The U.S. government only allows U.S. citizens to spend money legally in Cuba when their visit falls into one of 12 categories:
• Family visits
• Official business of the U.S. government, foreign governments, or intergovernmental organizations
• Journalistic activity
• Professional research and/or meetings
• Educational activities
• Religious activities
• Public performance (as a performer -- are you Beyoncé? Piece of cake!)
• Clinics, workshops, athletics, or other competitions and exhibitions
• Support for the Cuban people or humanitarian projects
• Activities of private foundations or institutes
• Exportation, importation, or transmission of information or information materials
• Authorized export transactions
Basically, that means that if you want to go to Cuba, you need to go through an authorized travel agent and/or tour operator, and need to adhere to the U.S. guidelines.
That also means that, if you're a "normal" U.S. citizen, you can't legally travel to Cuba for a relaxed beach vacation, or to wander around much on your own. You'll be kept busy with tours, activities and other approved "people to people" programs designed to connect visitors with Cuban culture and people, but also to stay in line with U.S. government restrictions. In addition, Cuba isn't up to speed like other destinations when it comes to WiFi and Internet connectivity -- so be prepared to be less connected than in other Caribbean vacation destinations.
In a recent report I wrote for Travel Weekly about travel to Cuba, a variety of industry insiders weighed in on what makes the island different. "Cuba is a unique Caribbean destination, and we feel that managing clients' expectations is key," said Bryan Murray, marketing manager for Vacation Express. "For example, the star rating system for hotels in Cuba is not the same as in Cancun or the rest of the Caribbean. Menus at even the best hotels change based on food availability, so people with very strict dietary needs may want to wait to visit Cuba. Travelers should also have realistic expectations about internet access and cell phone service, as internet access is limited, and cell phones will not work on the island. Some suggest that creature comforts like your favorite snack or personal hygiene items are best brought with you, because they may not be available."
If you go to the Dominican Republic or Puerto Rico, on the other hand, you can do whatever you want. Fly when you want. Stay where you want, visit where you want and spend what you want. You'll find plentiful WiFi and Internet connectivity, too. You can also go to Puerto Rico and the Dominican Republic and do nothing more than stretch out on the beach and sip cocktails for a few days. The Dominican Republic has the advantage of offering lots of all-inclusive resorts as well, while Puerto Rico offers the advantage of being a U.S. territory, so you don't even need a passport to visit if you're a U.S. citizen.
In short, there are plenty of reasons to consider a trip to Cuba and also a vacation in Puerto Rico or the Dominican Republic. But the experiences you'll have in Cuba, if you're a U.S. citizen, are likely very different from what you'll have on the other two islands. Go to Cuba for the amazing culture, history, music and people -- and full itineraries of U.S. government-approved activities. But go to the Dominican Republic and Puerto Rico for everything else: culture and history and people, of course, and full itineraries, if you want them, too -- but also flexibility, freedom and plenty of time to kick back and enjoy some rest and relaxation.
In a perfect world, with plenty of vacation time and a healthy travel budget, my personal preference would be to go to all three islands.
Support HuffPost
A No-B.S. Guide To Life
Related
Popular in the Community