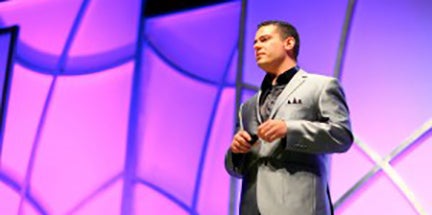 I bet you've heard something like this before…"Hey, I am doing this new thing where you can tell other people about this thing and you get paid on anyone you ever talk to, you wanna make some big money with me?"
Or maybe you have heard something like…"Do you keep your options open when it comes to making money?"
Most likely you have heard some version of these statements at some point in your life or perhaps you hear them all the time. Often those questions come unprovoked, are a little jarring and almost always lead to a network marketing opportunity.
Despite the bad pitches or the Facebook spam you may have seen, the question is, Should you EVER join a network marketing opportunity?
The answer, like many not so simple questions is, it depends.
When I was first approached with a network marketing opportunity in February of 2006, I quite frankly said "Hell no, I am not getting involved with some pyramid scheme."
This attitude is not that rare in the United States where for decades people have been getting duped into surprise meetings and told that making an extra $10,000 a month was super easy and you didn't even have to sell anything but the truth is, not every network marketing opportunity IS a pyramid scheme.
Just wait though, this does NOT mean I am suggesting everyone should be in a multi-level company but it does mean that there ARE some legitimate companies out there.
I eventually joined that network marketing opportunity BECAUSE I believed in the product and it helped my Mom feel better as well as some others I introduced it too. To be honest it didn't work out for me in that company but did make my money back and then some and met some really cool people.
At the time that I was in that company I was actually focused on my real estate investing business, which had been doing really well. When the market shifted, I lost everything and actually ended up in personal foreclosure.
For about a year I was in a major funk but then on July 15th, 2009, a friend of mine invited me to a "home meeting". I knew that was code for me to hear about a network marketing opportunity but honestly I had nothing else going on.
My credit sucked, I had no income coming in and I barely had any money left. At that meeting I decided that I was going to throw my all at this company as again, I had no other great prospect of making money.
In that company (with A LOT of effort) I was able to become the number one income earner and got my monthly check up to over $50,000. I also generated more than one million dollars in commissions and from there have since built a coaching and training business that this year was recognized on the Inc 5000 List.
My results are NOT typical but neither was my work ethic. Every single day I prospected like crazy. I used online and offline methods, talked to warm and cold markets and was RELENTLESS about finding people that were open to taking a look. Notice I said I was relentless to find people who were open, I was never relentless TO people. I had no problem with a quick no that would allow me to go on to the next prospect and often times did.
So, back to the question, Should you EVER do a Network Marketing Opportunity?
To me, network marketing is the lowest overhead, lowest risk way to possibly generate passive income, meaning, income that YOU didn't specifically have to work for. You see, MOST people have a job and they get paid hourly or a salary and if they stop showing up, that income goes away, almost immediately.
In network marketing it is at least POSSIBLE to build a team of people or customers that when they sell or purchase products, you get a small cut. This can add up. We have since coached people who had teams of over 700,000 people that have made tens of millions of dollars (again, results not typical).
Here's my quick list on the question of this article:
- Understand that anything worth having takes effort
- Are coachable and have a good attitude
- Aren't looking for some magical scratch off lottery ticket
- Would like to make some additional money without changing occupations
- Are willing to face some rejection as many of the people you talk to will NOT buy from you or join you (and some may even ridicule you)
- AND you embrace the idea of giving it at least three years
Then I think finding the right Network Marketing Opportunity is a good idea for you. I no longer build a network marketing business as we coach and train the profession as a whole but I can vouch that there are some good ones out there and perhaps in a future article can talk about how to pick the right one.
Related
Popular in the Community