Every year around this time, people who know I've been to Burning Man ask me if they should go. By August it's too late for this question, but it's never too early to ask: Should I go to Burning Man next year? Here's why:
Burning Man is a week-long festival that starts sometime in late August and ends on Labor Day. Black Rock City, the site of Burning Man, is about 120 miles from Reno, NV, and surrounded by high-desert wilderness. It's not the easiest place to get to. Many people fly to Reno and rent a car or RV, get supplies for the week and drive the few hours north. We made a 600-mile journey on the remote but well-beaten path from Joshua Tree, CA, along the Sierra Nevada Mountains. I was hired to document an art installation (video link below), so our caravan included a military command truck tricked out with solar-powered, sex-toy-flowers, a vintage bus that ran on biofuel, and a plain, old SUV. Artists, adventurers, the curious, and the party people all make a version of this epic trek to Burning Man. As you get closer, it's exciting to see other convoys that could only be headed to Black Rock City. Consider that the journey alone could take the time and money of it's own vacation, and that people spend months preparing what they will need (everything!).
This is a temporary society of over 50,000 people that pops up on a dry lake bed (the playa) and then disappears without a trace. Burners are responsible for their own comfort, food, water and shelter. There are no vendors at this festival, and nothing is for sale except for coffee in the morning and ice (thank God!). The experiment of a money-less utopia is why a lot of people go to Burning Man. You can probably be gifted or barter for most things, but if physical comfort is a priority for you, it's better not left to chance. Grey-water and waste management is also your responsibility. Every morning, tens of thousands of people brush their teeth on this vegetation-less playa, hundreds of miles from municipal infrastructure. Where is all that used water going to go? Imagine where you will put a week's worth of your own garbage. And how important is showering, anyway? Strategies are needed for your own version of "radical self-expression" and "radical self-reliance."
One person might go to Burning Man for an endless party, another might be on a spiritual quest. Both of them will find it. People go to Burning Man for social experimentation, exchange of ideas, hedonism, fun, art, and performance. There's a sense of community and ritual, with plenty of volunteering opportunities, like "Greeting" or "Lamplighting" at dusk. A group of solar professionals set up a charging station that's used by the whole city. People deliver "mail." In Black Rock City, you get an address, which is helpful when you meet people you want to see again, or need to find your own camp.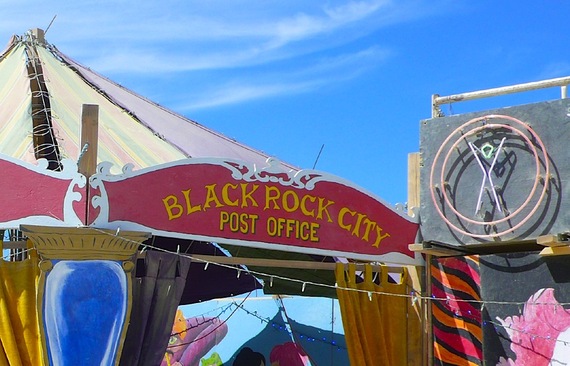 I couldn't believe there was a booklet with a schedule of activities (and everyone loosely stuck to it!). Offerings included massages, yoga classes, guided meditation, concerts, lectures, waffles and bacon. A make-believe diner served grilled cheese sandwiches in the afternoon. An absinthe bar opened at two a.m. One camp said they would put moisturizer on people's hands from four to five o'clock (this sounds more nice than weird after the salty playa dries out your skin for a few days). A surprising amount of religious organizations have their own camps. There's a kid's section and an alternative energy zone, which is recommended to avoid the sound of running generators. Don't expect much quiet, though, bring earplugs and your radio. Cell phone service and WiFi are spotty at best in Center Camp, but Burning Man has radio stations with an incredible array of programming and live broadcasts (helpful during one debilitating dust storm). People donate their time and skills because it's fun, and because they feel like it. Burning Man celebrates an independent, industrious spirit while it tests the social norms of pleasure, spirituality, environmentalism, service and commerce.
If all this sounds appealing, Burning Man might be worth the effort for you (next year). Really, where else can a thumping, disco-pirate ship whisk you across the dark desert and off to unknown attractions that transport, delight or disorient you (and hopefully do all three)?
See video of the solar powered, sex-toy-flowered Grotto Of Manifest Destiny at Burning Man.