When it comes to bathroom remodeling, few decisions are more controversial than whether to keep the tub. We've noticed that a vocal group thinks bathtubs are unnecessary, while others find them a must.
For some hard facts on who is actually doing what about the tub versus shower conundrum, the 2017 U.S. Houzz Bathroom Trends Study asked more than 1,200 U.S. homeowners — who were planning, were in the midst of or had recently completed a master bathroom project — about their choices. Here's what they said.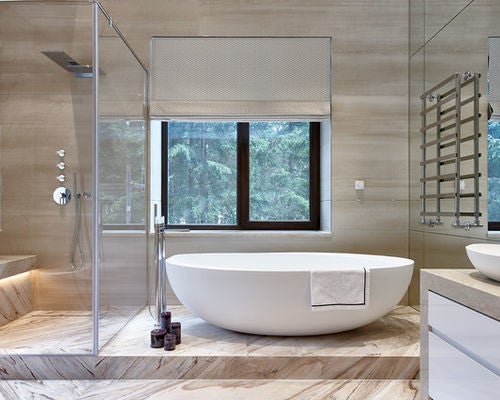 Freestanding bathtubs are the most popular tub choice among homeowners who choose to upgrade their tubs during a master bathroom renovation.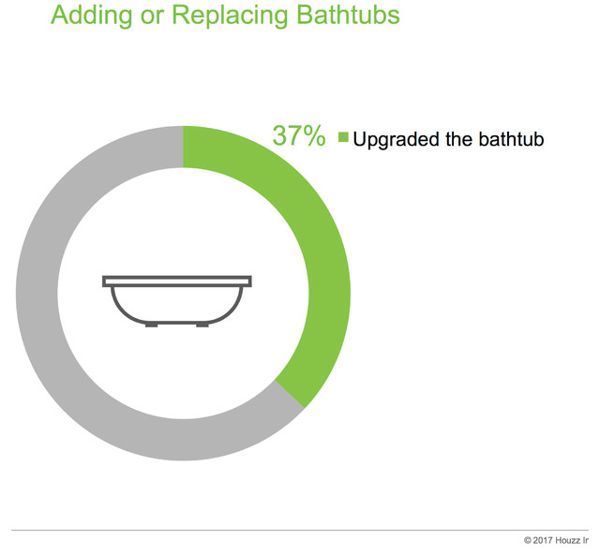 Tub lovers, unite. Nearly two out of five renovating homeowners (37 percent) chose to upgrade a bathtub during their master bathroom overhaul. Among that group, 64 percent chose a soaking tub, which is deeper and larger than a standard, builder-grade tub.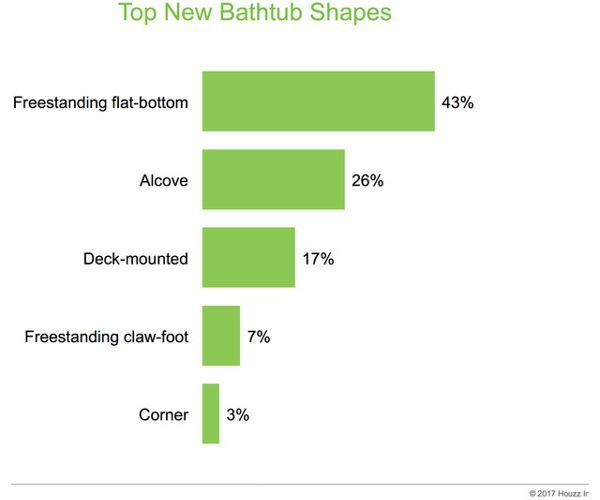 Freestanding tubs lead the pack. In terms of shape, half of renovating homeowners who upgraded their bathtub chose a freestanding tub (43 percent flat-bottom, 7 percent claw-foot), while 26 percent chose an alcove tub bordered by three walls, and 17 percent picked a deck-mounted tub, which sits within a built-up structure.
The percentages do not add up to 100 because not all responses are shown in the chart.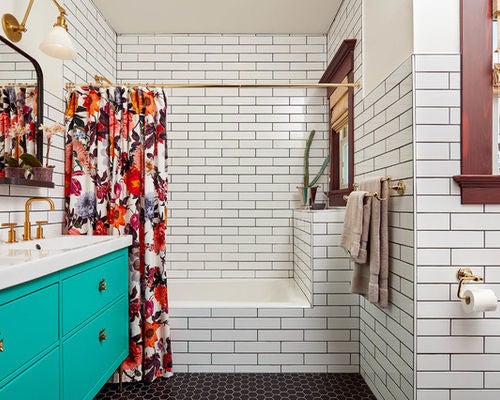 This bathroom features an alcove tub, bordered by three walls.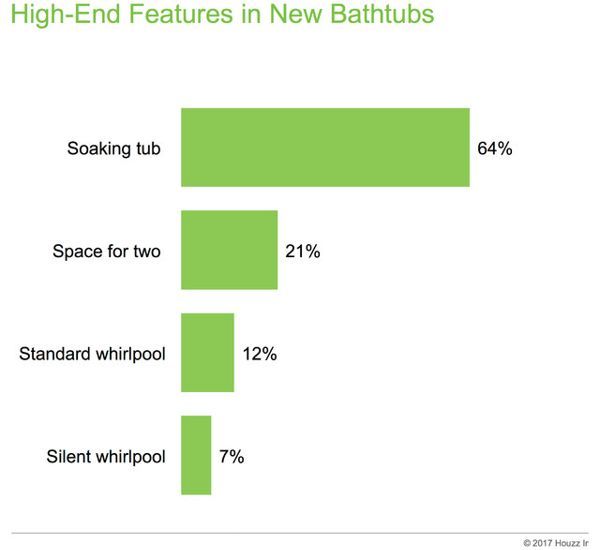 Popular upscale features for bathtubs. Among the renovating homeowners who chose to update their bathtubs, 64 percent chose a soaking tub, 21 percent made sure that there's room for two, and 19 percent included a whirlpool feature.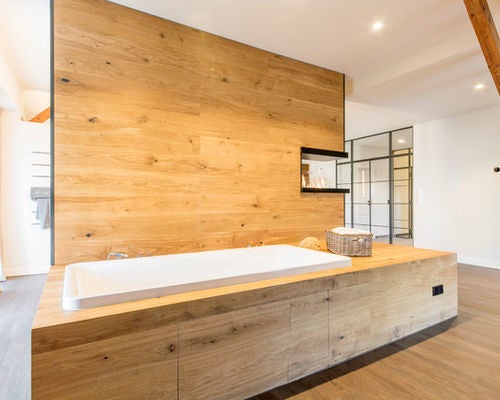 This bathroom features a deck-mounted tub, an option chosen by 17 percent of renovating homeowners who upgraded their tubs.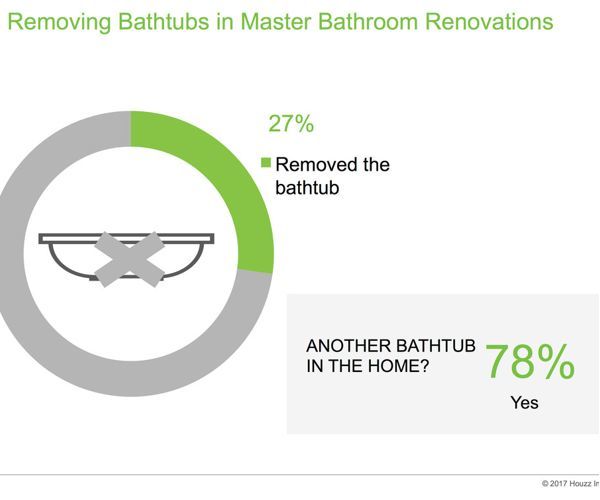 Tub naysayers, find your allies. About one in four homeowners (27 percent) decided to remove the master bathtub, most frequently to make room for a larger shower (91 percent). Among those who made this no-bath choice, it's notable that the vast majority (78 percent) did have another bathtub in the home.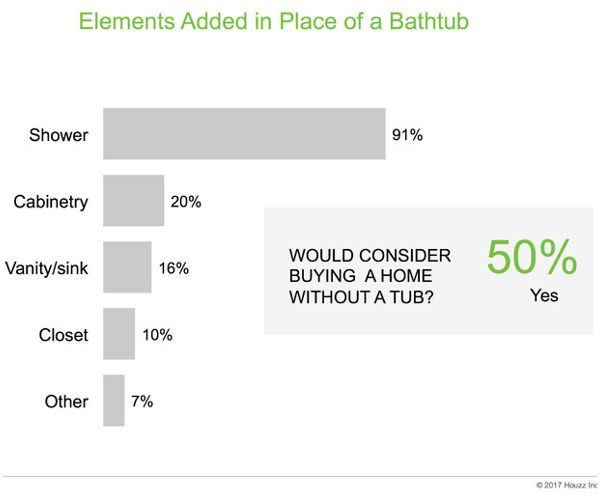 Instead of the tub, give me a … Those who chose to forgo a tub in the master bath typically used the space for a shower, but about 20 percent added cabinetry, while 16 percent added a vanity or sink, in the void left by its removal.
In this chart, the percentages add up to greater than 100 because homeowners were allowed to select more than one way that they used the space formerly occupied by the removed bathtub.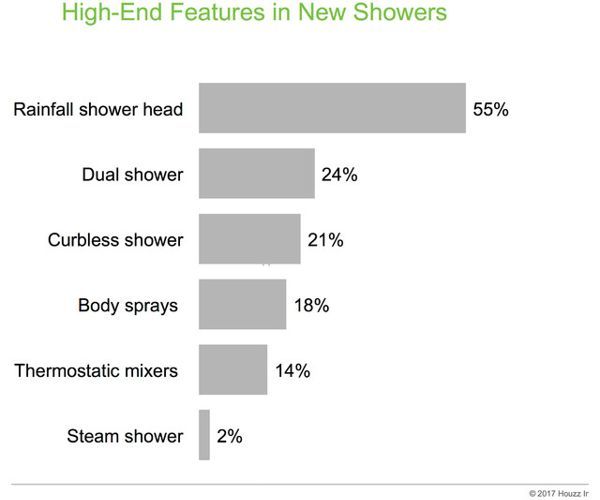 Luxe features trending for showers. Among renovating homeowners who chose to upgrade their master showers, 73 percent decided to include high-end features like rainfall shower heads, dual showers or curbless showers, which have no threshold.
The 2017 U.S. Houzz Bathroom Trends Study was fielded between June 6 and Aug. 7, 2017.
Calling all HuffPost superfans!
Sign up for membership to become a founding member and help shape HuffPost's next chapter
This post was published on the now-closed HuffPost Contributor platform. Contributors control their own work and posted freely to our site. If you need to flag this entry as abusive,
send us an email
.