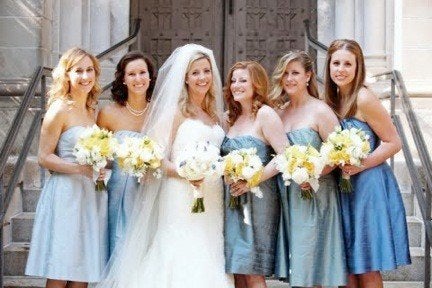 The latest bridal party trend is to have bridesmaids wear coordinated, but not matching, gowns on the Big Day. But while this certainly allows your 'maids more flexibility -- and ensures no one gets stuck wearing a dress that doesn't flatter her figure -- having attendants wear different dresses might still require some degree of coordination on the bride's part.
How involved you want to be in choosing your bridesmaids' gowns is up to you -- no matter what you'd ideally like them to wear. So, here are my five tips to help you toe the line between pleasing the ladies of your bridal party and getting the look you want for your wedding.
1. Remember, a bride is the ultimate decision-maker.
You are not only the guest of honor, but also the executive producer of the event in terms of getting to ultimately make decisions. Therefore, you should be involved in every important discussion on all topics -- bridesmaids' wardrobe included. (After all, one of your most cherished photos from your wedding day will be of you and your attendants.) My philosophy is: this is your wedding -- when it's time for your bridesmaids to get married, then they will choose what you wear.
2. Scope out dresses first on your own.
Before bringing your attendants with you to a bridal salon, go solo to try on styles, get familiar with fabrics and understand what cuts might compliment each of your bridesmaids' figures. Doing this on your own will allow you to get a sense of what you want and what will fit your vision without your girls giving opinions every step of the way.
3. Make sure everyone is comfortable with their dresses.
While you have the final say, it's important to take two things into account when you're outfitting your 'maids: weight (including pregnancy) and religion. For example, if a bridesmaid is just not okay wearing a strapless dress (either because she is religious or because she is heavier and fuller-busted and needs support from a bra with straps) the bride ought to be reasonable. After all, this is a time for love and celebration and bringing the family and friends together, not to find reasons to argue. As the saying goes: don't sweat the small stuff.
4. Always set at least a few guidelines.
Some brides prefer to have their bridesmaids choose their own dresses to really ensure everyone feels comfortable in what they wear. However, this can get tricky when every woman just chooses a dress without any direction. If you decide to give your 'maids reign over the dress decision process, set some parameters to ensure everyone looks coordinated on your Big Day. I suggest giving everyone guidelines for the following: designer, fabric, color or color family and length of dress (full-length, tea-length, and so on.)
5. Share your vision with your bridesmaids.
No matter if you chose one dress for everyone, select a few dresses for bridesmaids to choose from, or allow each attendant to pick her own dress on her own, be sure to show your bridal party what you envision they will look like at your wedding. Offering your inspirational images will make sure everyone is on the same page-and give your bridesmaids some much-appreciated direction of what you're going for. With these images in mind, they will not only be excited to help you fulfill your wedding "look," they will feel even more special that they get to help carry it out!