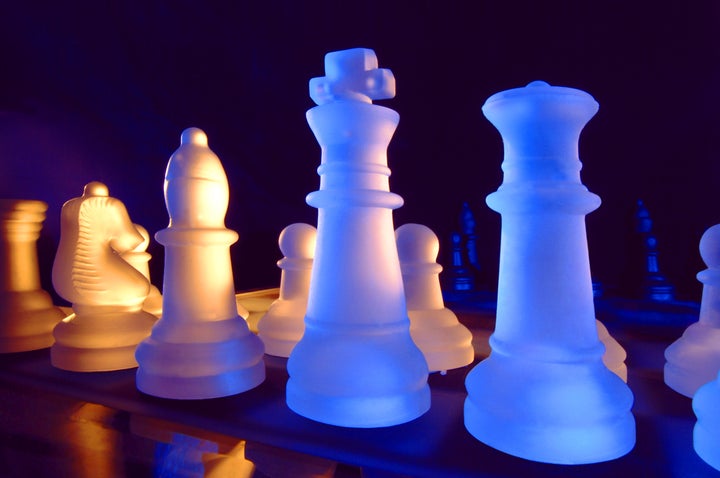 Meet Andrea Rosen. She offers herself to you as the antidote to the Tiger Mom. And she is particularly reassuring to hear from (except for those of you who will think she is bragging) at this time of year, when high school seniors list their life's achievements on applications and send them off for a verdict.
Those lists can feel like a measure of your parenting. As Rosen asks in an essay on the website of the United States Chess Federation (I TOLD you some of you would think she's bragging):
Like many other parents, I disagreed [with Amy Chua's book on parenting, Battle Hymn of the Tiger Mother] but I also found myself harboring doubts. Have I been too indulgent? Did I give my children too much leeway in deciding where to devote their own time? Will failing to insist that they achieve perfection at everything they do lead them to fail to persevere at crucial moments and give up when the going gets tough?
Then she answers her own question:
I think my son Eric's clear first-place win at this year's National High School Championship, held April 28-May 1, 2011 in Nashville, Tennessee, offers some vindication to me and all other parents who believe that children, when encouraged to connect with passions of their own choosing, are inclined to work hard and can achieve success at the highest levels through their own intrinsic motivation. As an added bonus, whether or not they win a national championship, chances are their therapy bills as adults will be less.
She goes on to describe her own brand of parenting -- she calls it the Purr of the Pussycat Mama -- which essentially includes following your child instead of leading them:
Eric fell in love with chess at the age of seven, and as a family we've devoted more time and money to allow him to pursue it than many would view as sane. Still, my husband Brad and I never remind him of that or insist it translate into some tangible result. While we encouraged both our children to work hard at school and get good grades, straight A's were never a goal--a passion for learning was. As for chess, there were times Eric's teachers felt that he wasn't achieving his potential and that he should be studying longer and harder. But growing up he was first an avid soccer player, and later an avid tennis player. It was clear he needed that balance in his life, and more importantly, that in the end, winning was not all that mattered. To me, competing in anything is less about the results and more about what you learn on route. Nine years after he began to play, he's learned plenty, and how to end a game with checkmate might be the least of it. He's empathetic, he learns from his mistakes, he helps others learn from theirs, he loses with grace, and he handles himself like a pro in high-pressure, high- stakes situations.
Well and good. For a child who knows exactly what he wants and finds his passion early. But what if you have a child who has talent but no fire. Yet. And what if you were the kind of child who needed that extra push, and are grateful to your parents for giving it to you? (Or maybe you needed it, and are ticked that they DIDN'T give it to you.)
How much of "the list" is completely up to a child? And how involved must the grownups be in shaping, defining and pushing?