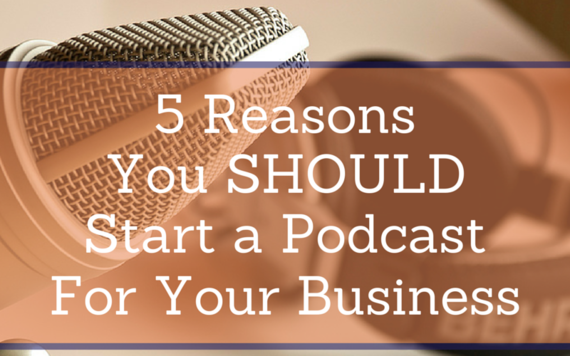 Should you, or should you not, start a podcast for your business?
THAT is the hot question being asked of me in the work I am doing with clients around their brand's overall content strategy.
As I wrap up my first podcast, and get ready to launch my second podcast, I am reflecting on the many aspects I learned the first time around. I am using this knowledge and putting it toward my next podcast -- which will launch in early 2016.
Here's what I do know: At least once a week, I am asked by a client or prospective client if she should start a podcast for her business. This is a big question, and it is one that you might have been thinking about yourself. So today, I want to highlight some reasons you SHOULD start a podcast, as well as a few reasons why you SHOULD NOT start a podcast.
Before we get started, let me just say this -- I LOVE podcasting. I didn't think that I would initially, mainly because writing is "my thing." I realized how much I loved interviewing people and how much trust was built within my community because the listeners could HEAR me and get to know me better. But, just like blogging, podcasting takes a lot of work and consistency to create a quality, value-packed show that has listeners tuning in week after week.
5 Reasons You SHOULD Start a Podcast For Your Business
You should start a podcast if...
You are committed to learning how to podcast professionally.
You will be consistent in the release of your episodes.
You notice that you have a really great idea that no one else is talking about.
You want to grow your platform and reach a larger audience.
You want to engage with your audience in a more personal way.
5 Reasons You SHOULD NOT Start a Podcast For Your Business
You should NOT start a podcast if...
You think it will make you a lot of money.
You want a quick and easy way to get famous.
You think it is an easy way to get thousands of listeners right away.
You do not have something compelling to say.
You plan on using your cell phone to record the episodes.
There you have it! If you are thinking about starting a new podcast, or relaunching an existing podcast, use these lists of "shoulds" and "should nots" to help guide you along the way.
Author's Note: A big, big thank you to Doug Foresta, my podcast coach, who helped me brainstorm ideas for this blog post.
Calling all HuffPost superfans!
Sign up for membership to become a founding member and help shape HuffPost's next chapter