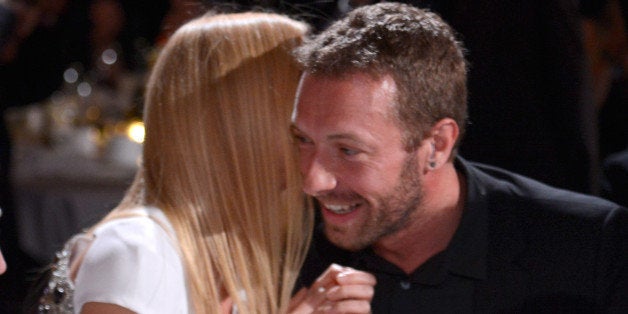 Gwyneth Paltrow and Chris Martin recently announced they are separating, adding another apparently "happy" couple to the list of failed celebrity marriages. The poised, loving way they chose to break the news only made the split sadder -- there seemed to be no acrimony, only a mutual decision for "conscious uncoupling."
What Paltrow and Martin are going through resonates with millions of American parents, who are contemplating divorce: Is it better to stay or go? Throughout our Kids in the House interviews with the nation's best psychologists and relationship experts, we've gathered that there's no easy answer. Some argue that it's better to stick it out. Others strongly caution against staying in an unhappy union simply for the sake of your children.
"A lot of parents ask me if they are in an unhappy marriage, whether or not they should stay together for the kids; whether it would be more beneficial for the kids," says Christine Carter, PhD, a sociologist and happiness expert at UC Berkeley's Greater Good Science Center and the author of Raising Happiness: 10 Simple Steps for More Joyful Kids and Happier Parents. "The key question is really about conflict. What research shows is that conflict between two parents is what can be really damaging to kids. What's important is not whether or not you stay together, but the quality of your relationship. The particular measure of quality that is important here is how high conflict your relationship is. If you are in a really high conflict relationship, it would be better for the kids, in many cases, for you to dissolve that relationship." In other words, if getting divorced is going to make it easier for you to get along with your spouse, your kids will be better off than if you stay married.
But what exactly constitutes a "high conflict marriage"? It's hard to say, because it's somewhat objective; a basic rule of thumb is if "there is ongoing verbal abuse, physical abuse, swearing, screaming -- children are harmed in those situations and are much better off when the parents divorce," explains Joshua Coleman, PhD, author of The Marriage Makeover: Finding Happiness in Imperfect Harmony. "When parents divorce from a high conflict marriage and go on to have happy lives, the kids do much better (than if they stay together)."
What if your marriage isn't a highly volatile one, but your spouse has been unfaithful? Infidelity may seem like a deal-breaker to some, but as Tammy Nelson, PhD, author of The New Monogamy; Redefining Your Relationship After Infidelity explains, the the answer is hardly ever black or white:
"If you find out your partners cheating, and you have little kids at home, you may have a lot of well-meaning friends who are saying you should get out. (But) you're saying, how will I do that? How will I survive? How will I separate my family from their parent? What if I still love my partner?" Nelson recommends seeking therapy and trying to "bring the power struggle into the open," which can help set a better tone for the rest of the marriage if you choose to try to save your marriage after an affair. Mars/Venus author John Gray even suggests that an affair can be a catalyst for a stronger, happier marriage in the long run. "There's this idea that if my partner has an affair, we have to get a divorce (instead of asking) can we find forgiveness? Can we find what the problem was that led our partner to that? And that's the whole key to everyone growing up. In truth, you can't know what real love is until your heart is broken. Real love is based on not expecting someone to be perfect, but realizing that all humans make mistakes, and part of love is learning to forgive, accept and grow."
Still, says Nelson, there are times when an affair might herald the end of a marriage. "The other thing to think about -- and this is the flip side of the coin -- is that you don't want to make your kids responsible for your marriage. So if you really feel like this is not going to work, but we should stay together for the kids, you're putting your kids in a really perilous position. The first thing to do is confront it, talk about it, and get some professional help."
"People don't stay married for the sake of their children in the way that they used to and in part that's because parents today believe that if the parents are unhappy, then the kids are unhappy," says Coleman. What many of us forget, though, is that sometimes splitting up will result in a decrease in happiness, due to the effect divorce has on the other facets of our lives.
Not all parents stay married for the sake of the children, but for the sake of themselves, because they can't stand the thought of being separated from their children... and in that situation, I think it's a completely reasonable thing to do. If getting a divorce means that you can only see your kid half the time, you really have to carefully think through that, because it may mean you're going to be a lot unhappier in divorce than you are being married to someone you're really not happy with.

My daughter was picking up on some unhappiness between the two of us and I didn't want to continue that path. I felt that in my own experience with my parents. My parents stayed together for far too long and they should have separated much earlier. And it led to a lot of issues that I ended up having with men that took me a very long time to resolve. And I wanted her to see that she could live by my example, that she would see that I was strong enough to walk away from a marriage that wasn't making me happy any more and that she could do the same thing. That she wouldn't stick around with someone and be unhappy for a long period of time, because she felt like she had to be.
In the end, whether couples decide to stay together or split up depends on a variety of personal factors. "If you've exhausted your possibilities of working it out, then it is worth it to your partner and to your kids to try to get into a happier situation, which will probably not happen immediately," explains Laura Wasser, a divorce attorney and author of It Doesn't Have to be That Way: How to Divorce Without Destroying Your Family or Bankrupting Yourself. "It will get worse before it gets better. But then it will be worth that turnaround in the relationship and within the family, emotional stability and adaptiveness of your kids."

Visit www.kidsinthehouse.com for more advice on divorce, supporting children of divorce, and strengthening your marriage.