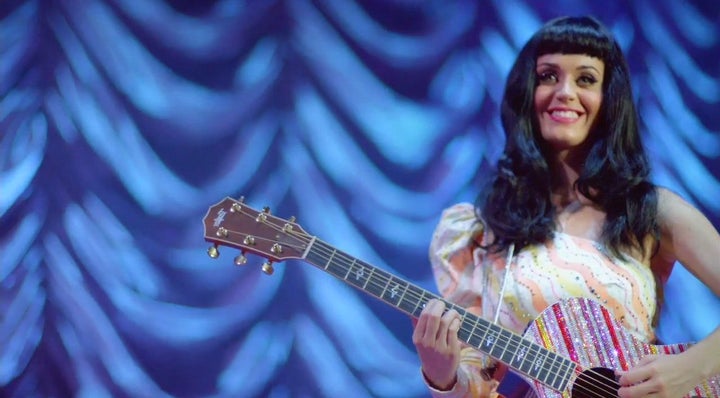 It happened a few weeks ago when my seven-year-old daughter saw the 3D movie trailer for Katy Perry: Part of Me and instinctively dug into my arm as if to alert me to an approaching unicorn. And from the preview of the confection-laden mayhem, there, indeed, may have been one, if not more, in Perry's Wonderland of an entourage. As far as my kid was concerned, our fate was sealed. The whole me and whole her would be wearing candy-striped 3D glasses shortly after the release date.

But not so fast, I thought. Thanks to my finely honed cat-like reflexes when it comes to my car radio, my daughter's K.P. interaction had been a fairly sanitized one. To note, we're talking about a woman who shoots whipped cream from her bosom and whose song about Friday nights would send most to a heath clinic for testing. So as with all pop culture, I don't assume it's tailored for children. Although the movie is rated PG, I wasn't sure what, exactly, passes for a teenage dream these days. But after reading a few reviews, the consensus seemed to be that Part of Me was fairly scandal-free. So I buried my common sense in the face of 7-year-old enthusiasm and let her drag me into the theater. The good news is, after seeing the movie, I can report I made it out alive, and my child wasn't scarred for life. Of course, every family has a different it's-ok-for-us/alert C.P.S. threshold. So here's the parental Katy Perry breakdown for the parts of Part of Me that "felt so wrong and felt so right."

The Questionable Stuff for Kiddies
There's an early scene where Katy Perry playfully shakes her behind during a costume fitting and declares she has an "ass like Nicki Minaj." This initially discouraged me, and I assumed we'd be spending the next two hours wincing at random inappropriate language and innuendo, not unlike when I take my child to lunch with my single girlfriends. Luckily, this was rare. Still, I was dreading the focus on her break-out first single, "I Kissed a Girl" which, as far as my kid knew, was called "I Kissed a Guh-" again, thanks to my agile radio reflexes. But Katy's on-stage sequined dress and lemon/lime feather boas overtook my daughter's senses and that seemed to be the only thing, for her, worth trying on. A little more uncomfortable was the performance of "Peacock." (As in "let me see your" and emphasis on last syllable.) I was certain my child was being scandalized -- and delighted -- by double entendres, but instead, she merely assumed Perry adored the colorful plumage of the peafowl as much as she did. And with the stage filled with dazzling costumed performers strutting and preening like colorful, dancing birds, one couldn't help but wonder, just who was the perv here?

And then there's the divorce from Russell Brand that unfolds on the tour. As for the details, sadly, my daughter had already heard about it through a brash adult who accosted her with the breaking news as if she were mini-celebrity gossip hound. At the time, she was slightly crushed but more so that Katy Perry was not, in fact, married to our state's governor, Rick Perry, as she originally assumed. Who was this giant English interloper anyway? If anything, this dramatic arc of the movie only bored her. Her seven-year-old friend also in tow saw the tears and surmised Katy Perry had contracted chicken pox. In their young minds, what else could elicit such drama? (Except perhaps being vaccinated for the chicken pox.)

The (Surprisingly) Good Stuff
In a reality-TV world where "being famous" is enough, Katy Perry appears to have the work ethic of a Depression-era farmer in a Dust Bowl of glitter. The documentary also chronicles the years of failure (and the various hair colors) it took to get there. For Perry, success wasn't anointed on a game show. At the end of the 16-hour day, Part of Me does not gloss over the fact that being a pop star is a job -- a fun job, but it's not all candy. And speaking of candy, Katy Perry flaunts a normal, healthy-sized figure. For all the tutus and make-believe, ironically, she is possibly one of the most realistic body image role models out there. And plenty of make-up free rehearsals and clean-faced interviews versus her dramatic make-up chair transformations only reinforce the just-an-illusion factor. (And the undeniable fact that false lashes can work miracles.) The mask concept is one that Katy Perry seems to understand better than anyone. While curled in a ball crying over her crumbling marriage before a sold-out show in Brazil, she rolls back over, sucks in a sob and flatly tells the make-up artist to start working. Dramatic effect? Maybe. But hey, it's not a sex tape.

Sure, a Part of Me is clever marketing. And it is beautifully shot, with Katy's concert Candy Land delectably depicted -- think Willy Wonka meets Cirque du Soleil -- causing the viewer to want to devour it whole. But when I asked my kid what she liked best about the movie (expecting the on-stage cameo of mascot "Kitty Purry" or the 3D camera barrage from whipped cream candy cane bazookas) she instead echoed an earlier interview with the singer. "I like that she didn't want to be the next anyone," said my daughter. "She just wanted to be the first Katy Perry." I'll take that message with a cherry on top any day.
But the most dire warning to parents? By the end, a part of you will want to go to Katy Perry's next concert. And you'll like it.