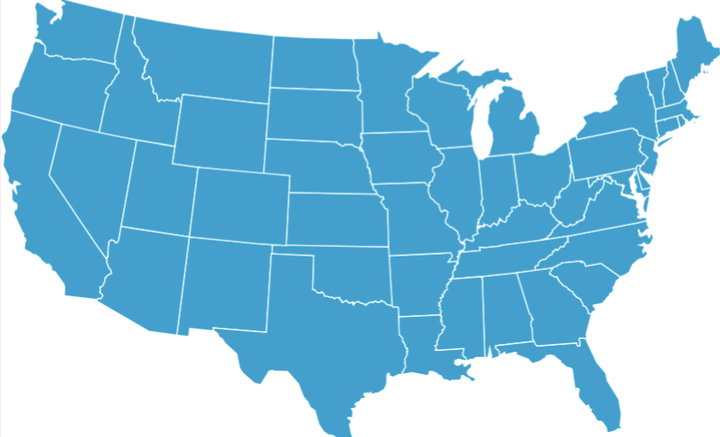 In just a few weeks, individuals without group health insurance will start making selections for their 2018 coverage during open enrollment. After several years of insurer shakeups, some consumers have fewer options this year than last.
But what determines which options you have? Many consumers might not realize that it's all about your address.
Insurers make decisions on where to sell coverage on a regional basis. Regions are a set of counties, and carriers make their decisions on a variety of factors, including the demographics of that region, the population size, expected health status, and more. If they think it will cost significantly more to cover a region than they will make in premiums, they might decide not to sell there.
If you live near the regional divide, this can feel unfair. If you lived just one street over, you might have more insurance options. But what keeps consumers from moving to a county where their preferred insurer is selling?
People move into counties with better school districts all the time. They might also move for tax rates or a number of other reasons, and aside from the hassle of moving, there is no disincentive for them to do so.
Now, insurance options might be another reason people move.
Different choices in different counties
Here in Middle Tennessee, we have different insurance options in neighboring counties. In the greater Nashville area, we have two insurance options on the individual market—Cigna and Oscar Health. But to our south, neighboring counties have just one option—BlueCross BlueShield of Tennessee.
A downtown Nashville resident who prefers BlueCross insurance might be incentivized to move to nearby Maury County for their preferred plan. This might sound like a dramatic move for insurance coverage, but Nashville residents move south for the school system in Williamson County every single year. It is an extremely common occurrence here. Consumers also move to neighboring counties for the lower cost of living. It isn't inconceivable that an insurance consumer would see the value in moving to obtain the insurance plan of their choice during open enrollment.
This would be frustrating to BlueCross, but there would be no way to prevent it. There are checks in place to keep consumers from fraudulently claiming that they have moved, but there's no way to deny an insured person who did actually move from signing up for a new plan.
Uninsured, sick, and new to town
But what if they were uninsured? It is less common for consumers to move just to switch plans, but insurers have complained for years that uninsured consumers were moving just to sign up for coverage. In fact, new rules were issued last year that prevent consumers from doing just that.
Moving to a new area is one of the qualifying events that allow consumers to sign up for coverage outside of open enrollment. Why were insurers opposed to this rule?
Insurers need enough healthy consumers to balance out the sick ones in their risk pools. This is why the individual mandate requires most consumers to have coverage, and why consumers are only allowed to sign up during one specific time of the year.
Even if Bob is healthy during open enrollment, he doesn't know if he will become sick or injured later in the year. If Bob does get sick, he can't sign up until the next open enrollment. This is supposed to incentivize Bob to go ahead and get coverage, even if he doesn't think he needs it.
But let's say Bob doesn't sign up, and a few months later, he is diagnosed with cancer. Before the new rule was implemented, all he had to do is move to a new area to get coverage. It might be a hassle, but if he's facing thousands in medical bills, it might seem like a reasonable trade-off.
This defeats the purpose of the individual mandate and open enrollment. This issue was so prevalent CMS added a caveat to the qualifying event—consumers who try to sign up for coverage after moving must have had health insurance within the prior 60 days.
Some insurers have also taken the matter of residency into their own hands. For example, BlueCross BlueShield of Tennessee has instituted a verification process for off-marketplace plans this year.
This isn't to prevent uninsured consumers from moving to obtain coverage, which the CMS rule addresses. Rather, BlueCross only offers off-marketplace in certain regions. They decide where to sell these plans based on the regional factors described above. The verification process ensures consumers in other areas, where BlueCross does not sell plans, are not signing up for this coverage.
If they were sold on the marketplace, Healthcare.gov would confirm the enrollee's address. But because they are sold off the exchanges, it is up to the carrier to verify residency.
Members will now be required to perform an annual residency certification by providing two forms of verification by email, fax or mail within fifteen days of being notified by the carrier, or their coverage terminates.
We can expect that other carriers may soon follow suit. As health insurance remains as complicated and expensive as it is in the U.S., insurers will increasingly have incentive to verify exactly where consumers live.
Related
Popular in the Community