Customers are on their phones more than ever before. According to comScore's 2016 report, in the past three years, total time spent on digital media has grown 53%, and this growth was driven mostly by mobile apps. Customers are increasingly using apps to search, buy, play, and connect with one another as opposed to mobile websites on internet browsers. comScore found that customers are even spending more time on mobile apps than on their desktop web browsers! The younger the group of customers, the more they preferred apps to mobile web or desktop. On average, mobile app usage outpaces mobile web 7:1!
With more people using apps, your business should consider making an app to engage your customers and potential customers. Apps can function just like your business' website:
Allow you to browse products (check out Amazon's app to see a great example)
Connect users to blog content
Facilitate video viewing
Display account information
Enable customers to purchase or make payments (check out the app for your cell phone carrier for a great example).
A mobile app will work with your desktop and mobile website to capture more customers and better engage current customers. It's important to provide the access your customer might prefer, especially when your competitors do not!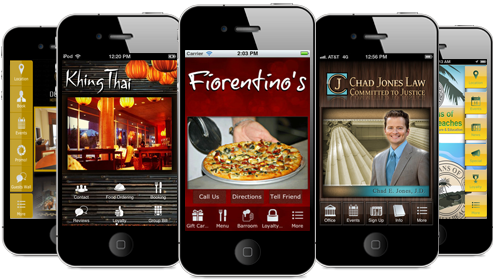 Key Features of A Successful App
Working with an app development company to the achieve digital transformation from website to app isn't hard! Here are some of the key app features to discuss with your developer.
Response Design: Customers may be accessing your app through different sized smartphones and tablets- so it's important the app's content looks great across all types of screen sizes. It's important that your app developer can create a responsive design for a variety of screens using just one code base. [Read more about top app design principles]
Security: Your customers need to be assured upfront that your app is secure- especially if your processing payments or displaying account information. Invest in a good security system and display the badge of your security system within the app. When a user first signs up for your app, inform them of your robust security measures to inspire confidence. Marketing your app as secure to potential customers will increase the likelihood of them using your app.
Customization: Your customers should be able to customize their app experience based on their content, products, services, or even location preferences. Once a customer downloads your app and creates an account, ask them onboarding questions to determine what content will be most useful to them. While all content should remain accessible, use their preferences to create a customized home screen, or first screen, experience. This means they see content that they are most interested in right when they open the app. Your customers should be able to adjust their preferences via the app's settings.
Support & Updates: Your app developer should incorporate a support feature so app users can reach out if they encounter problems. You should also keep in mind that your app will need to be updated from time to time. If you do not work with your initial developer to maintain the app over the next few years, ensure their work can be easily understood by other developers.
Search. Customers strongly prefer apps with search functionality. Your app's search function should be visible at all times, and content should be easy to search. Consider adding filters to your search feature if you have a lot of content on your app.
Analytics. Invest in a system to monitor your app's analytics. You'll want to know what types of products, services, or features are most popular with your customers so you can determine how best to grow your business to serve their needs. Not only should your analytics track app usage, but also customer location and their connected social media accounts so you can learn more about your customer base and their needs.
User Experience. Everything about the experience of using your app should be as simple as possible. One important aspect of this is the signup process Simplify that by allowing new app users to create an account, and log in, using their social media accounts. When in doubt, a great rule of thumb for a superior user experience is to reduce the number of clicks it takes to purchase or convert your customers.
Push Notifications. Push notifications will drive your customers back to your app if you are running a sale, have just added new inventory, or have a product that was previous out of stock. Make sure your push notifications are useful and not too frequent!
Popular in the Community