Summer may be winding down, but that's no reason to get out of vacation mode. We are coming up on one of the best travel times of the year -- the sweet spot between peak travel and low travel seasons -- shoulder season!
In the fall, this is when summer hot spots cool down a bit, but there is still generally plenty of sunshine. More importantly, there is room on the beach to spread out, traffic no longer backs up and the best tee times are there for the taking. And, of course, prices drop on everything from flights and hotel rooms to greens fees and rental cars.
Europeans have been making the most of this window between school starting and summer officially ending for years. Resorts along the Mediterranean offer specials to fill their rooms and stretch the season. Caribbean destinations are also quick to drop their prices as Labor Day rolls around to counter the slowing flow of summer vacationers and the beginning of hurricane season. Prices will start to rise once again when the threat of snowfall looms in northern climates.
If you are more in the mood to get a head start on autumn, then view this as the preseason for mountain resorts. Fall foliage peaks in October and so do the crowds and the prices. An early September visit gets you an early shot at apple picking (at least in New England) and a chance to enjoy the first days of sweater weather.
Taking advantage of shoulder season is pretty simple but does require a bit of research and flexibility. Here are some tips from Cheapflights to get you started.
Get a handle on when the school year starts where you live. That is when the flood of vacationers evaporates. (Keep in mind there is usually a major burst of vacation travel in the week or two before school starts to fill the post summer camp gap.
Also, make sure to check into the school schedule where you are headed. In Florida, many kids head back to school in mid-August, leaving the beaches open midweek while summer is still in full swing in many places. Thinking of a European adventure? Know, for example, that the school year starts later in Spain than it does in the U.K., so tourist spots will empty earlier than local beaches and cities. But also be aware of "half term," when U.K. students get a week break in early to mid-October.
Be a news and weather watcher. Everything from currency fluctuations to weather patterns can shape the popularity (and price) of a destination. And, if you are considering a trip to a storm-prone locale, think about investing some of the savings from the seasonal discount into trip insurance. Or be ready to switch dates - something most airlines allow when there are major weather issues. (You will need to read the fine print when booking your hotel stay.)
Consider last-minute deals. Between-season lulls are when airlines, hotels and package travel companies are apt to offer sudden discounts and sales rather than have an inventory of unfilled seats and rooms.
To help get you hooked on shoulder season, here are some top spots to check out this year.
Banff, Alberta, Canada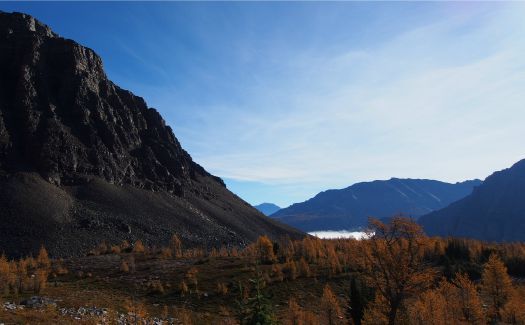 Image: Wilson Hui, Fall Larches via Flickr CC BY 2.0
The U.S. dollar is going very far right now in Canada, making this the year to get an early taste of fall in the Great White North. Nestled in the Canadian Rockies, Banff is an outdoor vacationer's dream and draws crowds in the height of both summer and winter. However, September is the quiet pause between the rushes. The air is starting to cool, especially at night, but it's rarely freezing unless you get further up into the mountains. And, the deeper you get into September, the more colorful the scenery is likely to get as foliage season tends to come early in Banff and the surrounding mountains.
The scenery of this coastal stretch of Portugal is the stuff of dreams. However, the summer crowds can be something of a nightmare. Fortunately, the weather generally stays warm and sunny throughout September. Opt for a visit then and you'll have your chance to linger over dinner at a nice table at a beachside restaurant or decide on a whim to take a boat or kayak tour of the caves and caverns carved into the dramatic cliffside. And, with the Euro currently struggling, you will win on the exchange rate as well as the seasonal discounts.
Cancun, Mexico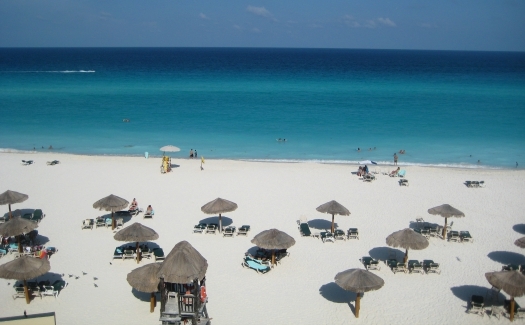 Image: Ricardo Diaz, Cancun Beachfront via Flickr CC BY 2.0
Weather experts are calling the El Nino in effect this year one of the strongest on record. While it is hard to predict the exact havoc this weather pattern will cause, El Nino is warming up the Pacific and seemingly stirring up the storm season. It's also keeping the Caribbean and Atlantic relatively cool and calm, with a forecast for less hurricanes than normal. So, here's your chance to cavort in Cancun minus both the crowds and, hopefully, the threat of severe weather. Built for spring-break-sized crowds, Cancun is filled with resort options to fit every taste and budget as well as food and fun aplenty. And, with the Mexican Peso down some 20 percent versus last year, this may be just the time to test the waters for yourself. By late September, the ocean water should be hovering around 82 degrees with the air temperature just a few degrees warmer.
Florida Keys, Florida, United States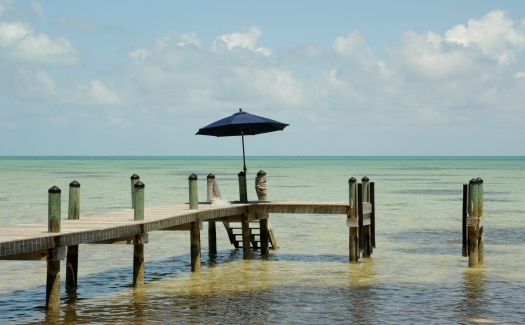 Image: Emilio Labrador, The Florida Keys via Flickr CC BY 2.0
You can also take advantage of the relative calm of this year's hurricane season and stretch your summer at the southernmost tip of the U.S. - the Florida Keys. This laid-back stretch of islands is far from the resort lifestyle of Cancun. However, a number of new large hotels are just opening, boosting room capacity throughout the Keys. Will these hotels change the culture of the Keys? Only time will tell. But think of this fall as a bit of calm before any future storms.
Rio de Janeiro, Brazil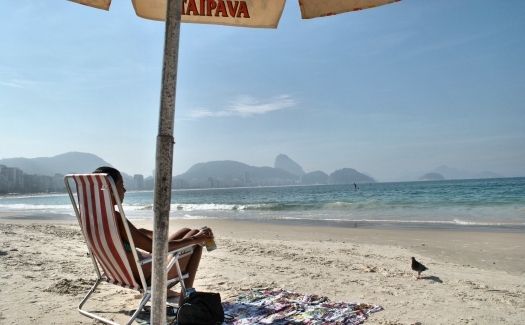 Image: Manuel Villafañe, na Praia! via Flickr CC BY 2.0
Want to get away a little later in the fall? Why not ride the currently very favorable exchange rate and set your sights on Rio de Janeiro? October is classic shoulder season for this southern hemisphere hot spot. The temperatures are rising, making for pleasant beach days without the full-on sizzle of the summer sun. You will, of course, miss the chaos of Carnival and the rest of festival season, but that means more hotel options and better prices.
Related