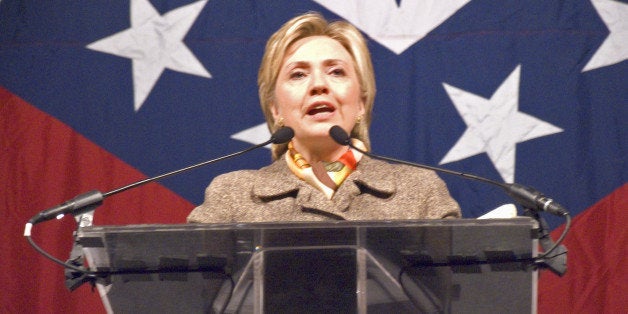 Recently I had the good fortune of meeting a former congresswoman after a play. As a psychoanalyst this isn't a frequent happening for me and I took the opportunity to discuss my views with this warm former legislator who had personal experience with Hillary Clinton. Our conversation led to parenting education, children today, and even grandchildren. My primary expertise and interest was in children's rights and well-being as well as parenting education.
Here is some of our dialogue about Hillary Clinton paraphrased as I remember it:
Dr. H: I feel that Hillary is a brilliant, vastly experienced woman who people need to really get a chance listen to and hear what she knows and thinks about.
Congresswoman: I'm so glad that you say that because some women aren't thinking that way. It's so early in the campaign at this point. Listening to her is exactly what we need to do.
Dr. H: If she comes across as tough instead of warm and entertaining I don't feel it's the number one essential in a presidential candidate and that question distracts us from seeing all that she offers--more than any other candidate with her remarkable experience. Why should a president have to be entertaining? That's not the job relative to the vital knowledge needed to run our nation.
C: I agree with you but actually, when you meet her in person as I have one on one, she is warm and entertaining.
Dr. H: Hmm. People don't know that. I do trust that she cares deeply for all children
C: And for a very long time. She has been working on that issue since she was first lady in Arkansas.
Dr. H: I have this dream that she would share my values on Parental Intelligence and parenting education if I only had a way to connect with her and discuss them.
C: She would....
The congresswoman continued to educate me on politics and I in turn discussed some of the development of preschoolers that interested her because she was a fairly new grandparent. We chatted for a long time, sharing common values.
Our discussion prompted me to look up Hillary Clinton's record in Arkansas. However, I learned her study of and advocacy for children began before the first time she was a first lady.
• In 1977, Hillary co-founded and drew up the articles of incorporation for the Arkansas Advocates for Children and Families--a group that for almost four decades fought for expanded opportunities in early education, juvenile justice reform, and increased state funding for child health care.
• Once Bill Clinton became governor in 1979 Hillary became a board member of the Arkansas Children's Hospital, where she helped set up the state's first neonatal nursery while she was pregnant with Chelsea.
• She also brought to Arkansas a program called Home Instruction for Parents for Preschool Youngsters, or HIPPY, training parents of at-risk children in early education.
• In 1982, Bill Clinton named her chair of the Arkansas Educational Standards Committee, an entity with the task of reforming the state's public education system, which was ranked at or near the very bottom of all 50 states in just about every measure.
• As Arkansas's first lady for twelve years, she served on the board of Arkansas Children's Hospital and the Children's Defense Fund where she exposed discrepancies between census data and school enrollment:
• She was named Arkansas Young Mother of the Year in 1984
In 2004, as first lady again only for the president, she continued to serve our children:
• She sponsored supporting legislation in such areas as the safety of prescription drugs for children (included in the Best Pharmaceuticals for Children Act)
• She worked to strengthen the Children's Health Insurance Program to increase coverage for children in low-income working families, and she advocated efforts to address environmental hazards in schools.

Given this early record and her recent efforts, shouldn't we be giving her some slack if she's not perfect, so she gets a fair shake at running for president?
I was glad to voice my concerns and hopes for Hillary Clinton's upcoming election to the knowledgeable congresswoman with personal experiences with Hillary. Now it's your turn to have your voice heard in the comments below.
Related
Popular in the Community