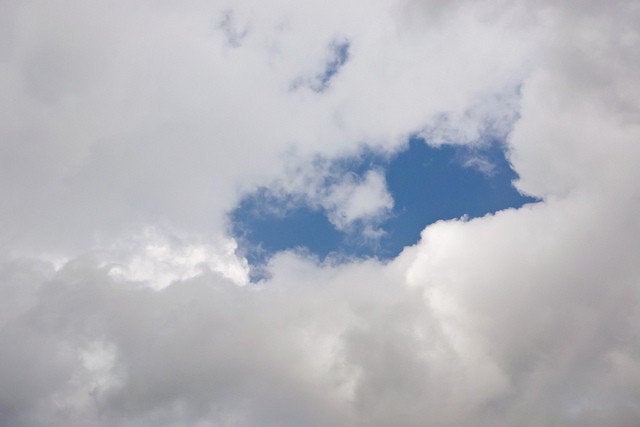 Michael Trent and Cary Ann Hearst like to play rough together. And by following the two-heads-are-better-than-one line of thinking, they hope to make some noise after officially turning their solo acts into a duo called Shovels & Rope two years ago.
The first product of this Odd Couple-like relationship is O' Be Joyful (Dualtone Records), a homemade record seared with country rock and punk influences. Their 11 well-crafted songs, some that belong in a Coen Brothers movie, include double shots full of piss and vinegar.
Already landing on the Americana charts before the album's July 31 release, they're taking their act to the West Coast, followed by a documentary film crew out of Nashville called the Moving Pictures Boys that's been shooting footage of them for the past two years.
Trent, 34, (left) and Hearst, 32, seem like polar opposites, and their decidedly different geographical roots are largely responsible for that. The Denver dude had trouble staying in a "horrible private school" before graduating in 1996, while the Mississippi missy often traveled the City of New Orleans train from Hazelhurst to Yazoo City. But they eventually found commonality in a wanderlust that landed them in Charleston, South Carolina.
The pair started making music that's "equal parts spirited and raucous as well as poignant and tender," Hearst said over the phone last week from (of all places) Denver, where they were taking a brief touring break and visiting some of Trent's family before heading off to Lake Powell for more serious R&R.
Feeling a musical kinship with couples as varied as John Doe-Exene Cervenka of X and the Knitters (Poor Little Critter on the Road) and Gram Parsons-Emmylou Harris, they were particularly inspired by the rough-and-smooth combination of Lucinda Williams and Elvis Costello.
"That's some bad-ass shit right there," Trent said on a separate phone line during the three-way conversation. "They locked in really well with harmonies and everything, but it doesn't have to be pretty all the time. That's a big part of our bag. We can sing really pretty together, and sometimes we do. And in songs like (the album-opening) 'Birmingham,' half of it is pretty harmonies and the other half is like yelling over each other. I dig that. I don't really want to be one thing or the other."
Both started out as artists in different bands and released solo records, but were involved in a personal relationship before they united as one musical entity. The fast-talking, wise-cracking Hearst, who at the age of 8 moved to Nashville with her mother, is more than a little bit country. Yet, her musical identity might be traced back to the Cramps' Poison Ivy and Lux Interior, not Johnny Cash and June Carter.
Calling the Cramps' pair, "the sexiest rock 'n' roll couple ever," she added, "I liked that you couldn't tell who was the boy and who was the girl."
Hearst took a John-and-Exene vocal comparison as a "wonderful compliment," saying the dynamics of X's singing-songwriting team were "a little bit more complicated" than Johnny and June's.
"We don't have an internal power struggle, but I feel like sometimes we get received that Michael is this quiet, quiet storm and I'm always jibber-jabbering," she added.
With her own bands, including Cary Ann Hearst and the Gun Street Girls ("Like the Tom Waits song"), Hearst crossed paths with Trent as far back as 2002. She developed a groupie-like crush on him and the Films, his rock group she described as "kinda like Elvis Costello-ie, Kinks-ie, glamour cowboy-looking band. Like Euro-trash, but completely Wild West."
Rockamount Cowboy in a rock and roll band, plugged his amplifier in all across the land. Athens, GA on a Friday night, saw that little girl, she could sing alright.
-- Lyrics from O' Be Joyful's "Birmingham"
Hearst called "Birmingham" a "psychedlicized, semi-fictionalized, definitely abbreviated version of true events," referring to Trent as her Rockamount Cowboy.
"I always had this vision of him as the cowboy that came from Denver on his silver steed," Hearst said. "I was a huge fan. What can I say?"
The thoughtful, more reserved Trent chuckles when asked if that's how he envisions himself.
"Oh, I guess I can see myself like that." After some hysterical laughing from Hearst, he adds, "When I'm feeling good. Yeah, I dig that."
They formed a friendship while sometimes playing in each other's bar bands in South Carolina. Personal serenades involved old-timey country and punk rock. Trent and Hearst even put "Can't Hardly Stand It," a Charlie Feathers song covered by the Cramps, on the first record they made together (under their own names), 2008's Shovels & Rope.
"I'd bring over a case of Bud Light and we'd make little rudimentary recordings in the living room," Trent said.
"That's how we flirted with each other," Hearst interjected.

After earlier terminating a long relationship "that wasn't going anywhere to free myself up to go on musical adventures," Hearst eventually tied the knot with Trent at Charleston's only domestic vineyard, which she appreciated for its muscadine wine.
With a simple question, their interaction goes something like this:
How long have you been married?
Michael: Three years. (To Cary Ann:) Is that right?
Cary Ann: Three-hundred years. (laughs)
Michael: Three hundred thousand years. (both laugh)
For the record, Michael Trent Robinson and Cary Ann Hearst were married at Irvin-House Vineyards on Wadmalaw Island on March 28, 2009, the year after Shovels & Rope, the record. But it was 2010 when they adapted that colorful combination as their band name.

"We were already married long before we decided try to marry our musical projects," Hearst said. "And that was far more challenging than deciding to actually commit to spending the rest of our lives together."
After another guttural laugh, Hearst explained herself.
"So many years of Michael's life had been spent on the road scratching out a future for himself," she said. "So much of my time had been spent trying to distinguish myself among the sea of red-headed singer-songwriter female musicians out there that to take our names off of our own individual projects after we had kind of almost ... we just made really good records. And I am not ashamed to say like, our records that we made, solo records, are plenty good to have made it a career as individuals with a band.
"So we kind of decided to join forces and it was a struggle to kind of get to that place where we really were on the same page about it. ... I think it's just been the best decision that we could have made."
While renting a house on Johns Island, they also built quite a collection of their own records, with Hearst's Lions and Lambs, Trent's The Winner, both completed in 2010, and Shovels & Rope.
"We had these brand new records with no real plan," Trent said. "We would go and play a gig and play some or her songs and play some of my songs and see how we could perform those songs as a two-piece. And that's when things started getting good, getting interesting and people were calling us up for tours (including the Felice Brothers and Hayes Carll) and we had a lot of cool opportunities fall in our lap right around that same time."
It was a time when, as Hearst put it, they "didn't have two pennies to rub together" while their musical inventory was collecting dust. So going -- and staying -- on the road to unload some of that product was a necessity.
"If we went out on the road and failed miserably, we would have been able to come back with our tail between our legs and at least pick up our projects again," she said. " ... So there was definitely an impetus that was like, 'OK, let's get a show together because otherwise we might go bankrupt.' "
In the rapid-fire fashion of a carnival barker, Hearst has her spiel to live audiences down pat.
"We got these three records. All of the songs are good, some of the songs I wrote, some of the songs Michael wrote, some of the songs we wrote together. But you could buy all three of 'em for 25 bucks. We won't steer you wrong."
As Hearst also liked to say, "The proof is in the pudding."
Those records continue to sell well at shows while Shovels & Rope play about 200 nights a year to crowds amazed to see how one man and one woman can pull off performing with grungy guitars and other string instruments, keyboards and a beat-up drum kit all by themselves.
On O' Be Joyful, they did enlist (kidnap, they say) the brilliant Amanda Shires on fiddle for "Keeper" and "This Means War," recording in their van after soundcheck on a final tour stop with Justin Townes Earle in Louisville, Kentucky. New York City-based multi-instrumentalist Nathan Koci appears on the seductive "Tickin' Bomb" and adds some delicious horn parts on "Hail Hail" that "sounded chaotic and really great all at the same time," Trent said of his pal's work. But the fresh, inventive, Joyful noise comes mostly from the creative couple, and they want to keep it that way on tour.
"I think that our musical limitations have not necessarily discouraged our efforts," joked Hearst, who focuses on vocals that wail and sail while relying on her partner's "super-intuitive" instrumental skills. "Neither of us ever really played drums in front of the people until the day that we started playing in front of people. We kind of sucked at it until we got better at it."
Trent, who produced and engineered O' Be Joyful, said, "We're constantly experimenting with what we're gonna do live. How we're gonna pull things off with two people, which is actually a lot of fun. But as far as songs go, we're striving to be better storytellers and, I guess, just songwriters in general. I think at the root of where we both come from, that's the most important thing."
Experiments included a live introduction recorded on Trent's iPhone to "Kemba's Got the Cabbage Moth Blues" at a show in Beaumont, Texas, where the folksy host asks his customers to keep the conversations down because "We don't want to know what you cleaned out behind the refrigerator last night"; and a priceless recording that plays during an otherwise somber hymnal called "This Means War," with a giggle and the voice of a 3 1/2-year-old Cary Ann, who tells her grandfather she wants a poodle she can dress up with ribbons and fingernail polish.
"Since it's such a heavy song, I thought that it might be good to sneak a little rainbow in at the end," Trent said.
On a song in which Trent's trembling, Dylanesque voice sounds like a tortured soul who decides "I'm on my own," it's a touching and surprising end to an album that'll keep you guessing.
The same can be said of Shovels & Rope. Separately, those two words are random objects that might be found in anyone's garage. But when tied together with an ampersand, they seem made for each other.
Just like Michael Trent & Cary Ann Hearst.
Images courtesy of Shovels & Rope.
See a video performance of the title track from O' be Joyful:
Support HuffPost
The Stakes Have Never Been Higher
Popular in the Community