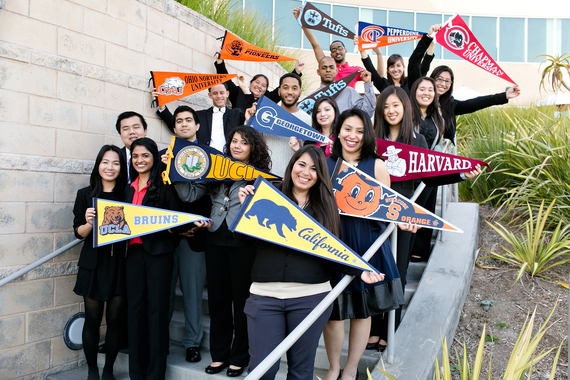 There are a multitude of ambitious scholarship programs across the United States that open doors for students to attend the universities of their dreams. From a financial standpoint, some of the best provide renewable opportunities so that worries about ongoing costs are minimized. Others, provide year one funding that greatly enhance the ability to get into a top school. From there students are free to explore both campus and local opportunities for work that will offset costs in years two and beyond. However, an elite group of scholarship providers have thought more broadly about what it takes for young people to succeed in college and beyond. So what does it take?
In January 2014, The Atlantic published an article about what it is like to be the first member of the family to go to college. It discussed the many challenges students encounter in their initial year on campus and pointed to the importance of mentors in terms of their persistence. For many, getting into college is only the first hurdle - getting through college was the bigger obstacle. Mentors help shape the habits, practices and beliefs that help increase the odds that students find success in their journey. At the Tiger Woods Foundation, we provide each of our Earl Woods Scholars with a mentor to help fill this important role. Our mentors meet regularly with their scholar, sometimes serving as emotional supporters, and other times just listening and offering advice. Our students often say their mentor is the best part of our scholarship program - and even more important than the financial support.
Another key component for student success are business internships. In lean economic times, organizations utilized interns to fill important gaps in their companies without having the overhead of hiring a full-time employee. Post-recession data still show that internships can lead to full-time job offers for students post-graduation. Securing an internship is competitive and comes with the same stress and anxiety of finding a full-time job. Students are well advised to put their best foot forward during all phases of an internship so that while their job skills are honed, they are producing quality work that is noticed by organization management.
The Earl Woods Scholarship provides funding, mentoring and internship support to all of our scholars. But it also goes beyond, providing one-on-one assistance to individuals so they may thrive while they are in school and receive support in decision-making for grad school and workforce entry. This guidance includes pointing students to on-campus resources that can address emotional, physical and academic support. Moreover, providing career readiness workshops for resume writing, mock interviews and basic workforce etiquette are other offerings we have found necessary for our scholars' future success.
Lifting the financial burden brings to light a number of disparities faced when students go off to college. Great scholarship program providers take to heart the importance of providing access to resources that will not only protect their investment, but allow students to experience success in college and beyond.
Popular in the Community