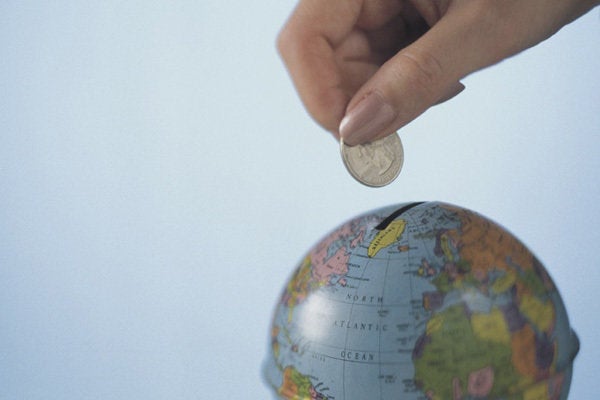 Have you ever flown somewhere and, out of the blue, the captain makes an announcement that you're about to pass over, say, the Grand Canyon, and adds that people on the right side of the aircraft will have a great view? And then everyone from the left side leaps out of their seats and rushes over? And have you ever wondered if the pilots are compensating for that so that the plane doesn't tip over?
That image came into my head as I was thinking about San Francisco. Hundreds of people are heading there this week, and millions of others will be there in spirit - and online. If the Earth tips a little bit on its axis, you'll know why.
What's up? It's the second annual SOCAP conference, the world's premiere social capital markets event (social capital investments incorporate three kinds of returns: financial, social, and environmental). (If you want to follow the conference on Twitter:#SoCap09.Funds. Read my post about the first conference, last fall.)
In other words, everyone's going to be talking about two of our favorite topics - money and saving the world. I asked Kevin Jones, co-founder of SOCAP and founding principal of Good Capital, what's different about this year.
"Last year we wanted to demonstrate that social venture or impact investing is a significant and rapidly-growing category - even in these uncertain times."
In 2008, 600 people from 26 countries attended. This year, the numbers are up to 800 and 30. Who's at the table has changed, too.
"Yes, there are fund managers from around the world. There are also development agency folks - from the World Bank, from the UN, the US Department of State, and the Inter-American Development Bank. And there's this influx of social entrepreneurs and grassroots organizations."
"SOCAP brings together the big players and their rigorous processes with the folks who are just starting out in this space. You know, there are a lot of conversations about the future happening around the world, but mostly they're taking place inside walled gardens. The thing that I'm most proud of is that this conference builds bridges between these gardens, and between them and the street."
Tim Draimin is going to San Francisco. Tim, Executive Director of Social Innovation Generation, says things like, "We're trying to get social innovation into Canada's DNA." And you know that he's just the guy to make it happen.
Tim's part of the Canadian delegation to SOCAP. Three fellow Canucks who've been building social venture funds north of the 49th parallel will be presenting, and I include them to give you a sense of who's on the roster. Paul Richardson of Renewal2, a fund that invests in businesses at the forefront of social and environmental innovation. Bill Young, founding president of Social Capital Partners, which helps enterprising non-profits build sustainable models for social enterprises. And Derek Dent of VanCity (Canada's largest credit union), who's working to strengthen the enterprising component of the non-profit sector. (More about the Canadian delegation and their take on SOCAP).
One more thing to watch for out of SOCAP. Something revolutionary is going to be unveiled - a tool for people who want to ensure that their investments have a positive social and environmental impact. Decision-making and tracking will get a whole lot easier with the Global Impact Investing Rating System (GIIRS). Can't wait until next week? Read Kevin's HuffPo post about it.
Stepping away from SOCAP, and at the opposite end of the emerging-new-financial-system spectrum, there's a brand-new service called Kickstarter. It bills itself as "a funding platform for artists, designers, filmmakers, musicians, inventors, and explorers..." Based in New York, this site links the aspiring with their would-be patrons. Unlike similar services, with Kickstarter, sponsors get access to the projects they finance. So cool.
And, just because they came across my radar while I was working on this column - and because their name made me laugh out loud - I'm introducing you to the Smart Cookies. They're all about financial management for women (Oprah's a fan). If you're trying to figure out how you can manage your money better so that you have something to invest along with all of these world-changing folks, this could be a useful tool.
Phew! Now it's over to you. Please share your thoughts by commenting below, or by emailing me directly at julia (At) wearethenewradicals (Dot) (Com).
Julia Moulden's new book is We Are The New Radicals: A Manifesto for Reinventing Yourself and Saving the World. [http://www.wearethenewradicals.com/news] She is also one of the most in-demand keynote speakers on the lecture circuit. [http://www.speakers.ca/moulden_julia.aspx]