They're all tough guys who love animals.
These famously "hard" men and their pets are the stars of Baltimore's "Show Me Your Soft Side" campaign, a series of posters, billboards and print ads aimed at reducing the alarming incidence of animal abuse in the city.
The campaign is the creation of the Mayor's Anti-Animal Abuse Commission, which was created in 2009 after teenagers doused a young pit bull terrier with gasoline and set her on fire in West Baltimore. The dog, dubbed Phoenix by rescuers, suffered severe burns over 95 percent of her body and later died from her injuries.
Many horrific cases of animal cruelty like this have been committed by young people, which is why the commission began searching for ways to change their mindset. Research shows that some teenagers think that torturing or killing an animal is a demonstration of their toughness, but "Show Me Your Soft Side" seeks to prove that real men don't hurt animals. As its slogan says, "Only a punk would hurt a cat or dog."
The goal is to show teens that it's not cool to abuse animals by demonstrating that tough role models wouldn't do it, and the campaign aims to reach young people at an early age because kids who abuse animals often commit even more violent crimes later in life. Billboards featuring athletes, comedians and other Baltimore celebrities can be seen in some of the roughest parts of the city, and the posters hang in schools and juvenile justice centers.
Until recently, the ads featured only local men and their pets, but when Tommy Lee signed on to the campaign, "Show Me Your Soft Side" snagged its first celebrity from outside the Baltimore area. Fighter John Rallo, whose poster shows him snuggling his cat, Doobie, used to be Lee's bodyguard.
"Together, we will reach out to young people in Baltimore to tell them that abusing a helpless animal is a sign of weakness, not strength," said Mayor Stephanie Rawlings-Blake last year, when she launched the campaign alongside Rallo and Orioles outfielder Adam Jones.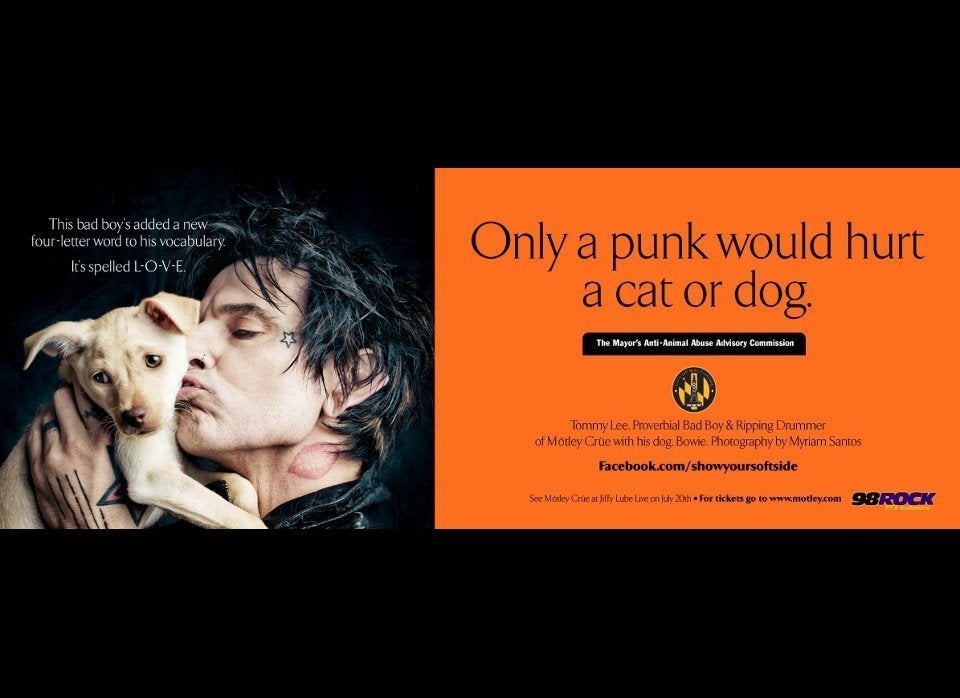 Show Your Soft Side
Related
Popular in the Community