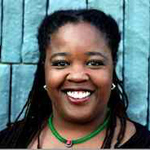 By Farai Chideya
Farai has covered Presidential elections, natural disasters, and dictatorships -- as well as the arts and technology -- in a two-decade journalism career that spans print, radio, digital, and televised media. She is currently a Distinguished Writer in Residence at the Arthur L. Carter Journalism Institute at New York University.
What's happening with women in technology entrepreneurship reminds me of two classic song lyrics. James Brown sang, "It's a Man's World." But Aretha Franklin responded, "They say that it's a man's world/Well you can't prove that by me..../Show some respect for me."
Aretha's lyrics could be the refrain for an entire generation of innovating women. Did you know that venture-backed firms led by women are less likely to fail and produce higher returns than ones run by men? Or that technology companies with women on their boards also outperform those with all-male board rosters? Given those facts, it's downright pitiful that only three percent of technology firms are founded by women.
Pioneering entrepreneur, author and educator Vivek Wadhwa outlined these statistics for me. He's been charting the fortunes of women in technology and STEM fields, as well as entrepreneurs of color. Vivek invited me to co-author a book-in-progress, Innovating Women, drawing on the stories and experiences of hundreds of women who are taking the lead in reshaping our technological future. Women from around the world are participating on an online platform, as a part of the InnovatingWomen.org project.  All the proceeds from the book will sponsor women leaning about advancing technologies. We are raising funds through an Indiegogo campaign with a $50,000 match from Google for Entrepreneurs.
Facebook's Sheryl Sandberg has topped bestseller lists and made headlines with her call to "Lean In." It takes nothing away from her work to note that she writes from a rare position of privilege, with power and resources most women don't have. With Innovating Women, we're taking a broader look at how women entered science, technology, engineering, and mathematics (I.e. STEM) and other innovative fields; how they fare as employees; and how well they are supported in raising capital and as entrepreneurs. We're also empowering women to tell the world their own stories about issues like work/family balance. For example, Alice Rathjen,  the CEO and Founder of DNA Guide told us:
"I'm single parent with a ten year old boy.  The secret to survival for me was to find a core group of parents to help each other out.    One of the big advantages of giving and asking for help with daycare is you get to really bond with more kids than your own and share with other's the joy of watching the whole group grow up together."
And  Feben Yohannes, Co-Founder at GlobalStudent Social added, "The never ending juggling act that we do as mothers, is overwhelming at times but that process, if channeled properly, is what makes us a creative, resourceful and dynamic bunch."
Tel Aviv-based tech entrepreneur Hamutal Meridor points out that "A career in high-tech can free women from a life of financial dependency." But getting into the field has proven tough from the start -- not just in the workplace, but in STEM education as well.  Emily Fowler, Senior Vice President, Strategy & Business Development at Fix, went to a summer computer camp in tenth grade at the urging of her father. She told us:
"When I chose to attend the camp, I was teased by kids from school upon my return. It didn't help that the local newspaper had featured a story about me attending the camp - they were trying to highlight and encourage more girls to attend tech-oriented camps. The stereotypes were your traditional comments like 'nerd', 'dork', 'loser'. Oh, and my personal favorite was 'lesbian'..... I would just retort with, 'First of all, being a lesbian is not an insult. Secondly, being smart or curious doesn't make me a lesbian. What did you learn at football camp?' Girls teased me as well and that was a bit hurtful. I wasn't interested in impressing a guy who didn't think I was cool just the way I was. I knew from a young age that I wanted to attract people who were like me."
Unfortunately, it requires immense personal strength and maturity for women to learn the skills they need to succeed as entrepreneurs, and to fight bias as they form their companies.
Hearing and reading the stories of women like Emily Fowler makes me appreciate the foresight of my own mother. When my sister and I were young, she bought us a Texas Instruments computer and books to help us learn BASIC. It was a significant investment for a woman who, after the end of her marriage, never received child support. But my mother spared nothing when it came to educational enrichment. By high school, I was taking computer coding classes at the local community college. I too got my share of teasing for being a nerd. Years later, this early training helped me when I decided to start the blog Pop and Politics in 1995, and learned HTML. Back then, blogs were so unusual that my effort was written up in the New Yorker.
Although my path has taken me to broadcasting and writing, the reality is that media is a technology-laden field these days. Almost every job, every opportunity, and certainly every individual and family is touched by STEM technologies and the innovators who craft them. The world needs women's talent. Why we should we limit ourselves to a gender-segregated innovation field?
As Anne Hartley, who began as a programmer in 1976 and is now Principal Consultant at her firm AH Consulting puts it, "In my first job out of college, I was typically the only woman at the table (as well as the youngest) and never thought about 'leaning back'.  I was always 'in'. Where else would you want to be?"
Where else would we want to be as a society other than a space where we harness all the talent we can to solve global problems of health, hunger, connectivity, and poverty? Don't you want to see a world where women succeed in innovation and entrepreneurship, not just on behalf of other women but on behalf of the entire planet? Well, join us. Support the Indiegogo campaign by pre-ordering an e-book. Tell us your stories at www.InnovatingWomen.org.  And help innovating women achieve their potential  for the good of the world.
REAL LIFE. REAL NEWS. REAL VOICES.
Help us tell more of the stories that matter from voices that too often remain unheard.