When women succeed, we all succeed; but more innovation and investments are needed
It was entirely appropriate that the Treasury Department held its 6th annual Women in Finance & Technology Symposium on St. Patrick's Day, a day symbolized by green. Because green - as in money - is what this gathering was all about: how to earn more of it, how to save it, how to protect it, and how to make it look more like America.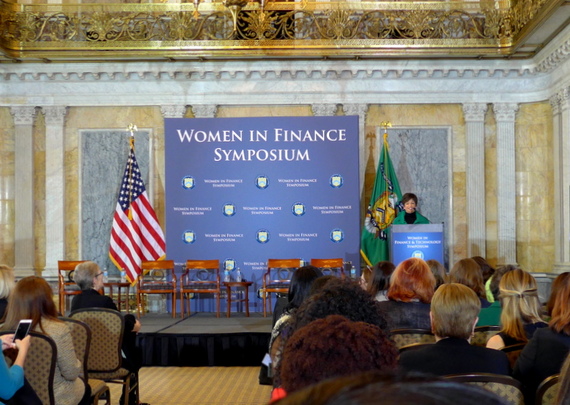 Co-hosted by the White House Council on Women and Girls, the event brought together women in senior positions from both the public and private sectors for informative discussions on economic and tech issues. There were panels on enhancing cybersecurity, on inspiring young women to pursue careers in STEM fields, and on redesigning our currency to better reflect our inclusive democracy. Among the most compelling was a presentation by McKinsey & Company's Vivian Riefberg, who discussed findings of a new report on women's equality and economic empowerment.
There have long been strong moral and social imperatives for gender equality. But, as Riefberg pointed out, there are increasingly powerful economic ones as well. The McKinsey report, The Power of Parity, found that advancing women's equality could add $12 trillion to global GDP by 2025. And in a "full potential" scenario, in which the roles of women and men in labor markets are identical, the number rises to $28 trillion. That's roughly equivalent to the current size of the economies of China and the U.S., combined.
The basic premise is this: women account for half of the world's working-age population, and when they can't achieve their full economic potential, the global economy suffers. The report concludes:
"We believe that the world, including the private sector, would benefit by focusing on the large economic opportunity of improving parity between men and women."
The report offers six imperatives for bridging the gender gap: financial incentives and support; technology and infrastructure; creating economic opportunity; capability building; advocacy and shaping attitudes; and laws, policies, and regulations. As with all of the challenges discussed at the Treasury symposium, they will require collaborative efforts among the private sector, governments, and nongovernmental organizations.
Considering the positive economic impact that gender equality would create, these imperatives are really investments - in human capital, in society, and in our global markets. The evidence is increasingly clear: equal pay and equal opportunity are not only fair, they're good for the economy. Let's invest and innovate towards a more level playing field in the workplace and more prosperity for all.
Calling all HuffPost superfans!
Sign up for membership to become a founding member and help shape HuffPost's next chapter