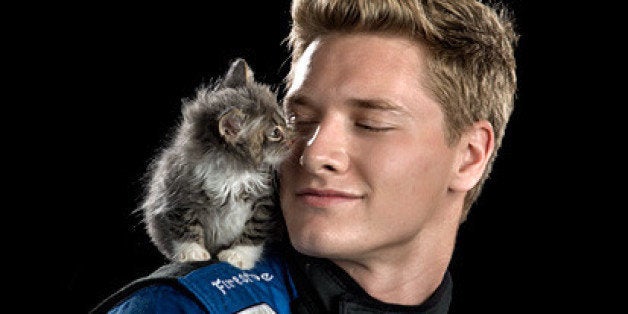 Three years into combining her passions for shelter animals and hunky men, Sande Riesett still has a wish list of hot guys she'd like to see snuggling with pit bulls and little kittens -- among them actors Kevin Bacon, Danny Trejo and Mickey Rourke, and baseball player Mark Buehrle.
She wants to take pictures, and share them with you. For a really good cause!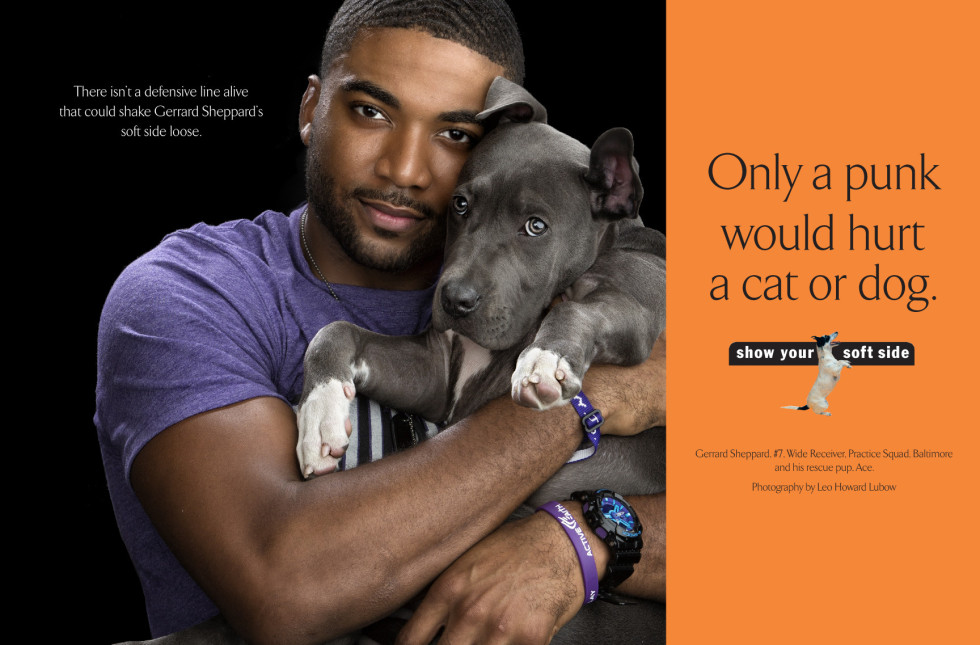 Baltimore Ravens player Gerrard Sheppard snuggles his rescue dog for the Show Your Soft Side campaign. Photo credit: Leo Howard Lubow
Riesett is the mastermind behind Show Your Soft Side, a hubba hubba ad campaign that started in Baltimore in 2011 in response to a shocking string of animal abuse cases: a nursing cat and a dog both set on fire; a puppy beaten to death on a golf course.
"I was so outraged that I just wanted to do something and since advertising is all I know, that seemed like the logical answer," says Riesett, who owns a local ad agency. Show Your Soft Side "was developed to change the mindset of young people who often view the maiming and torturing of defenseless cats and dogs as a sign of 'toughness' or 'manhood.'"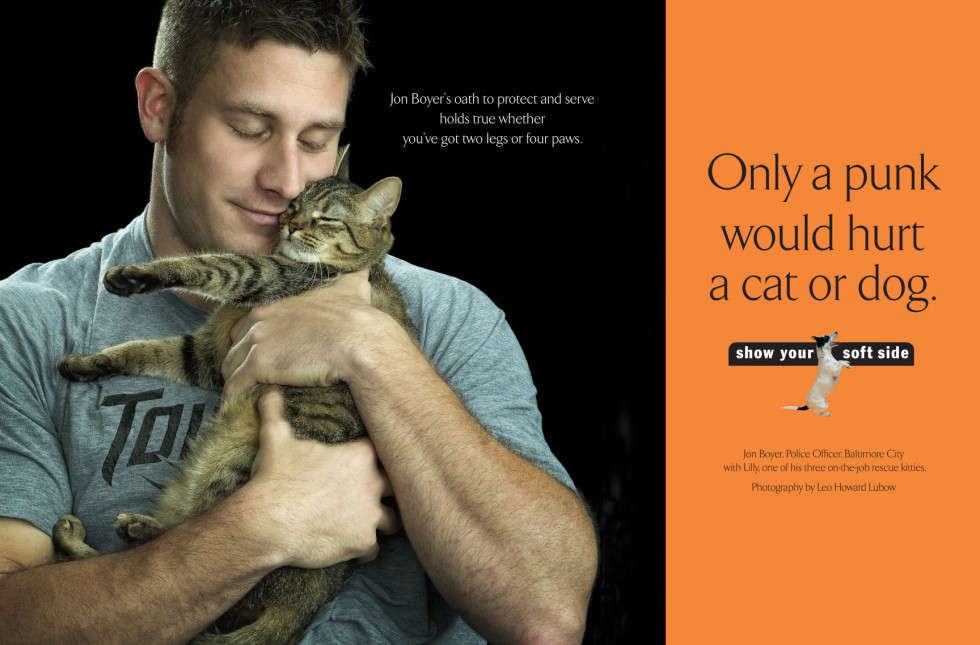 Baltimore cop Jon Boyer really loves kittens. Photo credit: Leo Howard Lubow
Yeah, we know what you're thinking. But Riesett says that while a lot of these models of kindness are besieged by phone numbers and marriage proposals -- not to mention folks suggesting they will adopt a shelter pet if the guy comes with -- she's not in the market for a photogenic, animal-loving, masculine mate. She's already got one at home.
"The concept of having a 'soft side' actually came from watching my husband with Little Man, our rescue kitty," she says. "It continually amazes me how this former college football player, longtime runner and macho guy turns into a complete marshmallow when he's with our cat."
Happy at home, but there are still men on Riesett's mind.
"Personally, I'd kill for Patrick Willis," she says. "The 49ers are coming to Baltimore to train at the end of August and I'm on a desperate hunt to reach him!"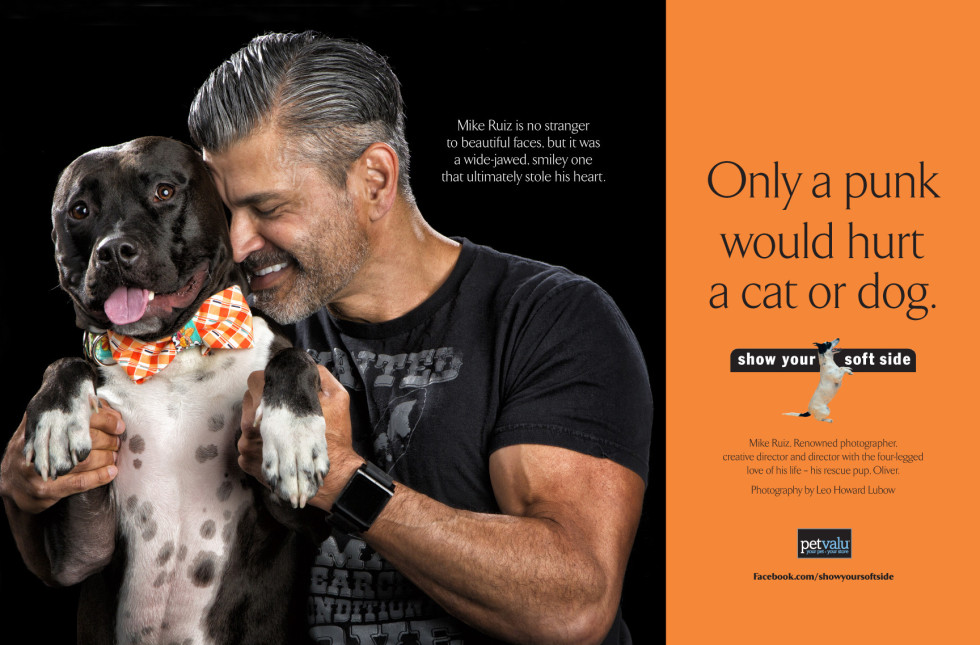 Photographer and bona fide babe Mike Ruiz snuggling up with his rescue pup Oliver. Photo credit: Leo Howard Lubow
The campaign -- which is volunteer-run -- has recently expanded into Philadelphia, and will soon be coming to D.C., too. Two Washington Nationals players, Nate McLouth and Ian Desmond, are due to be photographed this week.
Meantime, Riesett acknowledges animal abuse is still a very serious problem in and out of Baltimore. But she's heartened by "increasing donations, adoptions and volunteerism for BARCS, our local open admission shelter, and the one that takes the bulk of the city's abuse cases as well as a number of our local rescues," she says.
Additionally, many of her softies have gone on to raise money for rescue groups like BARCS and advocate for tougher animal welfare laws -- and others, like the guy at the top of the page, have fallen in love.
That's Josef Newgarden, a race car driver whose photo was taken with the teeny fluffball -- a kitten from BARCS, then called MJ -- while he was in Baltimore for the Grand Prix last year.
Riesett says "sparks flew" that day, and not long after the shoot, she got a call saying that Newgarden hadn't been able to get MJ out of his mind; he wanted to bring him to his home in Nashville.
"When the kitten was old enough to travel, Southwest Air flew him and his foster mom to Nashville to the waiting arms of Josef," says Riesett. And it gets better: The kitten -- renamed Simba -- was such a good traveler that a fellow passenger "filled out an adoption application on the spot for his brother, Oscar."
"Simba is now living large in Nashville with the Newgardens and Oscar is the four-legged son of chef John Shields of Gertrude's fame in Baltimore," she says. "Not bad for two formerly homeless street kittens of Baltimore."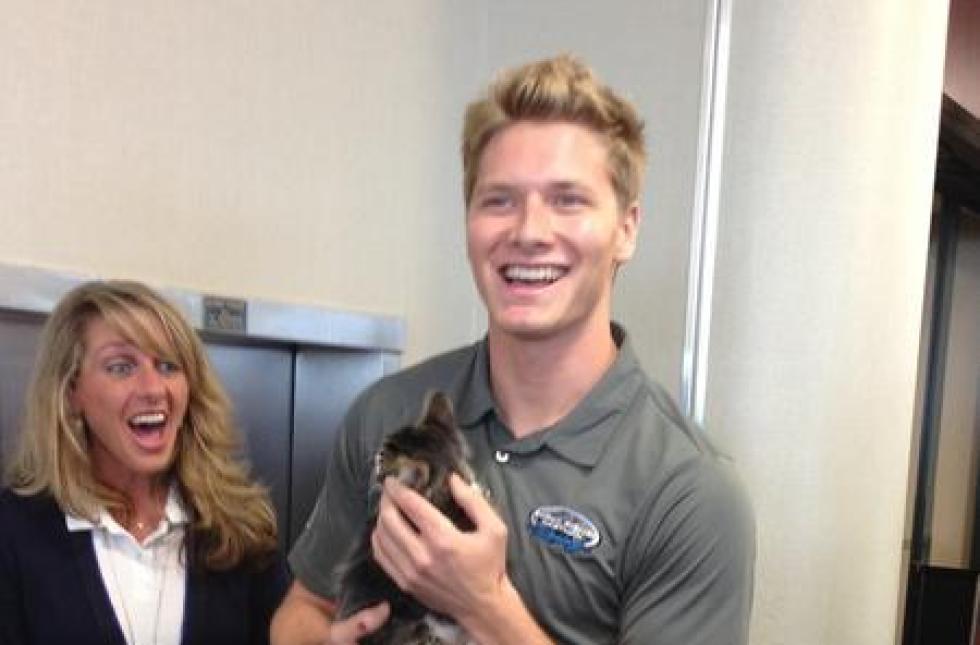 The happy pair, Josef Newgarden and Simba the kitten, reunite at the airport.
Support HuffPost
The Stakes Have Never Been Higher
Related
Before You Go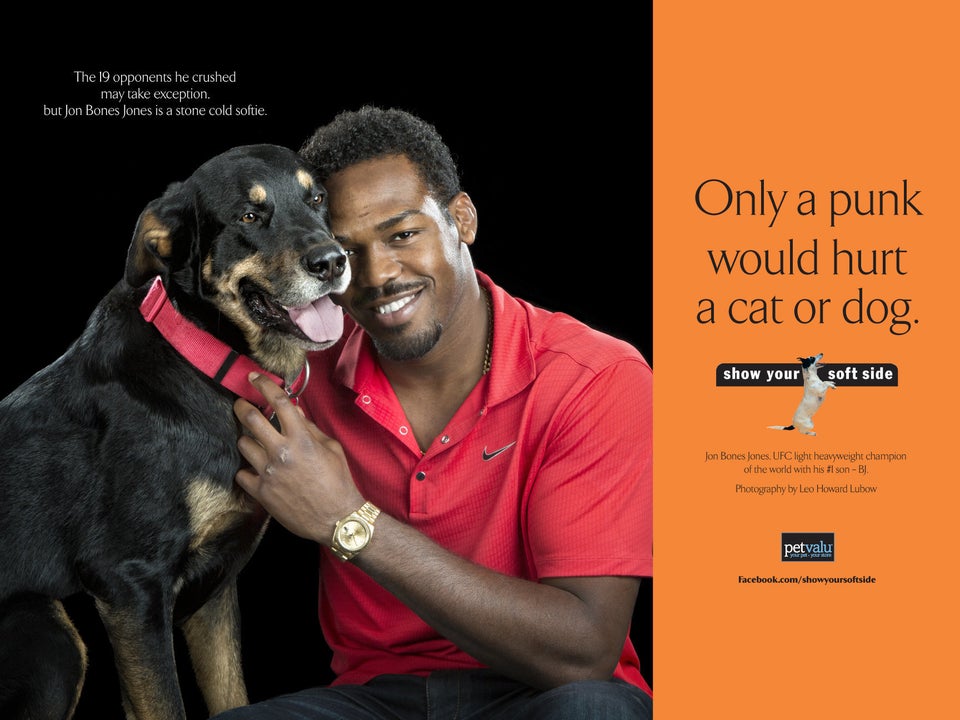 Show Your Soft Side
Popular in the Community