Personal branding has been a hot topic for awhile, and it's something I've taught to business students for several years. If a resume is traditionally a single page, rich online content related to achievements is a compelling way to tell a stronger professional story. I always caution that a personal brand includes online and offline perceptions, including first and last impressions (so an online personal brand does not replace positive in-person interactions).  It's best if a strong work ethic and accountability are backed up by the artifacts showcased in personal branding efforts online.
If done correctly, an online personal brand can be an authentic way to tell your career story and where you can contribute in future roles. For an effective effort, you need to nail down a clear approach and have the right digital ecology of personal brand sites/artifacts. In this post, I will focus on both the approach and the digital footprint I have found to work well for an effective personal brand effort.
The Approach
Building a Consistent Narrative.  Across all of the social media sites that you choose to include in your digital footprint, each of the sites must build towards a bigger story (who you are and what you can do). A key element of this is a strong biography that's often used in a personal summary on personal brand sites. An effective way to construct this summary is to leverage a compelling elevator speech (a 45 second run down of who you are and what you can do). This elevator speech should hook the reader in and succinctly state why he or she should consider you and your portfolio of skills. Once this strong brief biography is created, cascade the same summary across each of the sites. 
Invest in a Professional Headshot.  Research shows that recruiters spend 6 seconds initially screening a résumé. On sites that are part of a personal brand, the headshot and bio will be the first elements viewers see. Spend the money to get a professional photo taken that will make a strong first impression. Photos that are too casual or have people cropped out send the wrong message. If you have seconds to capture attention, make those seconds count with an image taken by a pro. 
Tell an Up-To-Date Story.  Unfortunately, to build a 360-degree view of your talents, accomplishments, and potential, it requires a focused up front effort and ongoing updates of the personal branding sites. Just as a consumer would lose trust if a brand had out of date information on its website, potential employers may get an incorrect or incomplete impression of you. These sites are your story and should be treated with the utmost care. Not keeping these updated indicates you may not have attention to details.

Leverage the Best Sites.  Not all websites are equally effective. Some sites showcase achievements and skills better than others based on the ability to upload rich content and the propensity to show up in organic search. The sites in the next section are core elements of the personal branding-focused business professionalism course I taught at Texas Tech as a doctoral student. These sites allow you to go beyond the résumé and allow you to tell a robust story of your career to date and the potential you have for your next role. A complete collection of personal branding websites allows you to say you have a skill and demonstrate it, including visuals and certifications to back up your claims.

Claim your Name.  If possible, try to get the same username across all of the personal brand websites. Your name is your brand name, so having it consistent across sites helps. I also suggest buying your name as a website domain name so that you own it. It's inexpensive, and you can easily redirect the domain over to one of the personal brand sites (I suggest about.me).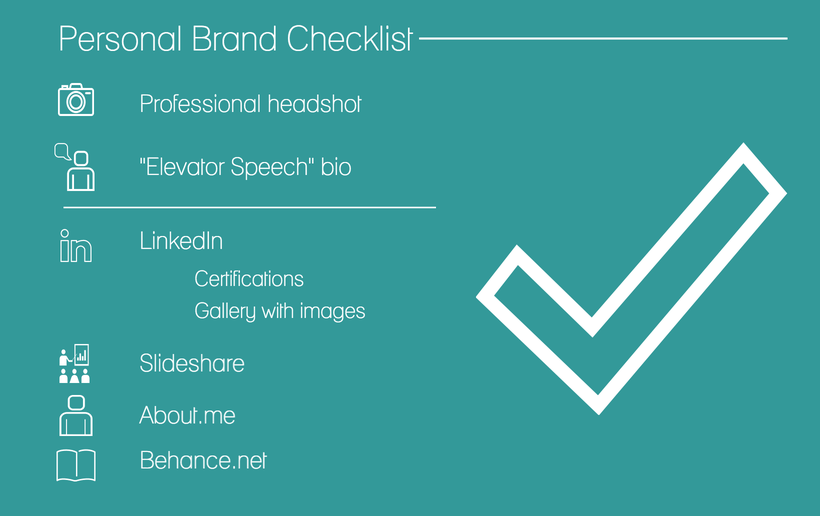 Sites
About.me.  About.me is an online platform that serves nicely as an online biography; the site allows links off to major social networks and shows off a single photograph. No web design skills are required, and it takes minutes to set up. The sites I recommend linking to are LinkedIn, Behance, and Twitter (if your feed is professionally focused). Unfortunately, the site doesn't support a link to Slideshare, but hopefully that will change eventually.
The site requires your elevator speech and a photo, and the bio section allows a featured call to action (such as "read my book" or "attend my event.")  While about.me offers a paid pro option, it is simple to have a personal URL (like yourname.com) redirect over to about.me without paying extra. 
Linkedin.com.  What I like about LinkedIn is that it provides the capabilities to give a 360-degree view of a professional's accomplishment. You can say you have a skill and then demonstrate it through visual images, document uploads, and certifications. While a résumé is encouraged to be a single page, LinkedIn allows a more robust story to be told.
Additionally, optional sections like certifications and volunteer work can help show additional competencies and qualifications (See my past post on the power of industry certifications for digital marketers).
The projects section allows you to show off what you've accomplished within a degree or job. It also allows you to include credit for others who were part of the project, and LinkedIn will nicely nest the project underneath the relevant experience.
One incredibly powerful option LinkedIn offers is to have recommendations from peers and superiors. I suggest crafting a thoughtful request to potential recommenders asking them to focus on a particular project or skill you want to emphasize. While I suggest that you shouldn't brag or sound conceited on LinkedIn, recommendations can brag for you!
Finally, make sure that you claim your vanity URL with LinkedIn, which is an easy to remember web address.  It should look like www.linkedin.com/in/yourusername.  If you forget to do this, it signals you don't know the platform.  

Behance.  Behance is a free online portfolio website that Adobe owns, and this platform shows up highly in search. You can easily set up galleries of visual work by category (like class projects or freelance work), and this site is best for visual content in the form of images or video from a project. Galleries or links to individual work from Behance are easily added to the visual areas of LinkedIn. Again it reinforces the narrative that you say you can do it, and you demonstrate you can do it visually (providing a 360 degree view of you as a professional). 
Slideshare.  This site was purchased by LinkedIn, and it is best used to demonstrate effective visual communications. Today, having strong presentation abilities is critical, and some corporate cultures would prefer a Powerpoint over a conversation. Being able to communicate succinctly to an executive audience is a valued skill, and students can demonstrate this easily through uploading quality student projects.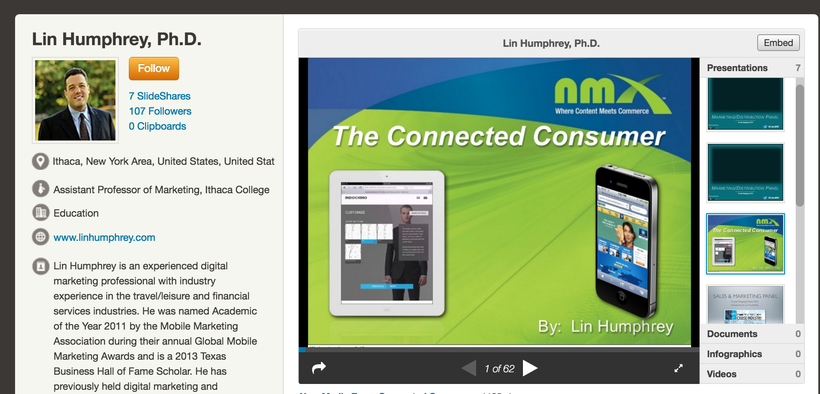 Some Watch Outs
Personal branding efforts showcase achievements and proactively developed skills. But, you have to show the same care you would come with a client deliverable; spelling, grammar, and aesthetics count. Employers will assume you will make similar errors on their deliverables if mistakes are found in your profile. 
Also, it's best to connect with colleagues and industry contacts when you don't need a job. LinkedIn broadcasts changes to profiles, and massive profile changes signal career distress. You should maintain your network and your online story when you don't need a job, and you'll be surprised how opportunities will arise when least expected.
An easy way to continue telling your story is to provide updates on LinkedIn and add projects as you complete them; this allows you to stay top of mind to your network. Also, you should always remember to pay it forward when someone needs help, as you will require assistance several times throughout your career.  
Investing in documenting your skills and successes is worth the ongoing time and effort. Employers and potential business partners are likely to search your name prior to an initial meeting, and these efforts help shape your professional narrative and impression before they meet you in person. 
Calling all HuffPost superfans!
Sign up for membership to become a founding member and help shape HuffPost's next chapter
This post was published on the now-closed HuffPost Contributor platform. Contributors control their own work and posted freely to our site. If you need to flag this entry as abusive,
send us an email
.