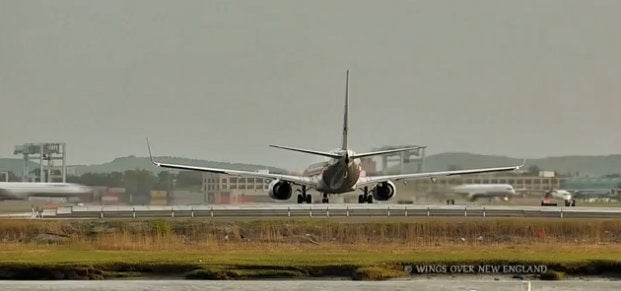 I am in Dubai. But it is not an ordinary day. An important sheik has died, so streets and hotels that should be surging with light and sound are all of a sudden dialed down.
In the United Arab Emirates a day of mourning is a serious thing. Only classical chords waft out of the radio in your car. The papers are purple-edged and sad with ads of condolence on every page. There are no hard drinks at all in hotel bars.
And while I am sorry, also, about the sheik, a selfish side of me is walled off from what is going on. I am just a tourist after all. And I am flying tonight: something that is lifting my mood.
The plane I'm about to board, the super-jumbo Airbus A380, has brought a certain excitement back to air travel since its debut in 2007. A bit of recent nervousness, too, when in November, 2010, a Qantas A380 lost a chunk of one of its engine covers during flight. The incident hasn't been repeated though an investigation is still ongoing.
In part because it's so demoralizing to fly when you're squeezed into a tube, the world's only twin-deck, four-aisle airliner has been a lure for the airlines that have added it to their fleets: including Singapore, Lufthansa, Qantas, and Emirates who brought the A380 back to New York's JFK last fall.
According to Nigel Page, an Emirates Airlines senior vice president for operations, "Part of the buzz is due to the novelty of being able to grab a shower in first class, or order a cocktail in the lounge bar at the back of business class."
Page was a dispatcher at Heathrow back when the 747 first came in (which has sometimes been equipped with a bar). "I remember everyone's reaction," he says, "to the sheer size of the thing. The A380 is only slightly longer, but it's broader and with a longer wingspan."
At Emirates' main office in Dubai, where I talk with Page, I pass under an enormous sign in a hallway on the second floor. WHAT IF EVERY JOURNEY WAS AN ADVENTURE? it asks. What if? I think.
When night comes, and I'm rolling my suitcase down the jetway, I get an up-close look at the A380's nose. It's an aircraft with a gentle profile--like a giant porpoise with wings. I have a flash of memory from the 1960s from when I first went aboard a Boeing 707, got my pair of plastic wings, and felt the thrust of a real jet.
Some things seem immediately strange. Lighting inside imitates dawn, not noon. It's rose-colored instead of white. Because of the plane's size, walls of the fuselage curve more gradually. Windows are like eyes -- deeply set.
I've bought a ticket in business class, on the second deck, and now that we are roaring towards takeoff, it feels like I am up on the bridge of a ship looking out over a blue-lit, blurry sea. Flying in the A380 gives you a shock of depth and movement. Passenger screens show views from a new tail-mounted camera that displays not only what's in front but the airplane itself tilting and heeling.
As the hours go by, I quickly and quietly check out first class. Lucky passengers here have personal cabins, like on a train. I duck into the special bathroom with the only commercial shower in the air. I twist a knob, and out comes water. Eureka. Hot and cold. As if this simple feat of plumbing were a celebrity, I extract my camera and snap some pictures to show friends.
Back in business class, I visit the bar. It's ringed with lights, like sick bay stations in Star Trek. Beers taste good here in the back, and there's so much room I think of asking the small blonde bartender to dance. A little turbulence, the first I've felt, puts an end to that.
There's plenty I can do and eat back at my lie-flat seat. I am tempted by the massage, and push a button to make vibrations zig-zag down my legs and up my back and neck. But I do not want to sleep.
This isn't an ordinary day. In Dubai or in the air. Movies, did you say? News or sports on a screen? Not now, I think. Not here.
I'm back to watching the tail-mounted camera.
All I want to know is what lies ahead.
Support HuffPost
A No-B.S. Guide To Life
Related
Popular in the Community